LCCs have finally started to penetrate the North Asian market, helping to drive the rapid growth as lower fares have stimulated demand. LCC capacity in North Asia particularly has increased tenfold over the past 10 years, albeit on a small base, and has nearly doubled in just three years.
This represents an LCC penetration rate of less than 20%, indicating that there is still plenty of opportunity for further LCC growth. LCCs are planning more rapid expansion in 2019 but the region's FSCs are also growing, particularly in China.
An overview of this key growth market is a natural topic for leaders to discuss at the CAPA – Centre for Aviation's Airline CEOs Summit which will follow immediately after the International Air Transport Association (IATA) AGM in Seoul, South Korea. The intimate, high level CEO event is now in its second year following a successful debut in Sydney, Australia last year.
The topic will be discussed during the summit's full day of sessions on 04-Jun-2019. This will be preceded by an aviation outlook session the previous evening and a high level CEO dinner, addressing key aviation topics, but with an entertaining CAPA-style twist.
The 'Looking to Asia for inspiration and growth' session will deliver a high level overview of the market, look what Asia is doing to meet increasing demand, consider if this growth is actually sustainable and how others across the travel industry are reacting to this growth.
As the foremost authority on aviation in the world, CAPA – Centre for Aviation's events provide cutting edge knowledge about strategic market trends and dynamics to help attendees make informed decisions, delivering the information and connections needed to inspire and improve business. The CAPA Airline CEOs in Seoul Summit will take place between 3-4 Jun-2019.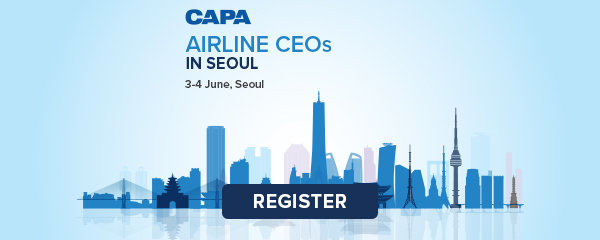 The summit will have a full day of very high level thought provoking discussions on the key issues facing the industry, with a focus on developments across the different world regions. CAPA will challenge leaders of the aviation industry to reflect on what is needed to drive the industry forward, using examples of innovation in outside markets as a benchmark to follow.
As per all CAPA's summits it will aim to tap into the dynamic changes taking place in the airline industry across the world and address the issues in creative and authoritative ways.
This event, hosted at the InterContinental Seoul COEX in Seoul's trendy Gangnam district, is a forum for debate and discussion of this strategic issue within the aviation industry and it is attracting delegate interest from across the globe and includes many VIP guests and speakers not regularly seen in this part of Asia. It is a must attend for those seeking new ideas and business opportunities with aviation leaders across the globe and to hear from and gain unfettered access to CEOs of the world's leading airlines.
FIND OUT MORE… visit the CAPA Airline CEOs in Seoul homepage to find out more about this not-to-be-missed opportunity to discuss relevant issues impacting the aviation sector and learn meaningful insights from your industry peers.