---
Summary:
Munich Airport wins contract to operate and maintain the new T1 at Newark Liberty International Airport;
Newark is currently the fastest-growing of the three main New York area airports;
A relative latecomer to the airport consulting and investment sector Munich is making its mark in foreign management activities.
---
All of the three main New York area airports are currently undergoing some form of upgrade that involves the private sector within a P3 deal. At LaGuardia Airport the largest project is taking place (USD5.1 billion), one which will reconstruct the central Terminal B and which involves LaGuardia Gateway Partners (a consortium of Vantage Airport Group, Skanska and Meridiam) and Delta Air Lines. Phase 1 was completed in Nov-2018 with operations commencing on 01-Dec-2018.
At J F Kennedy Airport a USD13 billion plan to redevelop it into a "modern 21st century airport" with two new international terminal complexes on the airport's north and south sides was announced by New York Governor Andrew Cuomo in Oct-2018. The investment - which includes USD12 billion in private funding - is expected to increase the airport's capacity by 15 million passengers per annum.
The ground breaking ceremony for the Newark Liberty terminal took place in Oct-2018. It will have design capacity for 13.6 million passengers, with one million sq ft of space over three levels. In addition, the project includes roadway network improvements and the addition of 3,000 parking spaces. The airport's redevelopment programme overall is expected to generate more than USD4.6 billion in regional economic activity.
CHART - Newark Liberty International was the fastest-growing of the three major New York airports in 2017, a position it retains in the first nine months of 2018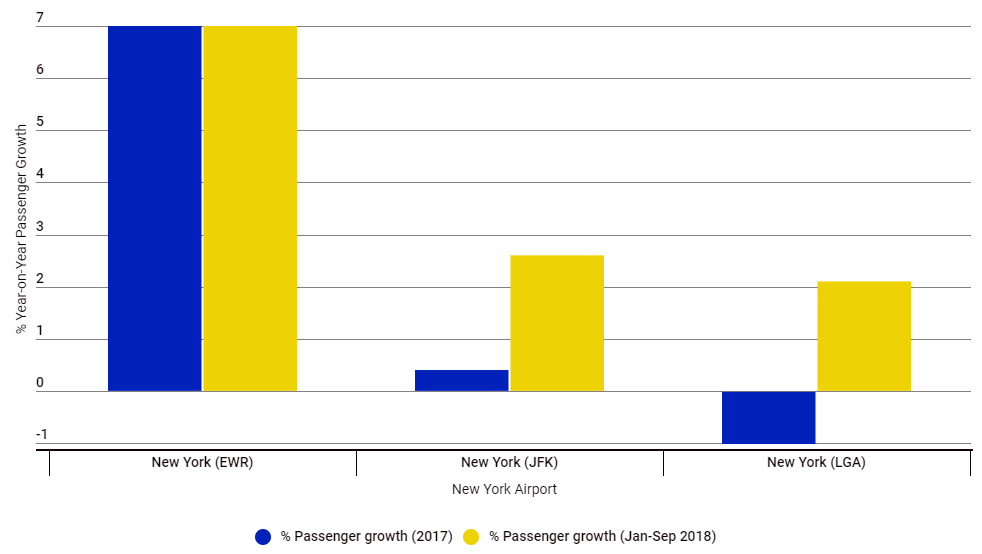 Source: CAPA - Centre for Aviation Airport Profiles
he PANYNJ Board of Commissioners approved the selection of Munich Airport International GmbH (MAI) to operate and maintain the Terminal 1 on 13-Dec-2018. The board vote authorises MAI, beginning in 2019, to manage operations, maintenance and concessions functions in the existing Terminal A, where it also will make short-term customer enhancements until the terminal's closure. MAI then will operate the new Terminal One as part of a 15-year agreement.
MAI is a subsidiary of Flughafen München GmbH (FMG), which operates Munich International Airport, Germany's second busiest. The firm's selection, which follows a rigorous competition and review process, was based on its global presence, customer experience rating (it ranked fourth among global airports worldwide in the most recent study by Skytrax, and has been voted Europe's best airport in 10 out of the last 12 years) and concession management expertise.
While German rivals like Fraport and Avialliance have been active for many years, Flughafen Munich only set up it airport investment division in 2010 and its first attempt at winning a contract was for the new terminal at Zagreb Airport, Croatia in 2011. At first it was not allowed to hold equity in foreign airports and promoted itself as a provider of airport management services and that is what this Newark deal appears to be.
Elsewhere it has bid for, or least expressed an interest in, a number of concessions at a variety of airports across the globe. This include: Bulgaria (Sofia and Plovdiv airports); India (the green field Bhogapuram Airport, in a consortium with Essel Infrastructure); Kuwait Airport's Terminal 4; Indonesia; Honduras; Egypt; Saudi Arabia; Slovenia (Ljubljana); Chile (Santiago); the 14 Greek regional airports in the first concession tranche; Peru (Cusco); Myanmar; and Brazil, where MAI had for a short time a nominal share (1%) in the concession for the extension and operation of Confins International Airport (aka Tancredo Neves) in Belo Horizonte through the consortium Aerobrasil (later BH Airports).
Separately, Munich Airport formally set up a new subsidiary for airport consultancy work, referred to as Munich Airport International GmbH (MAIG), early in 2017 and with an initial objective of analysing opportunities to acquire airport related service companies in key markets like Asia Pacific, India or the Americas.
With this latest operation and maintenance award in New York it would appear that fee-based management will be the way forward for MAI in the future rather than investment.