Throughout the pandemic, the recovery of business travel has been a hotly debated topic. While the speed of this recovery may vary between countries, continents and companies, TMCs have been working to reinvent themselves to prepare for a new trading environment.
The findings from a survey by Amadeus of 250 executives from TMCs on the challenges that they are facing as well as how the corporations they work for are tackling the return to travel shows that despite recovery happening at a different pace across the world, some markets have already emerged from the risk zone and business travellers have been dusting off their bags, and already planning or even taking that next trip.
The research, published in the ebook 'Rebuilding Business Travel – insights from global TMC leaders on the business travel industry outlook and recovery strategies for 2022', indicates that fewer trips, longer stays, direct travel and sustainability will be among the most obvious business travel trends.
Business is better in real life
While we opened our homes to videoconferencing and digital meetings over the last couple of years, the value of spending time in person with clients, prospects or partners has only been reinforced by the pandemic, notes Mr Daniello. "I am a true believer in building relationships in person and it seems I am not alone judging by our survey results," he says.
The TMC executives in the Amadeus survey believe the impact of videoconferencing on business travel depends on the reason for the trip, and there is a strong consensus that physical customer interactions will be prioritised, with only around one in five (22%) considering these types of meeting will be replaced by videoconferencing. Unsurprisingly, the figures are even lower for business trips (20%), conferences and fairs and exhibitions (17%).
When it comes to internal meetings and trainings though, the survey shows people are more in favour of these being replaced by virtual meetings – around three in four agree with substation (internal meetings at 77% and trainings/ onboarding at 73%).
Travel patterns are changing
The research shows that TMCs also feel travel patterns are changing. There will be fewer trips but longer stays, with a higher spend per trip, and companies are more open to allowing for direct flights and premium cabins to ensure traveller safety. With the rebirth of business trips, 'bleisure' travel is once again gaining traction too.
TMCs in the survey are seeing a growth in these 'bleisure' trips. Corporate travellers are opting for longer business journeys to fit in work assignments and weekend leisure in one single trip. With more executives now allowed to work from anywhere, instead of having to be in a specific location, they no longer need to rush back to the office after a trip. They may even take a "workcation", where they travel to, and work from a leisure destination for an extended period.
Hybrid working: a win-win for employers and employees alike?
Companies have new digital demand to support hybrid working practices, with business travellers seeking a native digital experience when working outside of the office or home. However, this hasn't come without difficulties in managing the complexities that come with hybrid working. Corporations have needed to flex and move at rapid pace, ensuring they empower their employees with the right tools but also adhere to all of rules and regulations, notes Mr Daniello.
Duty of care and managed travel go hand-in-hand
There has been an increased focus on duty of care by TMCs, with around two-thirds of the Amadeus sample (65%) now considering an increased focus on duty of care to be a corporate clients' primary need. TMC respondents reported this trend is partly driven by clients' internal reorganisations, with human resources departments playing a much greater role in reviewing travel policies and processes since the pandemic started.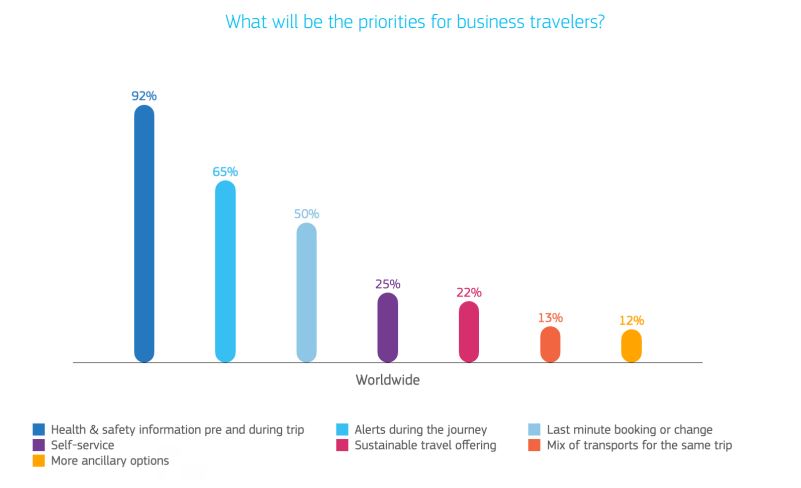 The level of support for which businesses rely on their travel providers understandably rocketed during the pandemic. "Travellers need reassurance – they want around the clock support," notes Mr Daniello. More than nine in ten (92%) TMC executives in the Amadeus survey considered health and safety information before and during the trip to be the business travellers' primary priority, followed by alerts during the journey (65%) and flexible tickets for last minute booking or changing (50%).
It has never been more important to book through approved and managed channels
To provide effective duty of care, employers need travellers to book through approved and managed channels. Booking off policy has been a long-running challenge for businesses and is one that the pandemic may have actually helped to reduce.
More than half the TMC respondents (56%) forecast a stricter travel policy as another evolving need for corporations, and one quarter anticipated increased demand for additional transactions that complement an airfare and encompass the whole travel journey such as accommodation or transfers.
Partially because of the rising logistical challenges of travel and high chances for disruption, Mr Daniello indicates there will be an obvious "increased focus on optimising travel spend" and "renewed emphasis on duty of care".
Sustainability becomes a must – one in five TMCs see it as priority for business travellers
Before COVID-19, sustainable travel was a "nice to have," says Mr Daniello, but in the present day it has become "an essential factor" for corporations and travellers alike. The TMC executives surveyed revealed corporations are increasingly requesting sustainability services as a central part of their requests for travel and expense management.
Among the support they see is booking more sustainable options like rail, providing emissions data and finding more environmentally friendly hotels. In fact, one in five (22%) TMCs surveyed said a sustainable travel offering will be a priority for business travellers.
The glass remains half full, not half empty for TMCs
TMCs no longer ride a wave of guaranteed long-term business travel growth, says the Amadeus report, and that represents "a severe challenge to revenues" in an already low-margin sector. Therefore, "inaction is not an option," it says, and TMCs "have to evolve" and find new ways to grow profitability.
The overall picture that emerges from this Amadeus TMC survey is an optimistic one. Amadeus says the findings illustrate that TMCs "see many routes to success," despite the possibility their customers may not travel as frequently, because "when people do travel for business, they will count on the support of TMCs more than ever".