Expansion of Fiji Airways' Australia network begins on 30-Jun-2017 with the launch of two weekly flights to Adelaide. Fiji Airways CEO Andre Viljoen told CAPA on the sidelines of the 5-Jun-2017 IATA AGM the airline is mainly targeting point to point leisure traffic from South Australia but also expects to generate connecting traffic beyond Nadi to Hong Kong and Los Angeles – particularly during off peak periods for holidays in Fiji.
Mr Viljoen said on average 35% of Fiji Airway's Los Angeles traffic now connects to Australia and New Zealand – with seasonal fluctuations depending on the time of year. Adelaide will become Fiji's fourth destination in Australia after Brisbane, Melbourne and Sydney. All three of these markets have nonstop service to Los Angeles, forcing Fiji Airways to offer very low fares to attract one-stop traffic. With Adelaide, Fiji will have a similar one stop product as Qantas and Virgin Australia – although these Australian carriers have the benefit of offering a daily product and enjoying a stronger brand in the Australian market.
"The airline is mainly targeting point to point leisure traffic from South Australia but also expects to generate connecting traffic beyond Nadi to Hong Kong and Los Angeles," Fiji Airways CEO Andre Viljoen.
In New Zealand, Fiji Airways serves Auckland, Christchurch and Wellington. Auckland has nonstop flights to Los Angeles from American Airlines and Air New Zealand while there are only one-stop products from Christchurch and Wellington.
Fiji Airways also serves San Francisco but San Francisco is currently served with only two weekly flights while Los Angeles is served daily. San Francisco is operated different days than the new Adelaide route but Fiji Airways aims to gradually upgrade San Francisco to daily, which should open up connections in the Adelaide-San Francisco market.
Fiji Airways has at least one daily flight to all three of its existing Australia destinations and Auckland. Christchurch is served with three weekly flights and Wellington with two weekly flights.
Australia is Fiji Airways' largest market with 29 weekly return flights and more than 5,500 weekly seats (according to CAPA and OAG data for the week commencing 12-Jun-2017). New Zealand is its second largest market with 19 weekly return flights and approximately 3,200 weekly seats. Fiji Airways mainly operates the 737-800 to Australia and New Zealand but some of its Auckland and Sydney flights are operated with A330s to meet high demand in these two main gateways.
Australia is the largest source market for Fiji's tourism industry. In 2016, over 360,000 Australians visited Fiji, accounting for 45.5% of total visitor numbers.
Fiji Airways' Australia traffic declined slightly in 2016 – as did Australian visitor numbers to Fiji. The launch of Adelaide should enable Fiji Airways to resume traffic growth and potentially surpass in 2017 the Australia traffic it achieved in 2015, when it carried a record 475,000 passengers to and from Australia.
Fiji Airways annual passenger traffic to/from Australia and average seat load factor: 2007 to 2016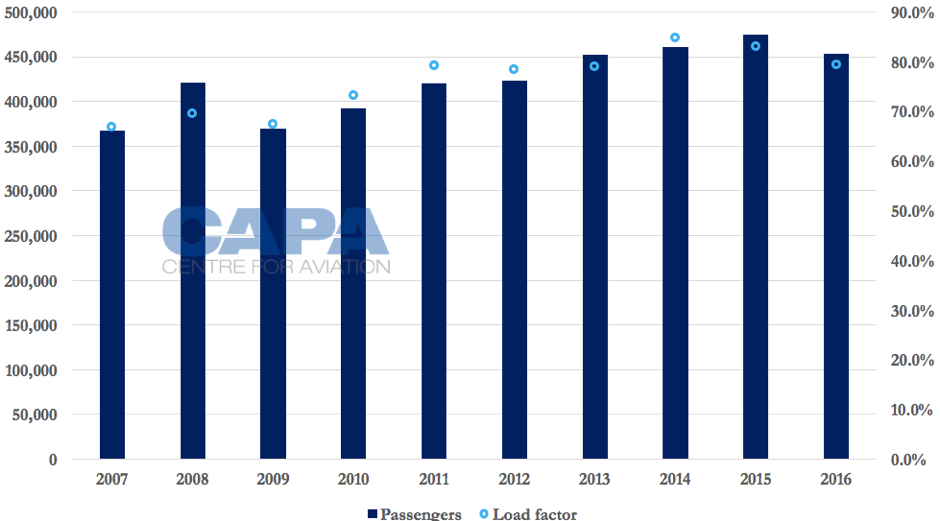 Source: CAPA – Centre for Aviation & BITRE
Fiji Airways plans to expand both its narrowobdy and widebody fleet over the next two years. The narrowbody expansion will enable further growth in Australia/New Zealand, including more flights to existing destinations and potential new destinations. In the long-haul network, Fiji Airways aims to launch services to mainland China and Japan – and upgrade San Francisco to daily– as the widebody fleet is expanded.
Blue Swan will examine Fiji Airway's plans for fleet expansion and renewal in a separate upcoming report.