Fiji's tourism industry has traditionally relied mainly on Australia and New Zealand, which continue to account for two thirds of total visitors. However, Fiji has been trying to diversify over the last few years by promoting the small island country in other markets. While the rapid growth in visitor numbers from emerging markets, particularly China and India, have captured more headlines Fiji has quietly been successful at attracting a large increase in visitor numbers from the generally more mature US market.
Visitor arrivals from the US increased by 15% in 1H2017 to 38,000, according to Fiji Bureau of Statistics data. Visitor numbers from the US were also up 26% over the last three years, from 55,000 in 2013 to nearly 70,000 in 2016. The US accounted for 10.3% of total visitors to Fiji in 1H2017 compared to 8.4% in 2013.
US visitor arrivals to Fiji and year over year growth: 2009 to 1H2017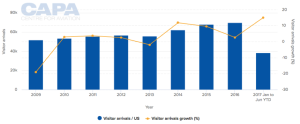 Source: CAPA – Centre for Aviation and Fiji Bureau of Statistics
Fiji Airways chief marketing officer Marc Cavaliere told Blue Swan TV on the sidelines of the 02-Aug-2017 CAPA Australia Pacific Summit in Sydney that Fiji's popularity as a holiday destination for Americans has been growing. Efforts by the carrier and Fiji Tourism to promote Fiji in the US market have aided this trend.
"Americans are just beginning to learn about Fiji. And they are just beginning to learn how easily accessible it is, how reasonably priced it is and really all the beautiful things we have to offer in Fiji," Mr Cavaliere said. "That is really a new open market for us where we have tremendous opportunity for development."
Fiji Airways is the only airline operating between Fiji and the US. The flag carrier currently operates one daily flight to Los Angeles, three weekly flights to San Francisco and three weekly flights to Honolulu (including one via Samoa, one via Kiribati and one nonstop frequency from Fiji). The Los Angeles and San Francisco flights are operated with Fiji Airways' new fleet of A330s while Honolulu is served with 737s.
Nadi-San Francisco was launched in late 2016 as a seasonal service. The route's initial success has prompted Fiji Airways to upgrade the route to a year-round service starting mid-Nov-2017. The current schedule includes two to three weekly frequencies but Mr Cavaliere said Fiji Airways plans to introduce a year-round three times per week schedule to San Francisco "fairly soon".
Fiji Airways' codeshare partnership with American Airlines has played a critical role in enabling Fiji Airways to grow its presence in North America. Fiji Airways has noticed growing demand from several US cities served with American operated domestic flights beyond Los Angeles and San Francisco – cities Mr Cavaliere said are "just beginning to get an interest" in Fiji as a holiday destination.
Mr Cavaliere said Canada, which is also served via Los Angeles and San Francisco, is "a very large target market for us as well". Canadian visitor arrivals to Fiji were up 12% in 1H2017 to just under 6,000. Canada is Fiji's sixth largest source market (behind Australia, New Zealand, the US, China and the UK) and accounted for 1.6% of total visitors to Fiji in 1H2017.
Fiji Tourism has helped the airline grow its North American traffic – as well as traffic in other growth markets. "It's all about telling the story of the destination, creating the desire or appeal and then providing the channel or bridge to bring people over," Mr Cavaliere said.