Earlier this year Mr Spohr said that even if 10% to 20% of corporate travellers don't return to the air due to factors such as a greater focus on environmental sustainability or technological substitution, it wouldn't hurt the business as much as many outsiders believe.
When it comes to the importance of business travel demand then Lufthansa's supposed reliance on the sector is often the example touted by the media. At Lufthansa Group's 2020 annual results presentation earlier this year, Mr Spohr acknowledged that just under a third of the airline's passengers (30%) are corporates and that they account for a much higher proportion of revenues, around 45%. But this is a figure that has been trending downwards over recent years, according to the executive.
Lufthansa Group has repositioned. It has retired many of its larger aircraft to help yields, while the launch of (another) airline AOC is not further complicating its operations but allowing it to support the current increased demand for premium leisure demand. While Eurowings may be best seen as a hybrid LCC brand, the new Eurowings Discover differs in its market positioning with an economy and business class offer for medium- and long-haul markets. Its fleet will also incorporate a premium economy cabin over the next few months.
It is positioned as a leisure airline, but with full service features. Frankfurt-based, it will add services from Munich from summer 2022. By the end of 2021 it plans to be operating seven medium haul and 10 long haul routes. Its fleet plan targets 11 A330s and 10 A320s by mid 2022. What's more, its cost structure is significantly lower than Lufthansa.
Lufthansa is also allowing economy class passengers on select long haul routes the option of booking a 'Sleeper's Row' at the check-in or at the gate, before their flight following a successful trial on the route Frankfurt-São Paulo for several weeks at the end of 2020. The new offer, available from Aug-2021, with prices between EUR159 and EUR229, is offered for select routes to the Far East, the US' west coast, Central and South America, or southern Africa.
The offer allows passengers to book an entire row of seats for themselves, consisting of three to four adjacent seats, for the duration of the flight. This offer comes with a pillow, blanket and mattress topper of business class quality, along with a special safety belt. Passengers who book a Sleeper's Row can benefit from pre-boarding, allowing them enter the aircraft earlier than other guests.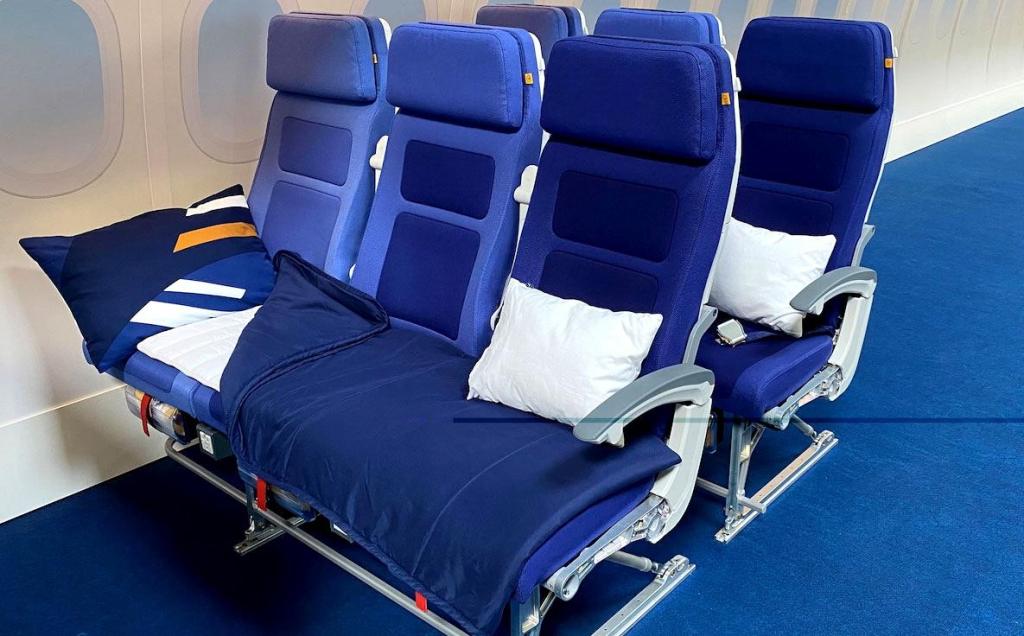 Lufthansa Group reported in early Aug-2021 that its outlook for the full year 2021 understandably remains dependent on the pandemic situation, which will continue to have a significant direct impact on business development. Travel restrictions in particular have a "decisive influence on customer demand", although the "desire for travel is unbroken among people," it said.
Lufthansa expects a positive development in demand for European tourism and an increasing recovery in business travel in 2H2021 and the group's airlines have further expanded their range of long-haul flights to include tourist destinations to meet the initial leisure and VFR flows. The company expects an increasing opening of international markets in 2H2021. Air travel to North America should be possible again from late summer and gradually towards Asia towards the end of 2021.
Still, total group capacity remains around 40% of the pre-crisis level seen in 2019. A further increase in capacity to around 50% of the pre-crisis level and an increase in passenger numbers is expected for 3Q2021 though. The group is said to be benefiting from increasing passenger and booking numbers from 2Q2021. The relaxation of travel restrictions in international air traffic and a great pent-up demand among passengers is driving both demand and activity.
In Jun-2021 alone, the number of bookings was more than twice as high as at the beginning of 2Q2021, but for the three month period passenger numbers remained down -82.4% compared to 2Q2019, with European and American traffic down over -80% and Asia Pacific approaching -95%.
The slow recovery of corporate travel will certainly continue to hurt Lufthansa Group to some degree regardless of the actions it has put in place to realign the business to the market conditions. Of concern, VDR, Germany's business travel association, has revealed that the country's businesses continue to be uncertain over corporate travel recovery and see more than a quarter (~27%) of demand actually being lost forever.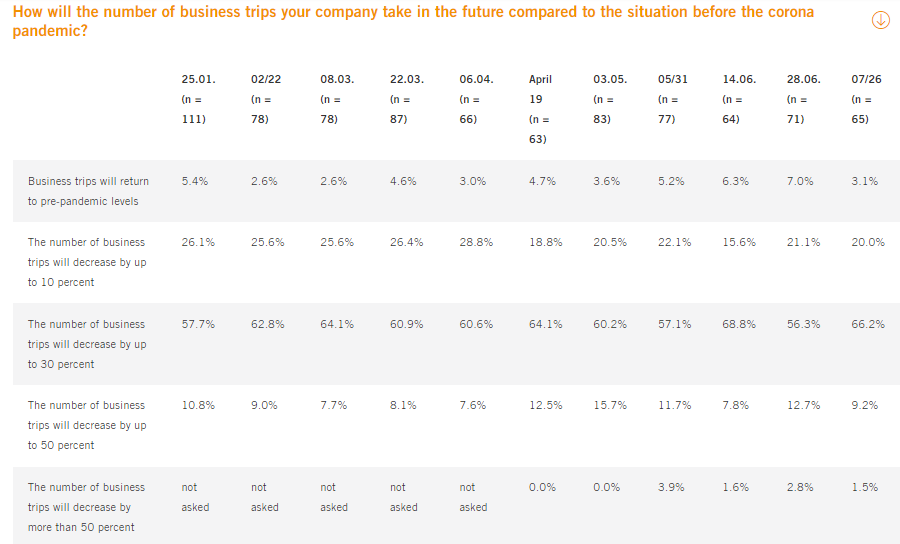 VDR represents a good cross section of the German economy with over 560 member companies including large corporate groups, SMEs, organisations and service providers to the business travel management sector, so the findings of its most recent research should ring some alarm bells. Its fortnightly insights into industry sentiment saw positivity that business trips in Germany will return to pre-pandemic levels hit their lowest levels since early Apr-2021, at just 3.1%.
A fifth (20%) of respondents to the 26-Jul-2021 survey expect levels of business trips to be down around 10%, but more than two-thirds (66.2%) feel it will be up to 30% down, with around one in ten (10.7%) still seeing it falling by a higher amount. On a positive, the latter share is declining (from over 15% in May-2021 and Jun-2021) suggesting a more positive overall outlook.
In fact, the VDR barometer does offer further positive trends. Almost one in five (18%) of the companies surveyed now allow unlimited business travel. Overall, business travel activity does continue to increase with approaching two-thirds (63%) of companies now enabling global business trips again. However, traveller health risks, lack of planning security, and unclear or non-transparent legal regulations at the destination remain huge barriers to travel.