---
Summary:
Ryanair will expand operations at Finland's Lappeenranta Airport this winter;
In the mid-2000s the then management tried to convince that airline and others that it was an alternative airport for St Petersburg, 200 km away in another country;
That didn't work out, but it was merely representative of the thinking at the time.
---
While that is a step in the right direction it barely hints at the scope of the plan for Lappeenranta that was devised in a previous era for it to become an alternative gateway to St Petersburg in Russia. The city and its airport are situated only 20km from the Russian border and 200km from Russia's second city.
Lappeenranta is Finland's eleventh largest city, but it had a chapter devoted to it in the Low Cost Airports & Terminals research reports which were published by CAPA – Centre for Aviation in the 2000s. It is situated well away from the heavily populated Helsinki-Turku-Tampere triangle.
It is around 2.5 hours by car from Helsinki and the one million population of that city but, critically, the same from St Petersburg, which has a population of over five million. The total catchment area was put at 8.4 million, Finland and Russia combined, or a population equivalent in size to Latvia, Lithuania and Estonia combined. That was certainly ambitious thinking.
Lappeenranta was therefore seen not so much an airport for Finland as a cross-border one for Russia, or at least that was the ambition of the management. Lappeenranta does in fact have a tourist offer of its own, being situated in Finland's 'Lake District', and on the south shore of Lake Saimaa but the driver behind this development was the fact that the city is Finland's main gateway to Russia and Russia's main entry point into the European Union. As the airport's publicity material would have it: "Where east meets west".
There actually was an air route between Lappeenranta and St Petersburg that commenced in 1995, but it failed because of the proximity of the two cities by surface transport. AT the time St Petersburg was a great example of the Russian airport sector outside Moscow, where a battle for supremacy being waged between the two main airports has ensured that terminal development is kept up to date. That was not necessarily the case at the other major cities like St Petersburg, where Pulkovo Aviation, the airport's owner, had sought investment partners for much-needed infrastructure improvements.
Eventually that need was satisfied as the Fraport-led Northern Gateway consortium took control, and it had to be. Passenger numbers at that time at St Petersburg were only around five million per annum, small for such a large city. An issue has been the lack of LCCs in Russia, a situation which has not changed much today.
MAP - Lappeenranta is only 20km from the Russian border and 200km from St Petersburg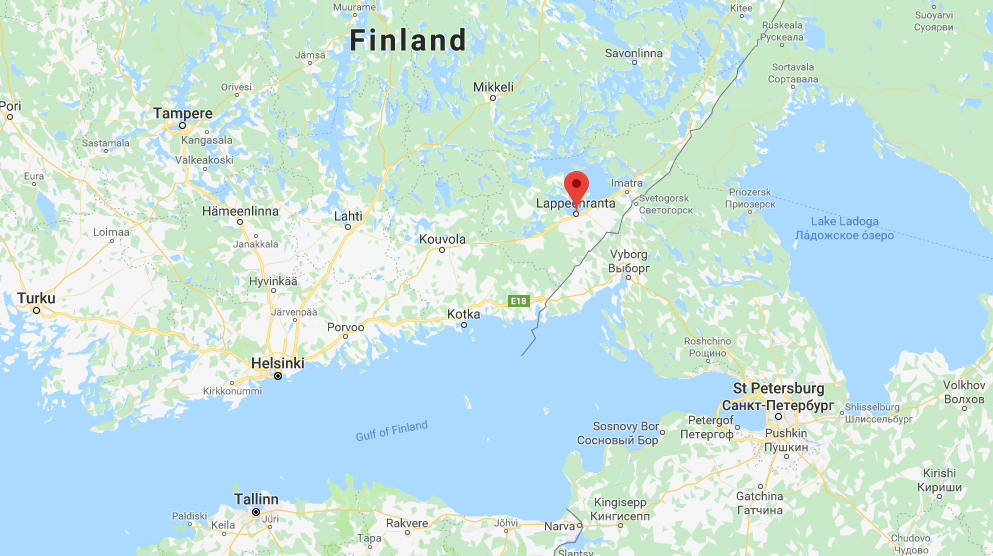 Source: Google Maps
To experience low-cost travel the nearest point for many western Russians was Lappeenranta. The presence of a Russian consulate in Lappeenranta made the possibility of an ad-hoc visit to Russia feasible for tourists visiting southeast Finland. A visa is essential for most visits to Russia but can take several weeks to be processed by mail in many western European countries.
Lappeenranta's clientele was mainly business people connecting to and from flights at Helsinki, supplemented by well-heeled tourists to the Lake District and South Karelia regions, both of whom required a high level of service rather than a low-cost offer. Lappeenranta is also a wealthy city-region in its own right with an economy based on high-tech industries and wood pulp mills.
Ryanair made Lappeenranta its second Finnish gateway after Tampere in 2010 and it currently operates to Milan Bergamo, Berlin Schönefeld, Thessaloniki and Athens. But that is the extent of the operations there. There are no other international scheduled services, with the occasional charter flights by Smartwings to vacation destinations. There are not even internal flights to Helsinki, which has to be accessed by rail or road.
It is easy to take a mocking view of Lappeenranta's attempts to place itself as a serious alternative to St Petersburg Pulkovo Airport and the Low-Cost Airports report bracketed it at the time as "a gamble" in the same league as the subsequently abandoned Ciudad Real airport in Spain, which attempted to be an alternative to Madrid Barajas even though it was 180km (112 miles) away from the capital.
But both of those examples represent the prevailing zeitgeist in the mid-2000s, an unprecedented boom time for LCCs. It was felt that every secondary-level airport in Europe could make a case to attract LCCs and that passengers would happily use them and then get on a bus for a road journey that took longer than the flight. In some cases it worked and still does. It more cases, it did not.