The new route will launch from 13-May-2018 as part of an expansion of the Nordic carrier's summer 2018 long haul network, including broadening its footprint across Asia. Alongside the new Chinese route, Finnair will also add flights into existing markets including Bangkok, Delhi, Tokyo, as well as Chicago and San Francisco in the United States of America.
Located along Yangtze River, Nanjing is one of the four ancient capitals of China, and a vibrant centre for culture and economy. With a population of over eight million people, Nanjing is an important commercial hub and leisure destination with growing passenger and cargo demand. Finnair will serve the market three times weekly during the summer season, reducing to twice weekly during the winter season using Airbus A330-300 equipment.
Nanjing's Lukou International Airport is the 12th busiest facility in mainland China by traffic and has been linked to Europe for almost ten years by Lufthansa. The German carrier introduced an up to five times weekly Frankfurt – Nanjing link from March 2008 and while frequencies have reduced to a couple of times weekly in the low season, the market is currently served on a five times weekly basis by an Airbus A340-300. This summer Italian leisure carrier Neos has also introduced a twice weekly seasonal charter linking Milan and Nanjing, operating from May-2017 through to Dec-2017.
MAP - Nanjing's Lukou International Airport currently has only two non-stop links to Europe: year-round Lufthansa to Frankfurt and summer seasonal Neos to Milan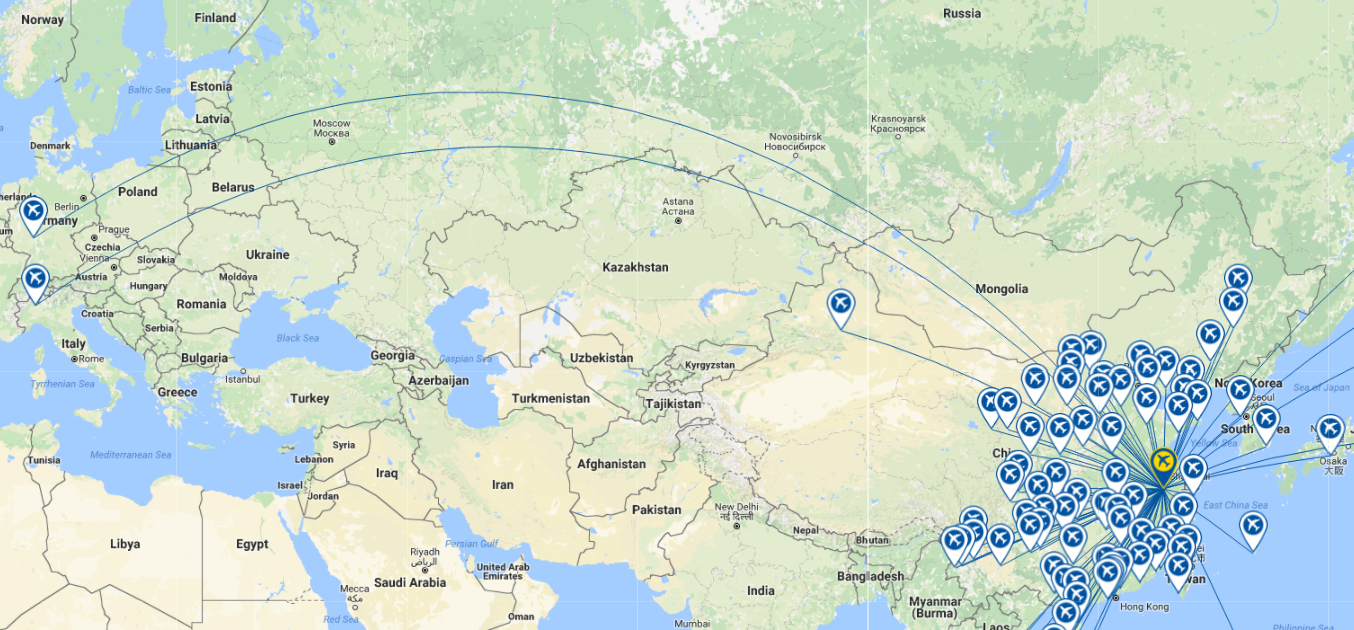 Source: CAPA - Centre for Aviation and OAG
The opening of the Nanjing route will increase Finnair's growing footprint in Northeast Asia to seven destinations in Greater China during the 2018 summer season, a market it will celebrate 30 years of service in 2018. Altogether, Finnair will fly 38 weekly flights to Greater China, flying daily flights to both Beijing and Shanghai, four times weekly flights to both Chongqing and Guangzhou, three weekly flights to both Nanjing and Xi'an as well as 10 weekly flights to Hong Kong.
The Blue Swan Daily analysis of traffic data from OAG shows that the Europe - Nanjing market has matured well this decade with regular double-digit year-on-year traffic rises. In fact estimated O&D flows have more than doubled over the past five years.
CHART - Like many Chinese second-tier cities, air demand between Nanjing and Europe is on the rise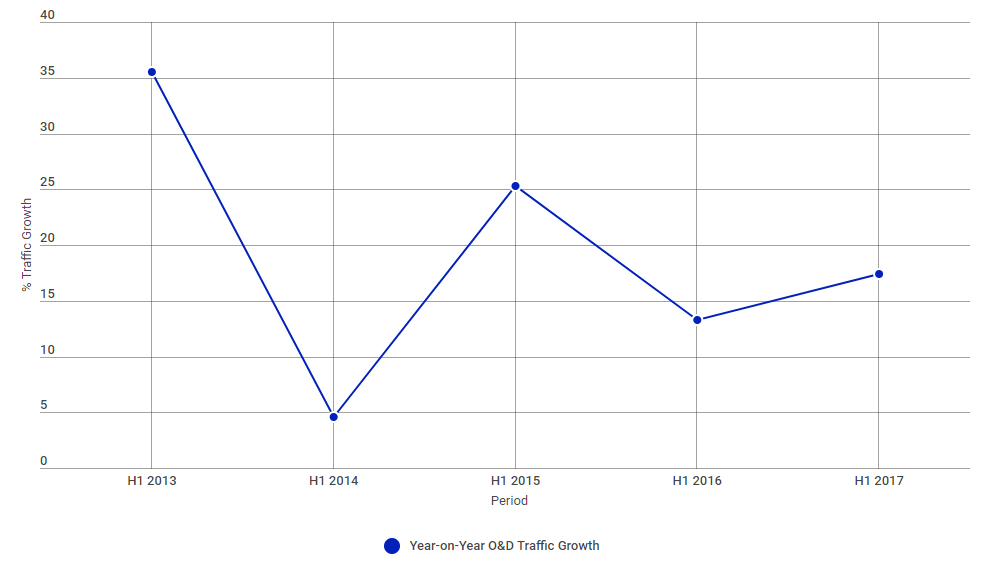 Source: The Blue Swan Daily and OAG
Finnair is fast becoming one of the biggest and most preferred European carriers operating between Europe and China due to its strong European and Asian schedules, convenient connections via its Helsinki hub, competitive air fares and some of the shortest overall journey times between the two markets.
Over the past decade, Finnair has placed a strong strategic focus on the Chinese market, opening direct routes to Chongqing, Xian and Guangzhou while enhancing the passenger experience with Chinese signature meals and mobile payment solutions onboard such as Alipay.
The Blue Swan Daily analysis shows that this has helped it double the number of passengers it is flying between destinations in Europe and China since the start of the decade, with O&D flows up by almost a fifth in 2016, raising Finnair into the top ten airlines flying in this market.
CHART - Finnair is taking an increasingly active role in the Europe - China market with its attractive offering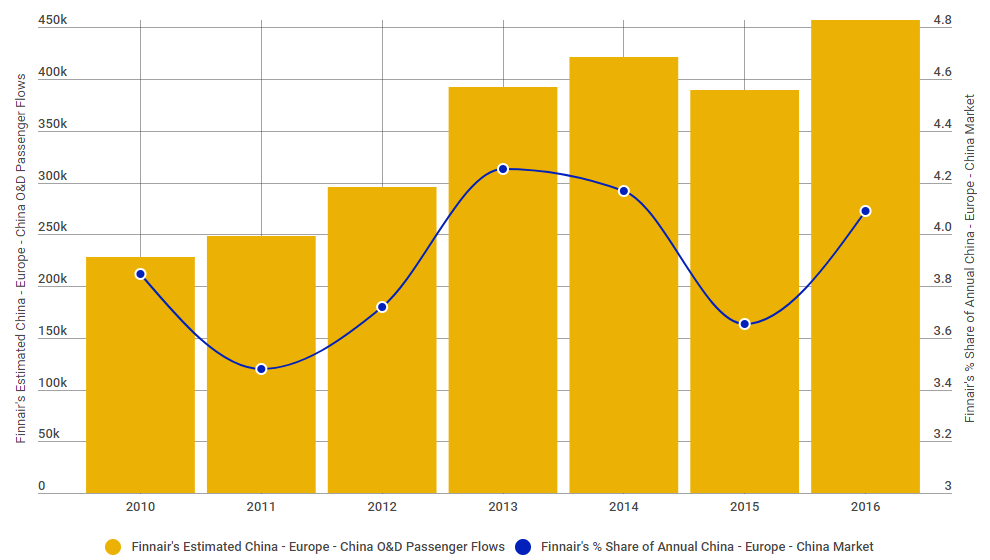 Source: The Blue Swan Daily and OAG
Nanjing will be the sole additional market in a long haul growth that will also see it add frequencies into Bangkok, Delhi and Tokyo Narita. An additional weekly flight will be added to the Helsinki - Delhi route bringing it to four weekly services during the summer season and six during the winter season.
Meanwhile, three additional frequencies will be added to Bangkok and Tokyo Narita bringing the former up to ten times weekly during the summer season and 16 times weekly during the winter season and the latter to double daily.
CHART - Tokyo Narita and Hong Kong are Finnair's largest Asia Pacific markets from Helsinki based on seat capacity for the week commencing 28-Aug-2017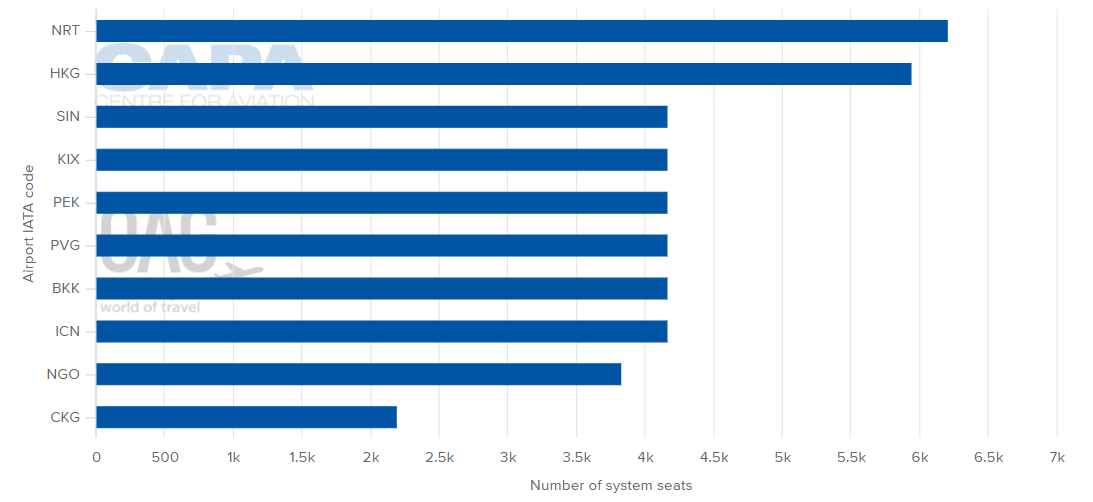 Source: CAPA - Centre for Aviation and OAG
In the US, Finnair's Helsinki - Chicago will become daily with the addition of two new weekly frequencies from April to October and its three times weekly Helsinki - San Francisco flights will now have a longer operating season, flying from 03-May-2018 to 27-September 2018. All these transatlantic flights are operated as a joint business with American Airlines, British Airways and Iberia.
In line with its growth strategy and adding further feed into its long haul network to Asia, Finnair is adding two new European routes in its summer 2018 line-up: Lisbon in Portugal and Stuttgart in Germany. It will also be increasing capacity on several of its popular short haul destinations during the summer 2018 season, boosting its overall network capacity by 14% compared with the current summer 2017 season.
CHART - Finnair has delivered year-on-year capacity gains throughout 2017 and will repeat this in 2018 with confirmed network expansion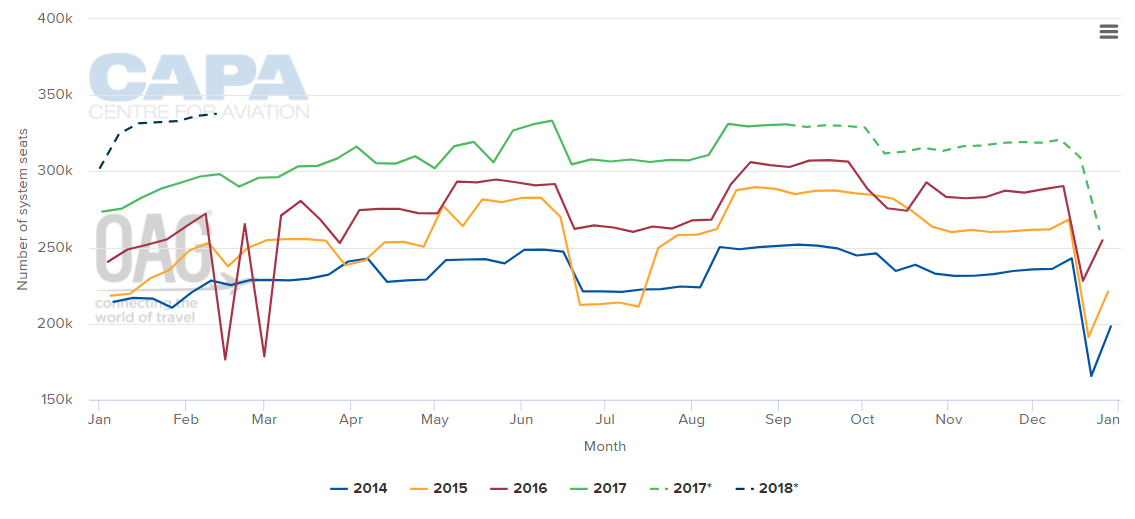 Source: CAPA - Centre for Aviation and OAG
The new Helsinki – Stuttgart link, its sixth market in Germany, will start from 23-Apr-2017, while the Helsinki – Lisbon route will launch from 01Jun-2018 and will be flown four times weekly. Other key network developments include an additional daily flights on the Helsinki – Moscow and Helsinki – Gdansk routes; additional multiple weekly frequencies to Barcelona, Edinburgh, Madrid and Reykjavik; and additional weekly return rotations to Billund, Dublin, Dubrovnik, Malaga, Tel Aviv, Venice and the Greek markets of Chania, Corfu, Heraklion, Rhodes, Santorini and Skiathos. Finnair will also add·17 new weekly frequencies to the Estonian capital Tallinn, flying up to ten times daily.