Here's some initial insights from the packed agenda:
Flight shaming could reduce Australia tourism arrivals from mature markets
ACCOR director of sales performance - business partners pacific Elizabeth Georgopoulos said she believes the 'flight shaming' movement is going to have an impact on inbound tourism into Australia from mature markets unless the Australian Government develops a strong climate change policy and acts on it. She noted the perception in Europe of Australia's action on climate change is already "not great".
AI and other disruptive technologies reaching 'very mature state'
AI & Bot strategist, customer experience futurist & entrepreneur Dr Catriona Wallace said AI and other disruptive technologies such as blockchain, machine learning and autonomous vehicles are now "are all starting to come into a very mature state" and business leaders need to be ready to incorporate these technologies and adapt to them. She explained that AI is going to result in the automation of 40% of jobs in sectors such as travel, tourism, hospitality and leisure. According to Dr Wallace, the development of AI and automation technologies will result in around 1.8 million jobs being displaced, while another 2.3 million jobs will be created.
Airline retailing will 'never' replace TMC
Egencia director of air supply at APAC Charles Wong stated travel managers "need" to be "in control" of their travel policies. He noted airline retailing will "never" replace the TMC, and added the future TMC needs to be a marketplace which will "add value and streamline the relevant content directly to the customer".
Air emissions more of a focus than those from other parts of corporate travel
FCM Travel Solutions director global sales & strategic university partnerships Jamison Warren said there is a "focus on air emissions" when it comes to corporate travel, while other areas of emissions, such as road transport or hotel stays, do not receive the same level of attention from corporate travel buyers. He added that if Australiasia is to reduce the impact of transport on the environment, then individuals and companies need to pressure governments to ensure there are viable alternatives to air travel. Mr Warren said he feels like Australia is "lagging behind, most definitely" when it comes to climate change and emissions.
Aviation industry has gone from being revolutionary to 'way behind' on emissions
CAPA - Centre for Aviation chairman emeritus Peter Harbison said the aviation industry was "quite revolutionary" when it acted to introduce industry wide emissions targets six or seven years ago, but these are now "way, way behind now" given the growth in emissions from air transport. Mr Harbison noted air travel has quadrupled since 1990 and is forecast to roughly double again by 2037. He explained that the aviation industry has not been consistent when it comes to the issue of carbon emissions and when it has come to a response this "very much comes down to an individual airline". Mr Harbison also said airlines have not managed to develop a "coherent" or "harmonious" voice or message in addressing public concerns about their carbon emissions.
Trust issues surrounding offsetting programmes reduce their uptake
ACCOR director of sales performance - business partners pacific Elizabeth Georgopoulos said travellers are "conscious" about the contribution of the emissions generated by their travel to climate change and the need to offset the emissions, "yet so few actually offset" due to trust issues surrounding offsetting programmes.
Australia and NZ are leading markets in virtual cards
Mastercard director commercial payments Gregor Lochtie stated: "Virtual cards are just starting to take off in the market" and "Australia and New Zealand are leading markets in virtual cards".
Virtual cards are 'more secure than traditional cards'
Divipay founder and chief executive officer Daniel Knaiz stated that "in a lot of ways" virtual cards "are more secure than traditional cards" as the card can't be used without biometrics". He stated they provide a number of "inherent benefits", such as instant onboarding, instant card closure and offboarding, an expense policy which can be built into the logic of each individual card and increased security. Virtual cards can provide a "seamless end to end process for all types of expenses", he said.
NDC yet to fulfil promise for industry: ATPI
ATPI commercial head for global corporate business Julian Mills stated IATA's New Distribution Capability (NDC) has "come at a cost" for implementation. Mr Mills commented: "We haven't seen the ultimate way that NDC was sold into us as an industry".
LOOK OUT...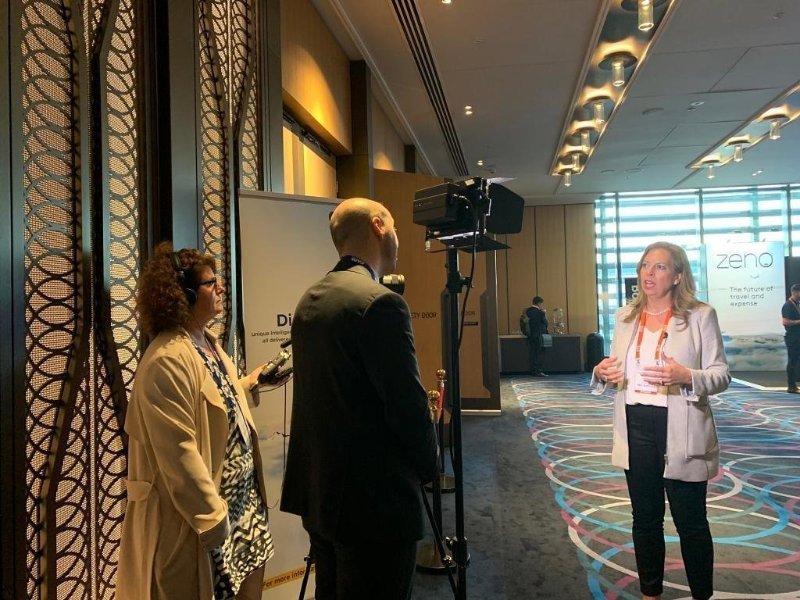 Exclusive executive interviews from Sydney will be published on CAPA TV in the coming weeks, as well as full coverage of the agenda sessions.
NDC will continue to evolve and become accessible to more airlines
CTM global head of partnerships Scott Ward stated NDC will continue to evolve. Mr Ward said NDC implementation is being driven by major network carriers, as these airlines have the funds to invest. Mr Ward predicted that greater technology efficiency and reduced costs over time will make NDC accessible to more carriers. He also noted the adoption of NDC is being driven by competitive pressure.
'Airlines are still feeling out NDC as they go'
Serko chief strategy officer Bob Shaw commented on the implementation of NDC, stating: "Airlines are still feeling out NDC as they go".
Qantas says NDC is 'a blueprint for building technology'
Qantas global manager - distribution strategy and channel development Anthony Collins stated NDC is "not a distribution strategy" in itself, but is instead "just a blueprint for building technology". Mr Collins said legacy technology "creates a bottleneck of innovation" and hinders the ability to meet the increasing needs and expectations of customers. Mr Collins said NDC is "a change our industry needs to embrace".
American Airlines 'enhancing' NDC content 'day by day'
American Airlines manager of distribution strategy Yuji Watanabe stated the carrier is "enhancing" NDC content "day by day", adding NDC will "be able to provide the benefit to the TMC and corporate traveller".
There will be pressure on organisations for 'authenticity and transparency'
AI & Bot strategist, customer experience futurist and entrepreneur Dr Catriona Wallace stated "there will be a great pressure" placed on organisations "including airlines" for "authenticity and transparency". Ms Wallace stated there will be "pressure" from the Government and "growing pressure" from millennials and organisations to "get ready" and be "quite transparent".
United Airlines to introduce new business seats and premium economy on Australia routes in 2020
United Airlines national sales manager Tim Wallis stated the airline's new Polaris business class seats and new premium economy product will be introduced on Australia routes during 2020, as its Boeing 787 aircraft are retrofitted. Mr Wallis also confirmed plans to replace 787 with 777-300ER equipment, featuring 60 Polaris seats, on San Francisco-Sydney service from Dec-2019 to late Mar-2020.
[perfectpullquote align="full" cite="" link="" color="" class="" size=""]MORE INSIGHTS…
CAPA – Centre for Aviation members were able to see live updates from the CTC-CAPA Corporate Travel Gathering - Australia. Find out more about how a CAPA membership provides a front row seat to global aviation news, analysis and data as it happens, with access to a comprehensive suite of tools that can be customised to your needs.[/perfectpullquote]