Japan's Ministry of Land, Infrastructure, Transport and Tourism (MLITT) has released the results of a survey investigating a proposal to privatise Kitakyushu airport. The survey concluded privatisation is an "appropriate" measure to improve the management of Kitakyushu. It also recommended the airport's runway be extended from 2500m to 3000m and passenger terminal facilities be improved.
MLITT expects traffic at Kitakyushu Airport to increase from 1.8 million passengers in FY2018/2019 to 2.2 million passengers per annum by 2030. That is just a 400,000 increase (2.2%) over 11 years, or 0.2% per annum. MLITT must surely be hoping for better than that!
MAP - Kitakyushu is the northernmost city on Japan's Kyushu Island and one of two designated cities in Fukuoka Prefecture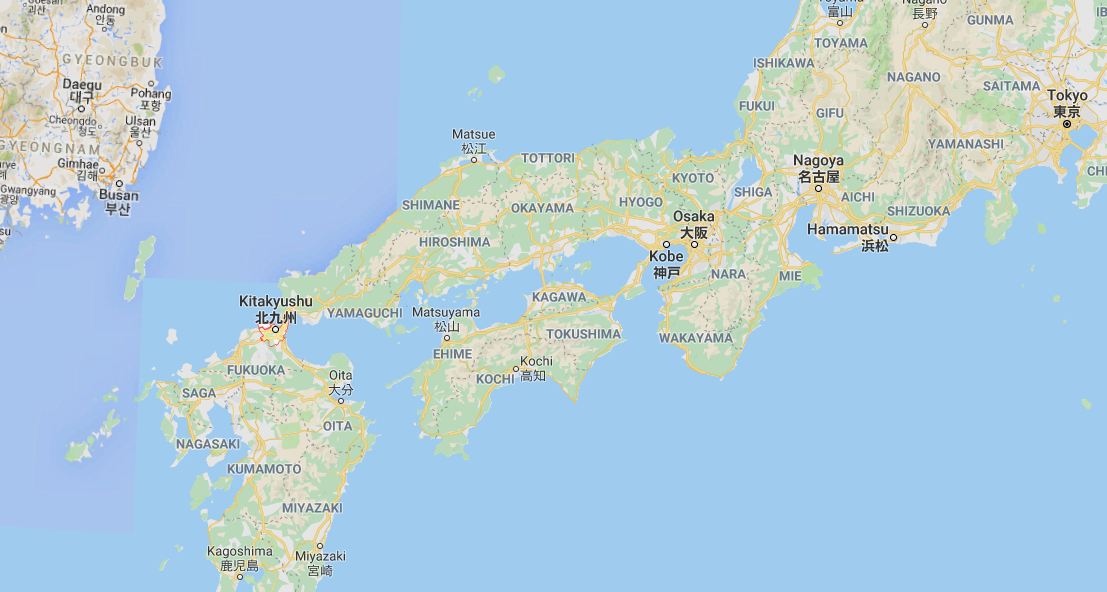 Source: Google Maps
Kitakyushu is at the smaller end of the range of airports which are being or have been privatised in Japan but it isn't the smallest – five of the seven airports on Hokkaido island, for which a deal is about to be concluded, carry considerably less passenger traffic.
The airport is an offshore island facility, Japan's second after Kansai. Kitakyushu is a port city of one million people, Japan's 11th largest, lying midway between Tokyo and Shanghai. It is one of Japan's largest centres for international trade and industry.
It is trying to enhance its tourist potential by targeting budget airlines. The island was built to low cost principles by sharing dredging and landfill costs with an unrelated port improvement project. The same philosophy of 'start small, think big' was applied to the terminal building, designed so that it can adjust to any increase in demand for facilities and services.
When opened, budget airlines were few and far between in Japan. Slowly but surely the seat capacity ratio has now shifted in favour of LCCs. As recent as ten years ago only 1.3% of international seats into and out of Japan as a whole were classified as 'low cost', and 5.5% of domestic seats. In Jan-Aug 2018 that has become 27% in the international and 17.8% in the domestic market.
CHART – The rise of the LCC model in Japan has been significant this past decade
Source: CAPA - Centre for Aviation and OAG
Kitakyushu's performance in this respect, being an airport where 78% of seats are on domestic flights, is in line with the national trend. 17.5% of the capacity is 'low-cost', just 0.3 percentage points less than the national average. This is important because one of MLITT's privatisation goals is to encourage domestic and international low-cost segment growth. The department believes this a good way of approving regional economies while taking some of the burden off large-city airports and especially Tokyo's Haneda and Narita airports.
Passenger traffic at Kitakyushu has been on a firm upward trend since 2016, peaking at +23% in 2016 and hovering just under +9% now (Jan to May-2019). That is outperforming the national passenger growth trend by 5.3 percentage points this year.
CHART - Passenger traffic at Kitakyushu airport has been on a firm upward trend during the second half of the decade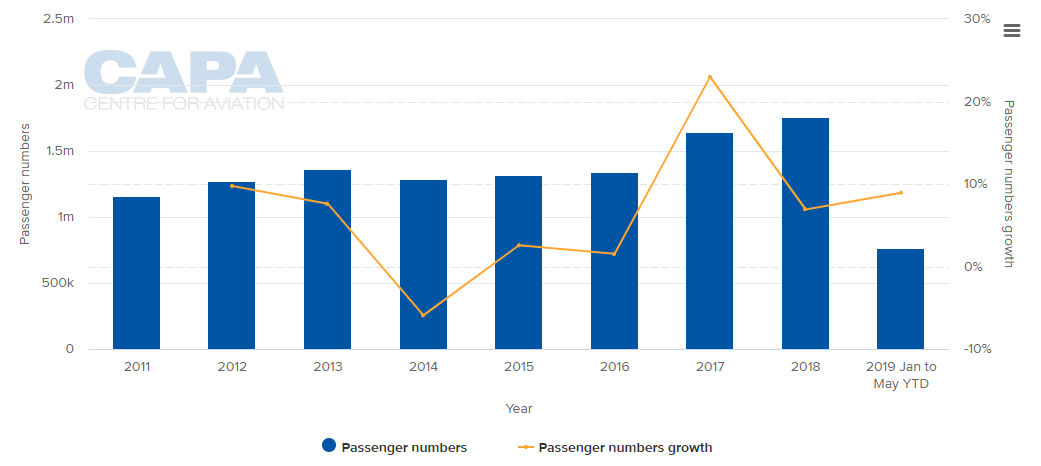 Source: CAPA - Centre for Aviation and MLITT
Kitakyushu also has a good balance of carriers. While the hybrid StarFlyer has the majority of capacity (60%), the network airline Japan Airlines (19.7%) and the Korean low-cost carrier Jin Air (12.4%) also play an important role. Kitakyushu is the closest Japanese airport to Korea, just 200km distant.
Other factors of interest to potential investors will include that it is one of a handful of Japanese airports to have 24/7/365 operations, which is possible because of its off-shore location (the previous airport having been hemmed in by mountains).
But who would realistically be interested in entering into a partnership to operate this airport (most Japanese airport privatisations have been by consortiums so far)? Japanese companies include Mitsubishi Corporation, Japan Policy Investment Bank (aka Development Bank of Japan, which is also an advisor to MLITT); also possibly Japan Airlines and ANA Holdings.
All of these are part of the consortium which looks set to be awarded the Hokkaido airports package at the other end of the country. Traditionally, a host of other Japanese companies join these consortiums as minority shareholders, each with their own specialisations.
Of the foreign companies VINCI, which is actively managing three airports around Osaka/Kobe in a consortium, should be considered a front runner except that Kitakyushu on its own might be thought of as too small and insignificant.