---
Summary:
Spain has many small regional airports with very limited air connectivity, but Portugal also has some examples, including Beja Airport which is trying again to attract air services, with an incentive offer;
There remain many similarities between Beja and these 'failed' secondary airports in Spain, and is actually backed by a senior player in the industry, Vinci Airports;
Beja Airport opened in Apr-2011 with charter flights to the UK and to Cape Verde with the intention to attract low cost carriers to develop local tourism in the vast region that surrounds the Alqueva dam;
Despite its modern terminal and long runway Beja managed just over 1,100 charter passengers in 2017 on 42 movements clearly suffering from having a local population that is too small and not enough to attract viable numbers of visitors.
---
It was supposed to be Madrid's secondary airport but it was simply too far away and there wasn't enough traffic, in or out. As it happens, the latest in a series of attempts is being made right now to get that facility going, to handle maintenance work, but a lot of people have lost their shirts on it already.
And there are others. Castellon Airport, north of Valencia, which opened in 2011 with no airlines operating there at all. Following a change in ownership it offers today two airlines and four destinations. Lleida-Alguaire Airport, midway along the road between Spain's second and fifth largest cities (Barcelona and Zaragoza) opened in 2010 as a designated regional airport and in that year attracted 62,000 passengers. The following year that amount almost halved and has stayed around 30,000 ever since. There is one year-round airline operating one route, supplemented by a couple of summer charter series.
Then there is Badajoz Airport, sandwiched between Castile La Mancha and Portugal in the even less populated Extremadura region. That airport at least is operated by AENA, which is probably why it still exists, together with the fact that it is also an air force base. Propped up by public service obligation routes to Madrid and Barcelona, it saw a spectacular revival in passenger numbers in 2017, up by almost 50% to 49,000. As recently as 2015 it was as low as 22,000.
The malaise is not limited to Spain. Across the Portuguese border, 120 km from Badajoz, and a similar distance to the southeast of Lisbon, lies Beja Airport, in Alentejo, Portugal's largest region, the size of Belgium.
MAP - Beja municipality is located around 150km from Lisbon in the Alentejo region of Portugal. It has a total population of under 35,000 inhabitants with the city of Beja home to almost to thirds of that number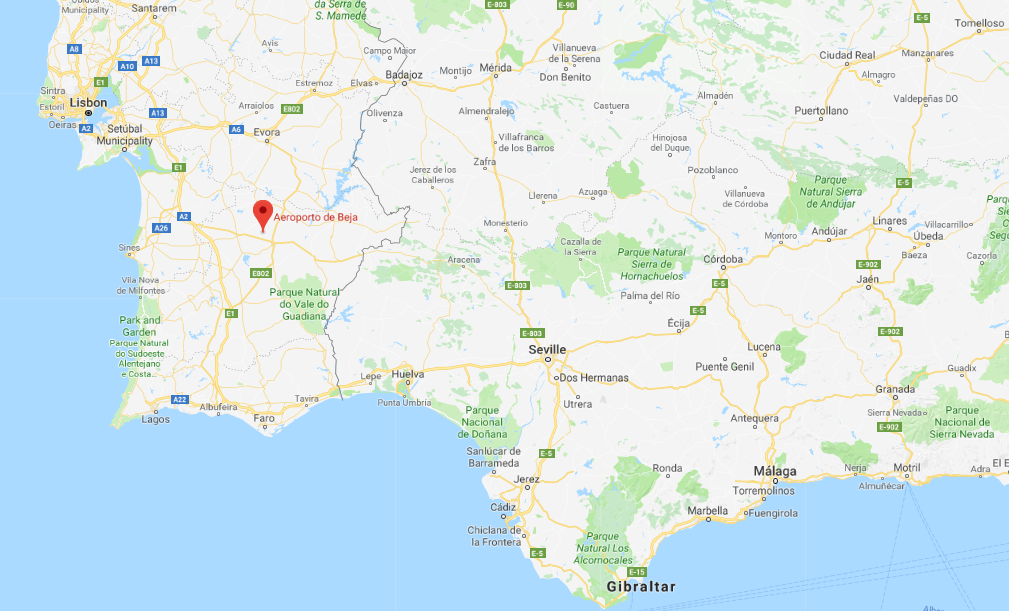 Source: Google Maps
As with Badajoz, Beja Airport is operated by a senior player in the industry after France's Vinci Airports acquired ANA Aeroportos de Portugal (ANA) in 2013. But Vinci must wonder just what to make of Beja.
The airport opened to civilian flights in Apr-2011, having been delayed for over a year by the general and Portuguese economic crises (echoes of Ciudad Real, Castellon, Lleida and Ciudad Real) with charter flights to the UK and to Cape Verde, the latter once a Portuguese colony and with a high number of Cape Verdean nationals resident in Portugal.
The intention right from the start was that Beja Airport should attract low cost carriers to develop local tourism in the vast region that surrounds the Alqueva dam, which is the biggest artificial lake in Europe. This is not a tourist area per se; it is undeveloped (which is attractive to some). It was best known for being the site of Europe's largest ostrich farm!
The government made a concerted effort to get tourist initiatives under way around the dam site, which is dry, hot and remote from national and transnational (EU) governments and economies. Beja itself has an interesting history with many fortified castles and a population fortified by its many wines. A new golf resort opened in 2012.
The airport also aspired to be a logistics platform handling goods shipped to the Port of Sines, to and from Europe. The port, on the Atlantic coast between Lisbon and Faro, is an open deepwater facility with no restrictions and leads the Portuguese port sector in volume of goods handled.
Physical attributes of the airport include the EUR33 million EU-funded civilian Terminal (2011), commissioned by ANA, and a 3,450 m runway which is the longest in Portugal. Despite that particular attribute the Ministry for Economy and Employment announced in Feb-2012 that it would "transform" the airport into an LCC hub. This was at the height of LCC growth in Europe.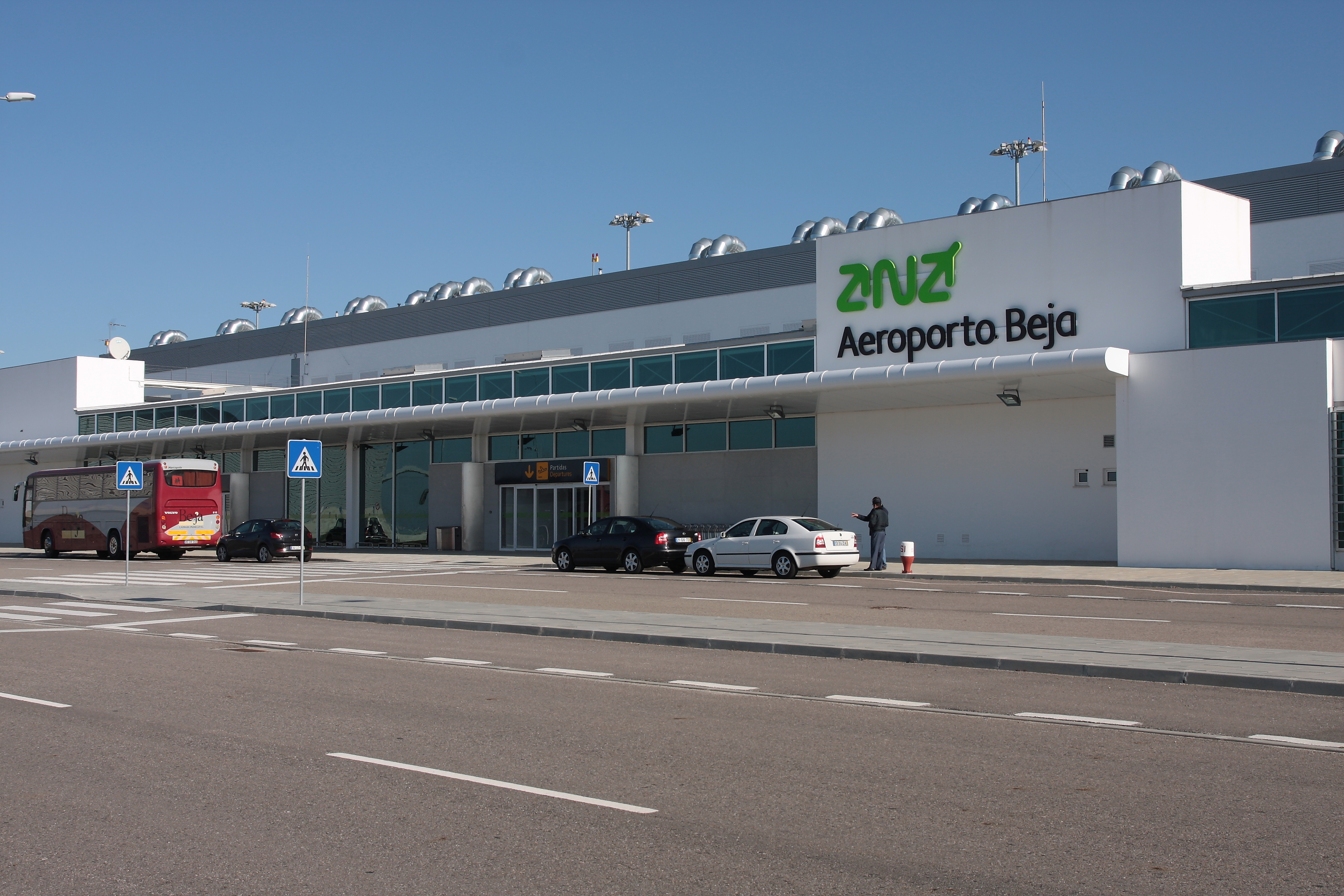 The problem always was of which LCCs would commit to Beja, if they were not going to do so with the Spanish airports mentioned previously. Ryanair was already established at Faro on the prized Algarve coast about 120 km away, for example. Today, Ryanair, easyJet and Jet2.com have between them almost 60% of the capacity there. And since 2011 Ryanair has moved into Lisbon's Humberto Delgado airport and with Vueling and easyJet has one fifth of capacity there, similar to the position in Madrid.
Madrid is an apposite comparison because it was the opening of a new terminal there which removed the need for the Ciudad Real airport as spare capacity became available for budget airlines. The expansion of facilities at Lisbon under Vinci's management has equally removed whatever need was perceived in the case of Beja Airport, and now the Montijo air base close to Lisbon will become an LCC facility anyway.
Put simply, Beja suffers from Ciudad Real syndrome – a local population that is too small and not enough to attract viable numbers of visitors. Despite its modern terminal and long runway Beja managed just 1,166 charter passengers in 2017 on 42 movements (average 27.8) and that was a passenger increase of 350% on 2016! The original target was one million ppa by 2015 and in 2013 there were 90 movements.
Along the way there have been schemes to turn it into an aircraft parking facility like Spain's Teruel Airport. That might be a better option. But the Government and the operator have never given up on their desire to build passenger traffic and this month announced plans to develop an incentive initiative from summer 2019 with tour operators offering point-to-point, integrated tour packages to use Beja rather than Lisbon airport to alleviate capacity restraints during peak seasons.
As the Montijo project is designed to do just that, this really is a case of Beja Airport drinking in the last chance saloon. As both LCCs and network carriers continue to transform into hybrid airlines and uncertainty prevails over the direction of the short-haul air transport segment more airport operators and investors are going to look long and hard at these "promising" cases like Beja and the Spanish airports that have utterly failed to meet objectives before opening the cheque book.
For example, right now the Albanian government wants to operate the airport at Kukës under concession and to develop it as a public-private partnership. Kukës is a town of less than 20,000 people only 60 miles from Tirana and one which has so few attractions it makes Beja look like Xanadu. Who is brave enough to make an investment there?