As a subsidiary of Saudia, flyadeal had been sitting on a conditional order of 30 Boeing 737MAX aircraft, following a lengthy bidding process between the two major airframe manufacturers. Then the well-publicised MAX problems came along, prompting a rethink, fuelled no doubt also by some visits from the Airbus sales team. So it isn't really a great surprise to learn that the carrier has now switched manufacturers as certainty about the future timing of the troubled 737 model wavers. flyadeal's 30 new A320neo aircraft will start arriving from 2021.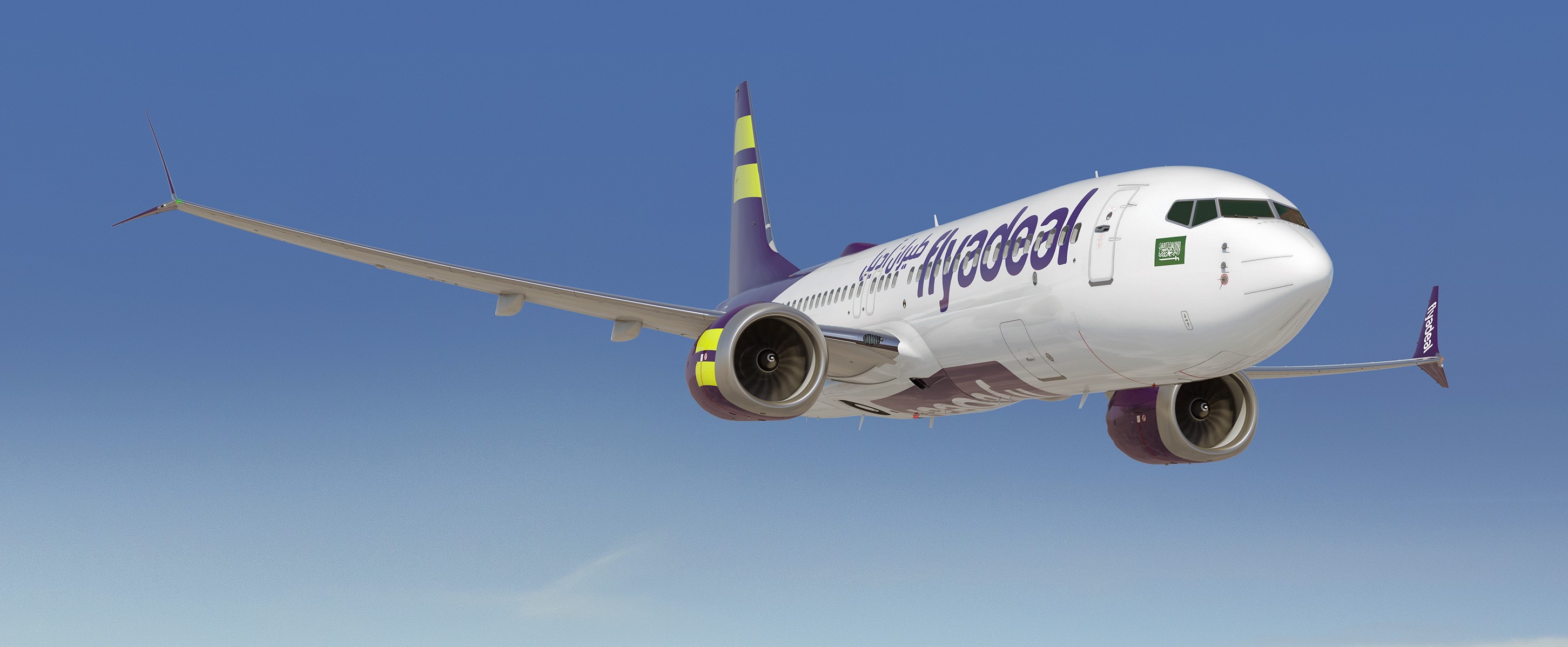 While not a surprise, this remains a big blow to Boeing, which had been trying hard to maintain a foothold in what had always been a Boeing stronghold, as the Saudia group has shifted its focus. That said, 58 of Saudia group's 162 aircraft are Boeings, mostly 777s and 787s, although there are now only 7 outstanding orders from the OEM.
Interestingly, parent Saudia quietly took the opportunity to announce an even greater allocation of A320s, out of its own total order of 100 Airbus at the recent Paris Air Show, also allocating options for a further 20 A320neo family aircraft to its LCC. The extra allocation is made easier by what now becomes the commonality of the dual brand operation.
Meanwhile, Saudi Arabia's flynas extends its aggressive expansion into Europe. The LCC flynas has always had grand ambitions since it started operations in 2007. The Kingdom's independent LCC has 31 narrowbody Airbus aircraft in operation, with another 77 on order; and, at the Paris Air Show last month the airline was one of the launch buyers of the extra long range A321XLR, signing an MoU for 10 of the type, which is scheduled to fly in commercial service from 2023. This equipment, and several of the Airbus neos it already has on order, easily has the range to link points in South and Southeast Asia with any point in Europe via the Kingdom.
flynas will be receiving one A320 a month in 2019, as part of its expansion plans. The airline is nothing if not ambitious. In May-2019, Airbus flynas CEO Bandar Abdulrahman Al-Mohanna also stated the carrier expected to close negotiations with Airbus and Boeing by the end of 2019 on the purchase of 10 widebody aircraft as well (although the subsequent move to the XLR narrowbody which would have similar range may have altered that plan).
TABLE - flynas currently has 88 A320neo aircraft on order, including ten A321LR and A321XLR variants

Source: CAPA- Centrefor Aviation Fleet Database
While it's waiting for the new aircraft to be delivered (and for bilateral access to be granted), flynas is expanding its footprint by concluding codeshares and interline agreements with various airlines in its region. Most recently, on 25-Jun-2019, the airline announced an interline agreement with Egyptair, giving it access on Egyptair-operated flights via Cairo International airport to Athens, Paris, Rome and Larnaca; and in Africa to Asmara, Casablanca, Entebbe, Tunis, N'djamena, and points in Algeria. This allows flynas to "virtually" support its development and expansion strategy in terms of "enhancing its regional and international presence".
The Egyptair partnership is just the latest in a series of recent strategic partnerships introduced at flynas, which also includes codeshare agreements with Turkish LCC Pegasus Airlines and with Etihad Airways. Direct services are currently operated into eastern Europe, flying as far north as Vienna.
CHART - The flynas network already extends into Europe and could be strengthened following its commitment to longer-range A321 variants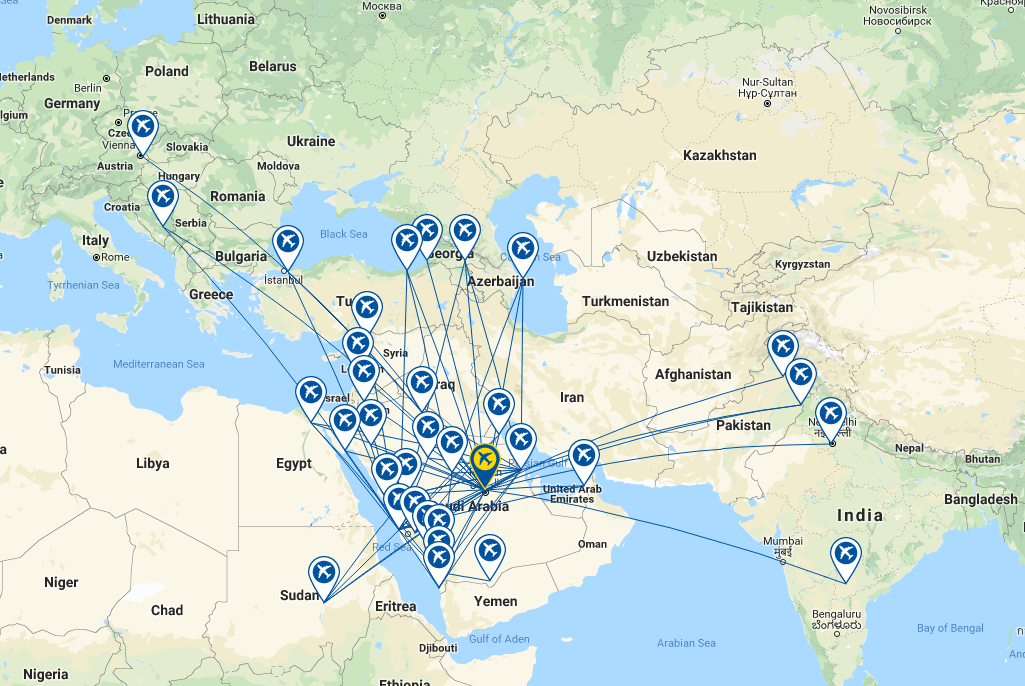 Source: CAPA – Centre for Aviation and OAG
But the Saudi LCCs' "Mile Dry Club" may well make hub operations hard going. Saudi-based airlines are among only a small group of airlines worldwide that do not serve alcohol in flight. Most other Muslim countries' airlines, notably the neighbouring Gulf carriers do. Many would-be passengers will be reluctant to put two six-hour narrowbody flights back to back if a little alcoholic refreshment is not available. It will be most interesting to see if the commercial exigencies of hub carriage eventually provoke a shift in this hard line strategy.