In response to a rise in Flybe's share price and newswire speculation as to a potential takeover of the Flybe Group by Stobart Group, the latter confirmed it has been considering development opportunities as part of an ongoing review of alternative structures for its airline and leasing business as part of a potential consolidation of the regional airline sector.
"Stobart Group and Flybe have a range of shared interests arising from Stobart Group's ownership of London Southend Airport and its aircraft leasing company and the growing franchise arrangements between the two groups' airlines," it says, adding that "a number of potential structures have been considered including taking a non-controlling interest in a vehicle to acquire 100% of Flybe likely to be in cash."
While at this stage it notes that "it is not possible to say" whether a transaction will take place, whether a firm proposal will be made or, if it is, the form a transaction to combine the airlines might take, it confirms "a further announcement will be made in due course". It now has until 22-Mar-2018 to make a formal bid for the company.
CHART - Speculation on Stobart Grpup's interest in Flybe helped spike its shares to a four month high and there highest price since last year's second profits warning in Oct-2017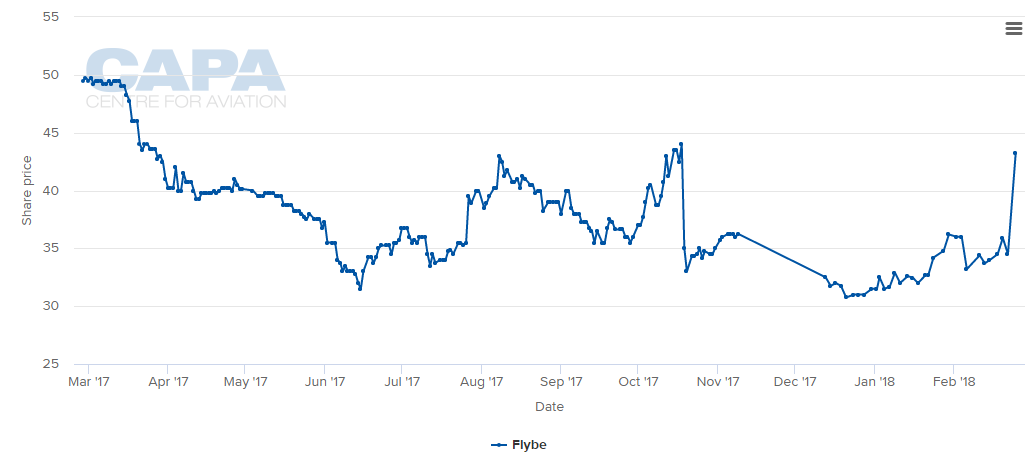 Source: CAPA - Centre for Aviation and stock exchanges
Flybe has had a tough couple of years and twice last year had to issue profit warnings, announcing first half profits of just GBP8.4 million in Nov-2017, half what it had declared in the same period the previous year. It is currently completing a network optimisation that will be based around a smaller fleet of aircraft moving forward.
The airline says its fleet reached a peak last summer and is set to fall by just under a fifth over the next three years. The previous increase in capacity had a negative impact on its load factor and unit revenue and had caused its fall back into the red.
Flybe confirms that despite the speculation it "has not received any approach from Stobart Group regarding a possible offer by Stobart Group for Flybe" and adds that as there "can be no certainty that any firm offer will be made nor as to the terms on which any firm offer might be made," it "strongly advises" shareholders "to take no action at this stage".
CAPA – Centre for Aviation reported last year that in spite of operating a network that faces no competition from other airlines on the majority of its routes, and in spite of being comfortably Europe's largest regional airline, Flybe has regularly struggled to make a profit.
It said that the airline's thin/negative margins are evidence that, in fact, it faces significant competition, but from surface transport and also evidence that its unit cost is too high relative to the unit revenue that it is able to generate. This, said CAPA, has been exacerbated by excess capacity growth, but also partly reflects the high unit cost that is inherent in the regional airline model.