---
Summary:
Flybe has concluded that the Bombardier Dash 8-Q400 is "the best core aircraft" for its current and future operational needs;
UK regional carrier says turboprop will continue to form"backbone" of its fleet alongside a smaller fleet of Embraer E175 jets;
New business strategy to make the business demand-driven rather than capacity-led will see Flybe's fleet reduce to around 70 aircraft by early 2020 and the retirement of its E195s;
VIDEO: watch exclusive CAPA TV interview with Flybe's CEO Christine Ourmières-Widener.
---
The regional airline is embarking on a strategy to reduce its fleet size to an optimum level and make the business demand-driven rather than capacity-led. This will see it reduce its fleet size and concentrate on its profitable routes only. The Dash 8 has been a stalwart of the operation from the airline's days as Jersey European Airways and then subsequently British European.
The airline describes the Q400 as "faster than the alternative turboprops, with a performance close to jet aircraft over the relatively short sectors that Flybe operates". In addition, it says, with "excellent operating economics including turboprop fuel efficiency, it is cheaper to operate than similar-sized jet aircraft, and has a much smaller noise footprint".
In the past twelve months, Flybe handed back six older end-of-lease Q400s. With a further planned handback of all nine Embraer 195 jets, the overall fleet is well on the way to reducing in size from 85 at its peak in May 2017, to a target of around 70 aircraft by early 2020. Alongside the Q400s, Flybe will also continue to operate a number of Embraer E175 jets for longer or busier routes. It still has a heritage order for four E175s due in 2019 and these will now be delivered with new 'winglet technology' to help reduce fuel consumption.
Data from the CAPA – Centre for Aviation Fleet Database shows that the Flybe Q400 fleet remains relatively young, with an average age of just over ten years. The airline has accordingly concluded that it will retain its remaining Q400 aircraft and, where economic, extend their service lives. This will save considerable capital expenditure over the next few years, by avoiding the requirement to acquire any new aircraft.
CHART – The Flybe Q400 fleet of over 50 aircraft has an average age of 10.5 years and median age of 10.8 years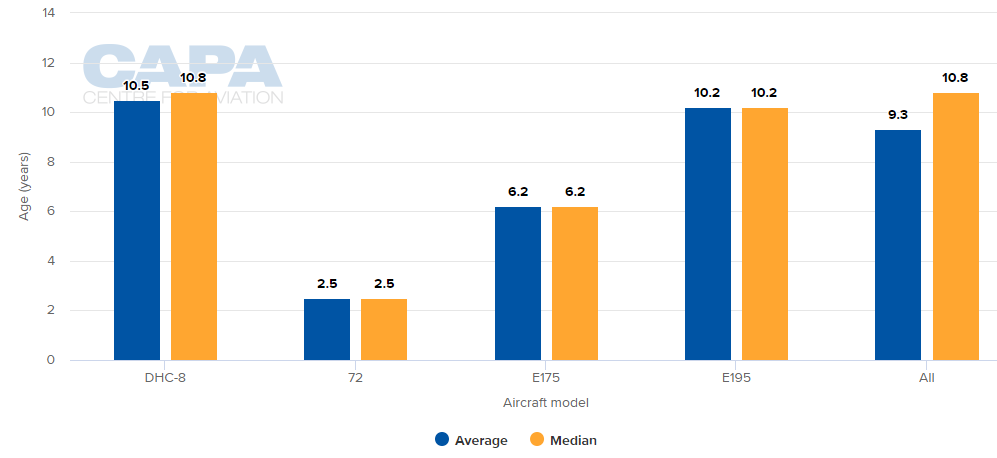 Source: CAPA – Centre for Aviation Fleet Database
The fleet configuration is an important part of the airline's new business strategy. "We examined exhaustively all the options and concluded the Bombardier Q400 is the best core aircraft for us. Its superior economy, speed and quietness is ideal for a regional airline such as ourselves. Together with a number of Embraer E175s, our future fleet will be the optimum required for our specific regional route network," says Flybe's CEO, Christine Ourmières- Widener.
Speaking on the sidelines of the recent CAPA – Centre for Aviation Airline Leader Summit in Dublin, Republic of Ireland, Ms Ourmières- Widener highlighted that the fleet decision represented a key component process to right-size the flybe operation, a project she said remains "on-track" for completion in 2020.
Learn more insights from Flybe CEO Christine Ourmières-Widener in this CAPA TV interview from the CAPA Airline Leader Summit, where alongside discussing the fleet reviews and demand-driven business strategy she provides an update on the airline's domestic operations into London Heathrow, the important role of partnerships in supporting its local network, the digitalisation of the business, ongoing uncertainty with Brexit and life after Stobart Air's failed takeover attempt.