In fact 96% of respondents to the survey from the global provider of technology platforms, software and services to the travel and transport industry believe the pandemic has provided opportunities for positive transformations to their business, and slightly less (89%) say the crisis will fundamentally change how their airlines do business over the next five years.
"Being in the airline industry has never been easy, but it is now more challenging than ever. Success requires us to collectively bring fresh ideas, approaches, and innovations to the table. The flexibility to adapt to an increasingly dynamic landscape is also critical to growth," says James Fernandez, chief commercial officer at Accelya.
The report of Accelya's Air Transformation Lab is based on extensive research undertaken by Atmosphere Research Group, an independent, strategic market research and advisory firm focused on the travel industry. It consists of an online survey of 60+ airline executives from global network carriers, domestic/regional airlines, and low-cost and ultra-low-cost carriers around the world; and confidential one-on-one telephone interviews with 10 airline executives from around the world.
The findings provide important insights on the views of airline leaders and the report offers recommendations that airlines can use to navigate the way to business recovery, with executives notably referencing commerce and retailing challenges as well as the opportunities facing the world's airlines.
Among the findings are insights on the advantages of being leaner, less siloed organisations – the result of organisations being trimmed due to the pandemic. In particular, airlines are inherently better positioned to innovate, which will play a key role when business recovery begins.
Although just one in four (26%) executives considered merchandising/retailing to be extremely important pre-pandemic, the research shows that half (49%) believe it will matter more during business recovery. The importance of innovation in offer personalisation also grew nearly 160% (from 19% to 49%) when comparing pre-pandemic perspectives to current views on business recovery. In addition, 18% more executives view innovation in dynamic/continuous pricing to be extremely important during business recovery compared to before the pandemic (from 33% to 39%), according to the report.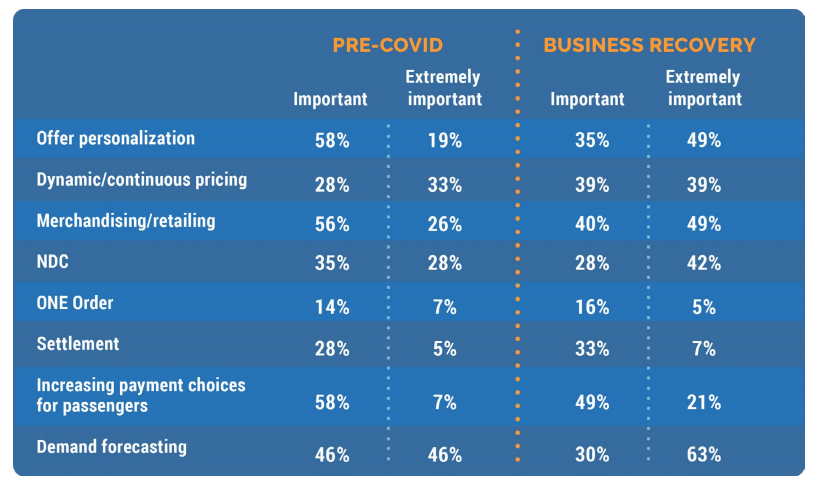 The report highlights direct customer relationships, dynamic commerce, and data-driven retailing as high-potential strategies for revenue growth. It shows that by 2023, airlines' direct channels (digital and offline) will account for more than half (56%) of bookings – a 12% increase in just three years, and NDC will play a central role. Airlines that plan to use NDC (31%) have already negotiated agreements with some or all of their GDS partners to sell NDC content (flights and ancillary offers), it explains.
Approaching half (44%) of the airlines where executives were interviewed viewed data insights as extremely important to their strategic efforts prior to the pandemic. That viewpoint increases to 64% as airlines prepare for business recovery. However, a worrying point of note the report highlights is that nearly half of all airlines surveyed (47%) believe inadequate data will keep them from fulfilling their visions of dynamically priced offers.
Dynamic and continuous pricing is seen as the third most crucial revenue management priority for airlines after accurate demand forecasting and total offer management. In a recent interview, Accelya chief product officer Jim Davidson had described dynamic, or continuous, pricing as the "hottest" trend in airline revenue management, noting that airlines are going to compete fiercely on price as travel comes back and they seek to win back travellers.
Mr Davidson added that "price sensitivity will be extremely volatile in the marketplace" as travel recovers and continuous pricing offers the advantage of a "much more instantaneous and fine-tuned reaction to shifts in customer willingness to pay".