For 2020 that tradition may continue, but it will look very different. Increasing COVID-19 infection spikes mean more of the world is returning to restrictive extended lockdowns ahead of the holiday period to get a hold on the virus spread. While these may not extend across the normal holiday period they are sure to influence consumer sentiment to travel.
The latest edition of the Amex Trendex, highlights that this year's holiday season will be different from years past with at least three in five consumers, surveyed across seven countries, planning to stay home for the holidays this year. The trend index from American Express tracks how consumers, small businesses, and merchants are feeling about spending, saving, travelling and more with data sourced on a monthly basis in the US and bimonthly globally, including in the UK, Australia, Japan, Mexico, India and Canada.
Last week CTC – Corporate Travel Community reported how metasearch engine and travel agency Skyscanner identifies that searches and bookings are increasing weekly and it sees high-intent to travel in the US market around the weeks of Thanksgiving, Christmas and New Year and predicts 25-Nov-2020 will be the busiest day for travel during the Thanksgiving period in 2020.
SEE RELATED REPORT: USA spotlight – November is traditionally the busiest month for travel in the US and Skyscanner identifies early booking trends are suggesting an uplift this year, though still down on previous years
It is clear that this year's holiday season will see a rise in travel versus this year's trend, but this will remain significantly below the levels normally seen, and of course will still be heavily impacted – at short notice at times – by government restrictions introduced to manage COVID-19 infections.
"It's no surprise that the holiday travel season will look different this year," acknowledges Audrey Hendley, president of American Express Travel. "While many consumers are planning to stay home for the holidays this year, our global American Express Travel booking data shows that those who are travelling this holiday season, are looking to do staycations or booking last-minute trips to satisfy their appetite for travel."
Positively, the Amex Trendex identifies that in lieu of traveling for the holidays, consumers are dreaming of future travel with many saving up to buy 2021 trips or hoping to receive a 2021 domestic or international trip as a gift this holiday season. Its latest research shows more than half respondents (58%) noted a future 2021 domestic trip is on their holiday season wish list, with only a slightly lower level (54%) noting an international 2021 trip is on their list.
However, even if the upcoming holidays don't fulfil on these wishes, consumers are prepared to save and pay for their future travels themselves, with just over two-thirds (67%) saying they are saving more money for their next trip as a result of the pandemic.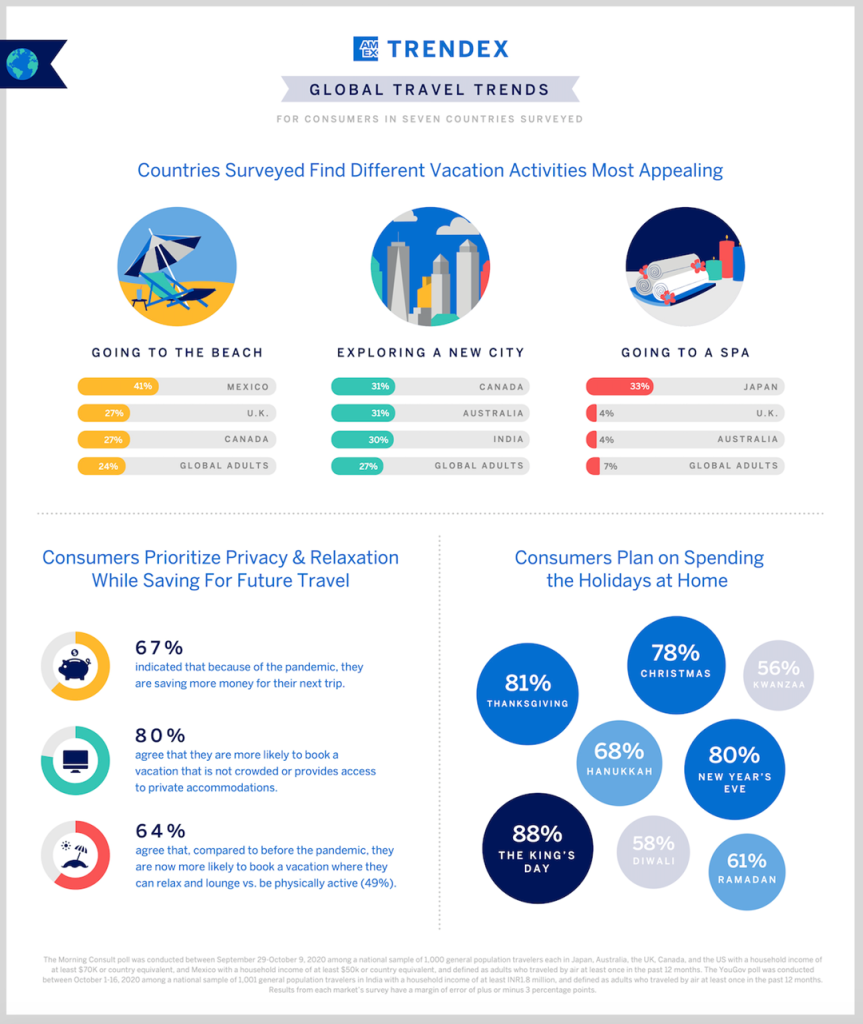 Looking ahead to future travel, while consumers across the seven countries surveyed agree that they are more likely to book a vacation where they can avoid crowds, relax, drive around, or enjoy private accommodations, Amex Trendex found the type of vacation activities that are most appealing differs by market. For example, more than two in five (41%) consumers in Mexico find going to the beach most appealing compared to less than a quarter (24%) of all consumers surveyed, and a third (33%) of consumers in Japan find visiting a spa most appealing compared to just 7% of all consumers surveyed.
While travel will certainly remain subdued, AmexTrendex identifies that consumers still plan to celebrate the season and are mapping out their holiday season shopping plans, prioritising their wellbeing with more time at home, and hoping to turn travel dreams into a 2021 reality. With many seeking out normalcy in a not-so-normal year, around two-thirds (64%) of respondents agreed that they think of giving/getting gifts and celebrating as a way to reconnect with life before the pandemic.
While many (67%) agree the pandemic has made them more conscious of holiday season spending, 48% still plan on spending more on holiday season gifts this year, compared to last year. How and where they spend their holiday season budget may look different, however. Three quarters (75%) of consumers surveyed (81% in the US) agree they are more likely to shop online than in-store this year.