Sabiha Gökçen's CEO Ersel Göral reported the airport has "taken a new position as Istanbul's city airport" as its capacity grows from 33 million passengers per annum to 41 million per annum with the opening of the new EUR26 million domestic terminal. But, what exactly does Mr Göral mean by 'city airport'?
There are several ways in which the 'city airport' tag can be interpreted. Mr Göral may be referring solely to the addition of the domestic terminal, which will be complemented by the construction of the airport's second (and state-built), 3500m runway, with delivery expected in 2020 and at a cost of USD550 million. A new domestic terminal implies the status of a 'city airport' as more domestic passengers are concerned with an airport's physical location when weighing up alternative travel options.
Alternatively, Mr Göral may be referring obliquely to the location of the new Istanbul airport, which opened in Oct-2018, which is about 40km to the northwest of central Istanbul. But, Sabiha Gökçen is located a similar distance from downtown, to the southeast, and in the Asian part of the city.
MAP - The new Istanbul airport is about 40km to the northwest of Istanbul, while Sabiha Gökçen is a similar distance to the southeast of the city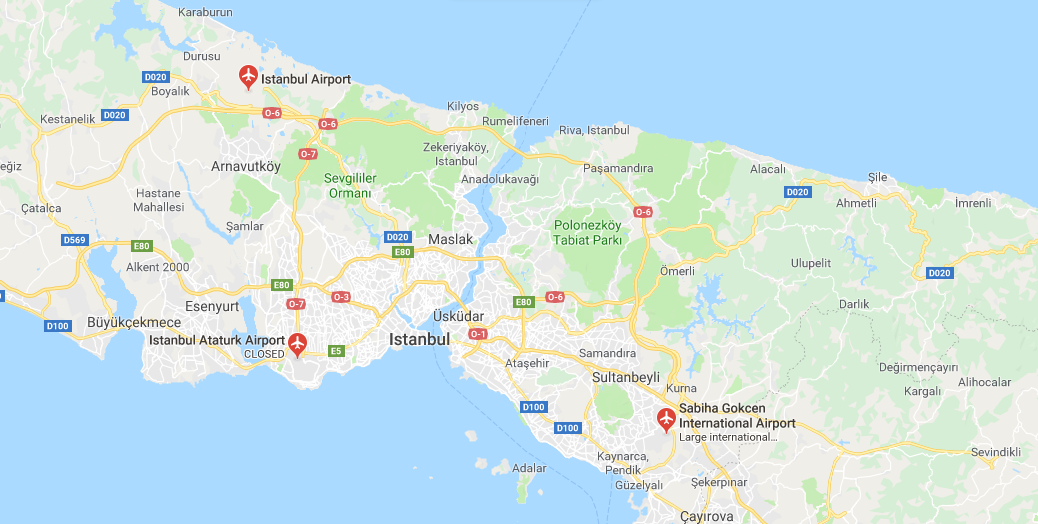 Source: Google Maps
Accordingly, tagging it as a city airport in that sense is misleading; it certainly is not in the city proper. However, it is located in heavily populated areas, the inhabitants of which have a difficult journey to access Istanbul Airport, as they had with its predecessor, Atatürk airport, which for some was up to 70km away.
In fact a comparison might be drawn with Sydney, Australia, where construction has started on a new airport specifically to service the residents and businesses of Western Sydney, a sizeable area in its own right, of over two million people. In Istanbul's case about half of its 15 million population is on the Asian side, including the most heavily populated district of all, Uskudar. These are the internal target markets for Sabiha Gökçen.
The growth of Sabiha Gökçen has been quite spectacular supported both by congestion at the old Atatürk airport and its dynamic catchment. For seven consecutive years between 2009 and 2016, it was Europe's fastest-growing airport in terms of number of passengers, peaking at +72% in 2010 and easily outperforming Atatürk. The slowdown that took place since then is attributable partly to the attempted coup in Turkey in Jul-2016 and to increased terrorist activity at that time.
Most governments now regard Istanbul as "generally safe" in their advice to their own citizens, but those supportive words have not filtered through to the traffic figures. Growth in the first five months of 2019 was just +1.9%, well down even from 2018's +8.8% and reflective of the poor current state of the Turkish economy, which is in recession. And while Ankara's airport lost as much as 25% of its traffic in May-2019 compared to May-2018, Istanbul accounts for one third of the entire Turkish economy. On reflection, it is surprising that Sabiha Gökçen is still growing at all.
CHART - Traffic growth at Sabiha Gökçen was exceptional offer the first half of the 2010s, but has slowed during the second half of the decade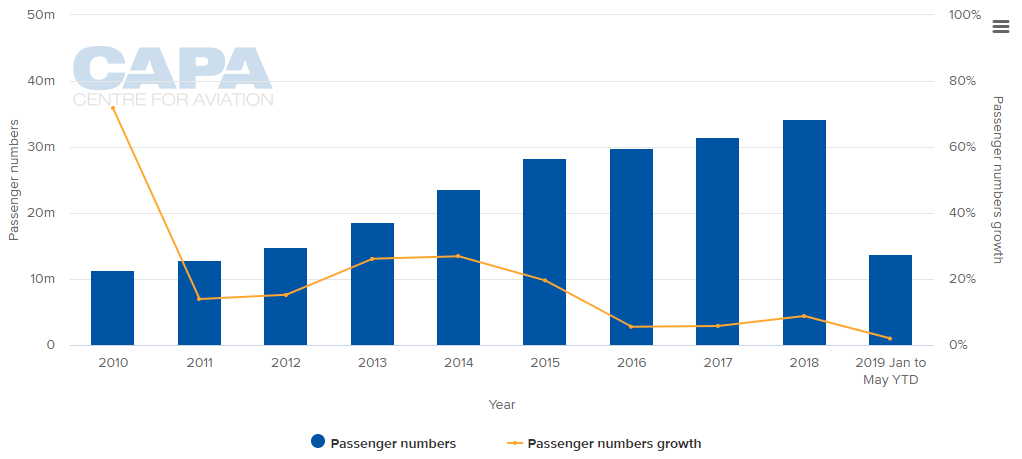 Source: CAPA - Centre for Aviation and Istanbul Sabiha Gökçen Airport reports
The airport is owned and operated by Malaysia Airports Berhad (MAHB) with a 20 year lease period from 2008. MAHB now holds full control with original co-investors GMR and Limak Investments having subsequently sold their shares to MAHB. TAV Airports was interested in acquiring these stakes, but the Malaysian company had the pre-emptive rights to buy the shares and this now sees TAV without commercial airport interests in Istanbul since commercial flights ended at Atatürk. The owners say that the EUR26 million new terminal building is the first link in a chain of investment projects, having invested USD500 million to date.