GRAPH: German traffic mix for Jun-2020 is not as encouraging as many would have hoped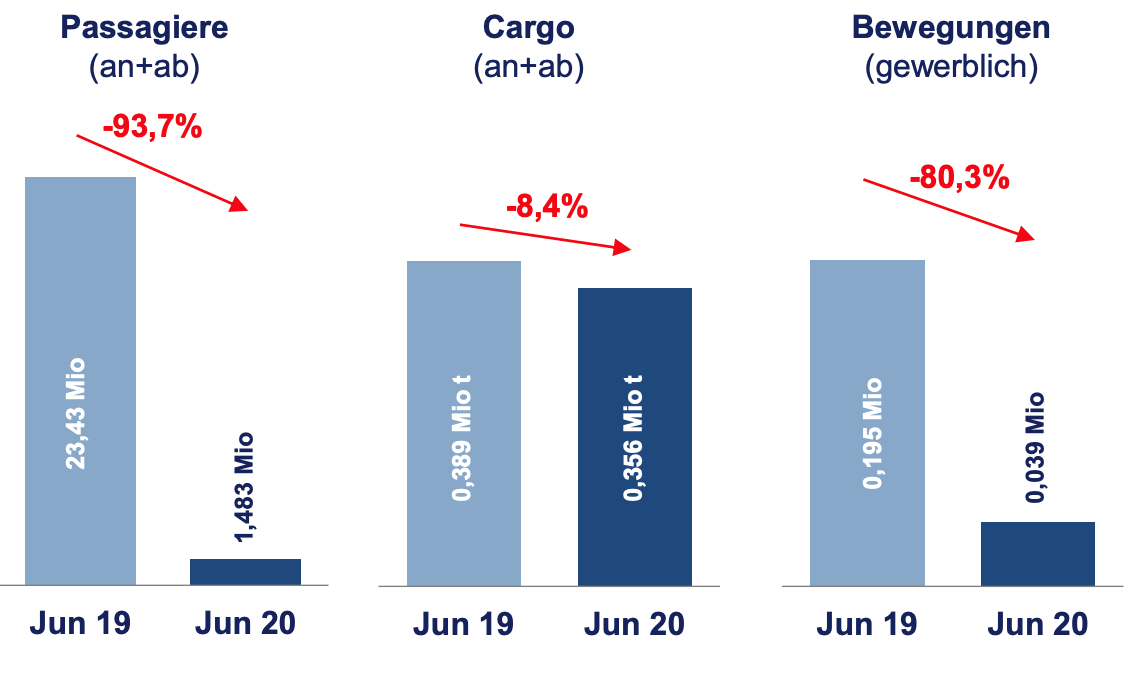 Source: German Airports Association – an+ab = inbound+outbound
Meanwhile, though freight volumes are something of a mixed bag for Jun-2020, key logistics centres like Leipzig and Cologne saw significant gains (+16.1% and +8.3% respectively) via a spike in e-commerce and express full freighter operations, combined with continuing flows of medical and health and safety supplies into the country in the fight against Covid-19.
The coronavirus crisis has undoubtedly led to a dramatic shift in both the transportation of mail and focus on e-commerce. Global online spending is expected to increase significantly in 2020 compared with 2019 due to lockdowns and inability to access retail stores, and airports like Leipzig/Halle and Cologne Bonn in particular will be pushing to take advantage of this to make up on the freight side what has been almost entirely lost on the passenger side.
The picture is grimmer for mid-tier airports like Stuttgart, Nuremberg or Hannover, or regional facilities like Paderborn or Friedrichshafen, whose locations normally provide a very convenient connection for holiday-goers or European business travellers without having to take ground transport to Frankfurt or Munich, but have close to zero protection in the way of cargo business when bellyhold cargo dries up.
Similarly, locations like Hamburg and Duesseldorf, which serve major catchment areas and operate as important logistics centres in their own right, have not registered the same success on the cargo side.
These two facilities have respectively reported cargo decreases of -88.2% and -93.3% for Jun-2020, reflecting both a huge hit to bellyhold cargo as full freighter operations are predominantly streamlined towards specialist locations in Frankfurt, Munich, Leipzig and Cologne.
The damage is further accentuated given that these facilities and most others were required to stay open to handle emergency flights and other essential traffic during the bad times, bearing the cost of staying open without the ability to generate revenue.
On the passenger side, there is still clearly a massive reluctance for outbound travel from Germany, despite efforts to relax border controls and promote traditional tourist hotspots.
GRAPH: German Airport Association member traffic monthly percentage growth from Jan-2019 to Jun-2020 illustrates the slow industry recovery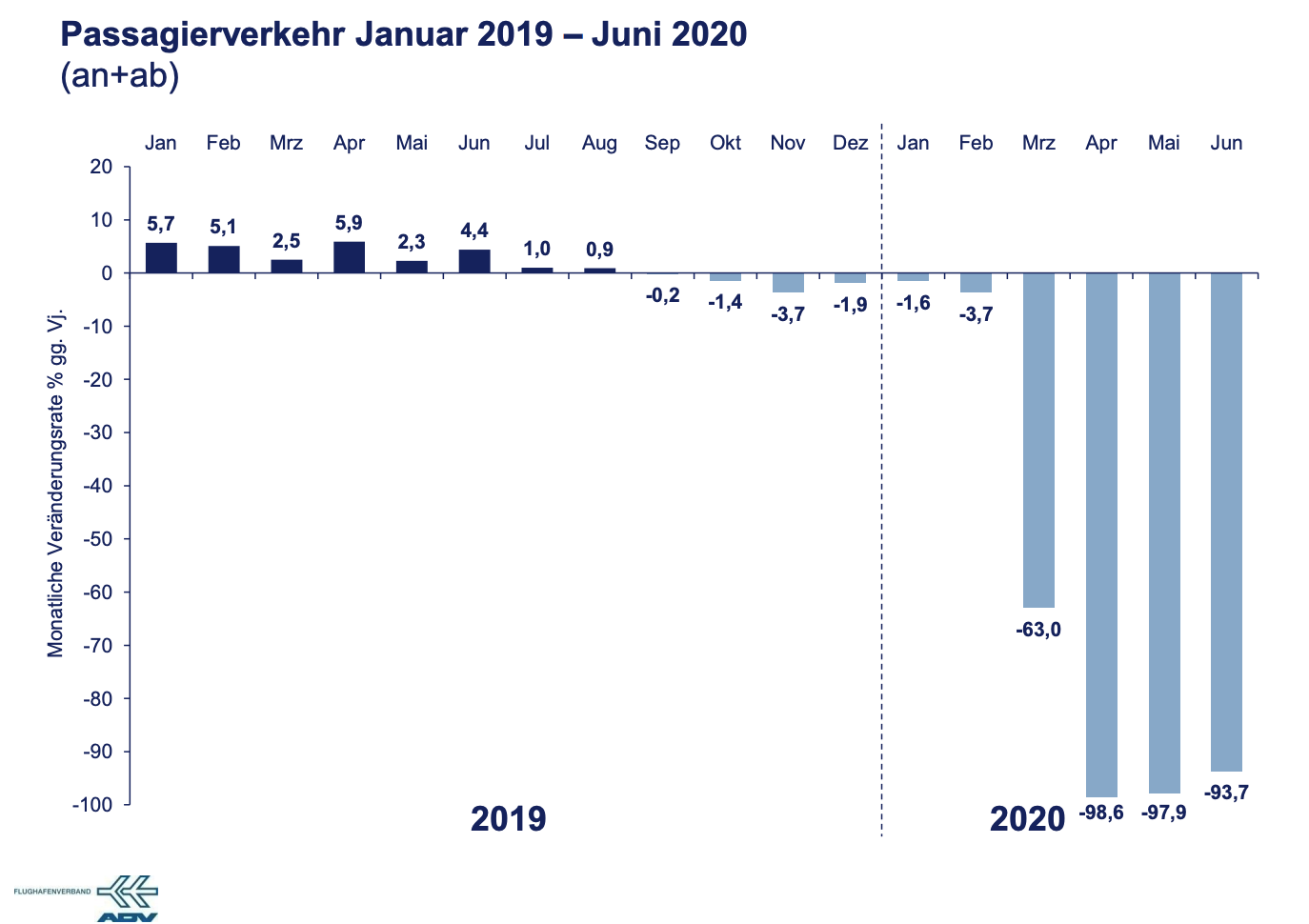 Source: German Airports Association
According to ACI Europe passenger figures, this is consistent across most of Europe. The organisation echoed ADV figures stating that Europe-wide passenger traffic recovery is proceeding at a "slow and disappointing pace", with passenger traffic down by -93% year-on-year in Jun-2020 and tracking down -80% so far in Jul-2020 as a result of ongoing travel warnings and ad hoc implementation of quarantines and travel restrictions within and outside the EU.
CHART: Germany total seat capacity for Aug-2020 is currently tracking at a little over 40% of 2019 levels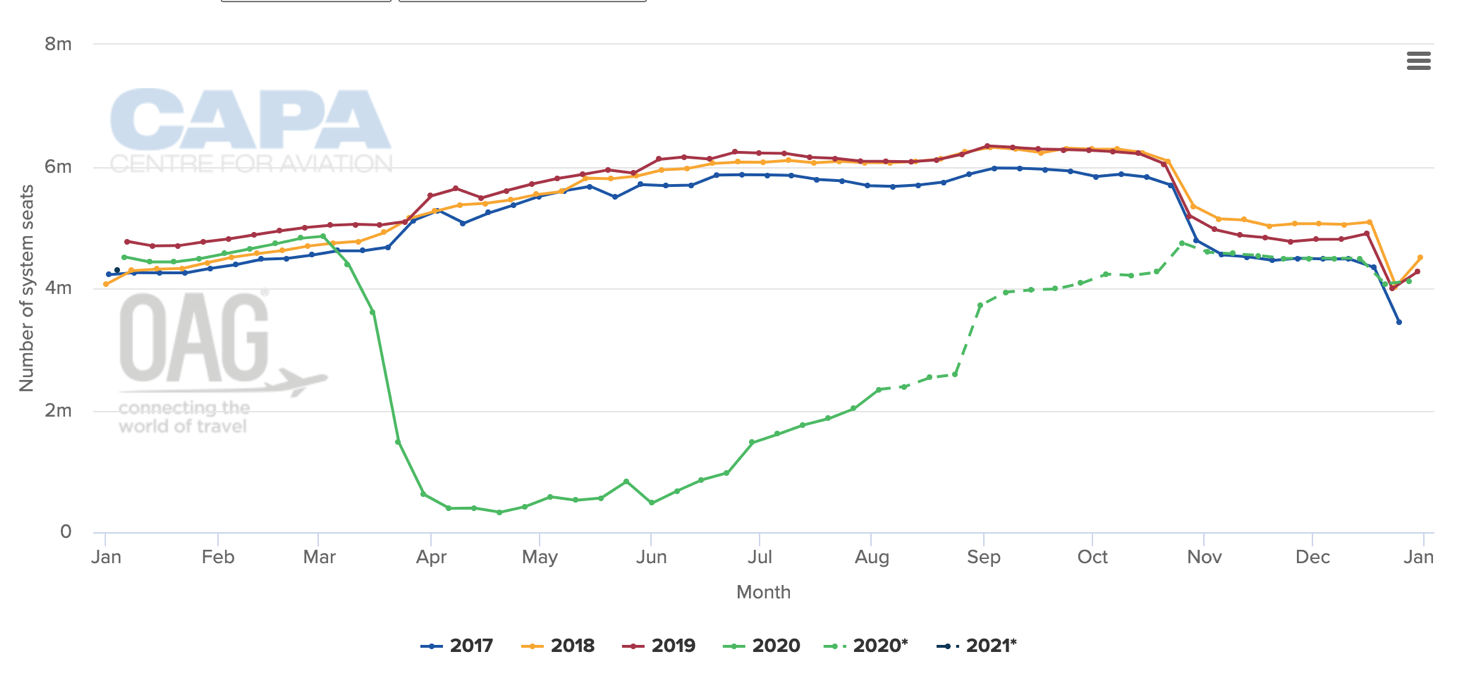 Source: CAPA – Centre for Aviation and OAG (data: w/c 27-Jul-2020)
While a boom in cargo demand will continue to be driven by e-commerce activity, only certain airports in Germany are in a position to take advantage of it. Conversely, there is still a massive reluctance for outbound travel from the country, despite efforts to relax border controls and promote traditional tourist hotspots within the EU. This will diminish bellyhold capacity and make it a double whammy for small- and mid-tier German airport traffic, employees and regional economies for the rest of 2020.