In Nov-2016, Tigerair and Scoot announced plans to merge in 2017, with Scoot the surviving brand. Both airlines have been fully owned by SIA Group subsidiary Budget Aviation Holdings since early 2016, when SIA took over the remaining stake and control in Tiger Airways Holdings.
Tigerair and Scoot recently set a 25-Jul-2017 cutover date for transitioning to a single brand and a single operators certificate. The Tigerair operators certificate and TR code will be maintained over the Scoot operators certificate and TZ code. However, Tigerair will adopt the Scoot brand.
Maintaining the Tigerair operators certificate makes it easier from a regulatory standpoint because Tigerair serves more countries than Scoot. By keeping the Tigerair operating certificate, Budget Aviation Holdings only needs to secure new foreign air carrier permits from four countries – Australia, Japan, Saudi Arabia and South Korea. With Australia only a reapplication was required as Tigerair previously served Perth.
If the Scoot operating certificate was kept Budget Aviation Holdings would have needed to secure new permits from eight countries including Bangladesh, Indonesia, Macau, Malaysia, the Maldives, Myanmar, Philippines and Vietnam. Some of these countries can be difficult when it comes to applying for new permits and swapping slots between airlines.
The total fleet of the new entity, known as Scoot Tigerair Pte Ltd, will consist of 21 A320s, two A319s, eight 787-8s and six 787-9s.
In Feb-2017 Budget Aviation Holdings already moved two of Scoot's 787s to the Tigerair operators certificate – although these aircraft continue to be operated by Scoot crews under a wet lease arrangement. Scoot's remaining fleet of 12 787s will be transferred over to the Tigerair operators certificate by the 25-Jul-2017 cutover. The total fleet of the new entity, known as Scoot Tigerair Pte Ltd, will consist of 21 A320s, two A319s, eight 787-8s and six 787-9s.
Scoot currently operates 21 weekly flights to Australia, including six to Perth and Sydney, five to Melbourne and four to the Gold Coast. Additional frequencies are operated on all the routes during peak periods. Tigerair served Perth until early 2015, or a few months after Scoot launched Singapore-Perth.
Scoot has been looking at potential aircraft gauge changes (from 787s to A320s or vice versa) on several routes, including Singapore-Perth, once the merger is completed. The A320s could potentially be used to operate some Perth flights during off peak periods. This could allow Scoot to maintain a daily service year-round and potentially a second frequency on certain days, resulting in improved connections in markets such as Perth-India. Deploying A320s on Scoot's other three existing Australia routes is not feasible due to range limitations although Scoot could potentially use the A320 to launch services to Darwin.
Scoot currently has a 17% share of seat capacity on the Perth-Singapore route. Its full-service parent SIA, which operates 27 weekly flights to Perth with A330s and 777-200s, has a leading 59% share.
Qantas, which resumed services on the Singapore-Perth route in mid-2015 and currently operates one daily 737-800s with additional frequencies during peak periods, has a 9% capacity share. Singapore based Jetstar Asia operates 12 weekly A320 flights and accounts for the remaining 16% of nonstop capacity between Singapore and Perth (based on CAPA and OAG data for the week commencing 15-May-2017). In recent years Australia based Jetstar Airways has only operated a limited number of Perth-Singapore flights during peak periods in January and February.
Perth to Singapore one way seat capacity by airline: Sep-2011 to Oct-2017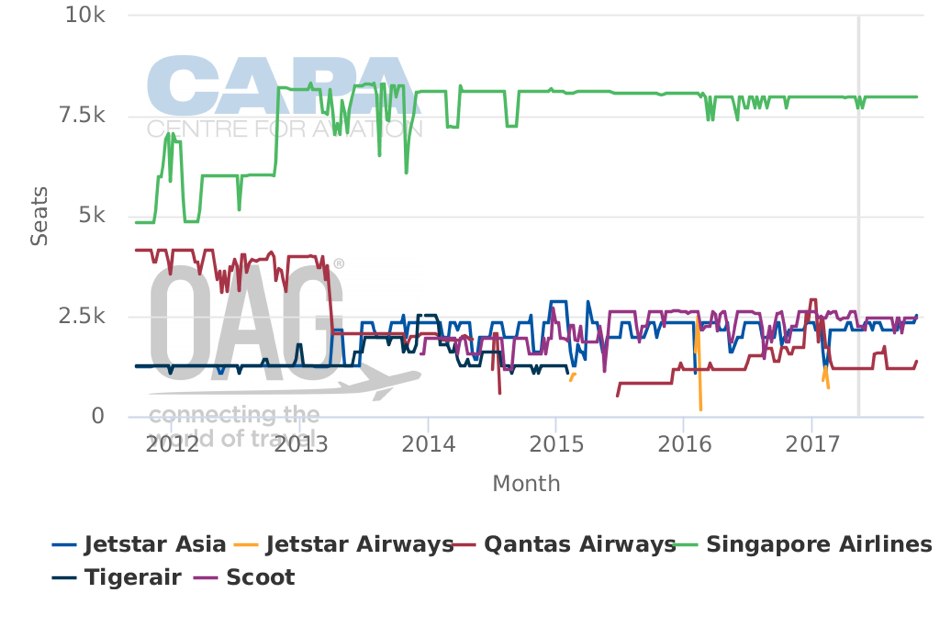 Source: CAPA – Centre for Aviation & OAG
Scoot overall accounts for a 11% share of Australia-Singapore seat capacity. Scoot currently serves 22 destinations, including the four in Australia, with its fleet of 787s while Tigerair serves 41 destinations with its fleet of A320 family aircraft. The two airlines combined also have orders for six additional 787s and 39 A320neos.
Tiger Airways Holdings previously had stakes in four airlines in other markets throughout Asia Pacific. In 2014, the group shut down Indonesia based Tigerair Mandala and sold Tigerair Philippines (now known as Cebgo) to Cebu Pacific. Virgin Australia acquired an initial 60% stake in Tigerair Australia in early 2013 and purchased the remaining 40% from Tiger Airways Holdings in early 2015. Most recently, in Dec-2016, the group sold its 10% stake in Tigerair Taiwan, closing the book on its highly unsuccessful JV strategy, which also included multiple failed attempts over the years to establish JVs in other Asian markets.
Budget Aviation Holdings still has one overseas JV – Thailand-based NokScoot – but this is under the Scoot brand and therefore can be maintained without any changes. Budget Aviation Holdings is not currently seeking any new JVs, recognising how difficult it is to launch new airlines in the highly competitive Asian market.
Tigerair Australia switched over to its own website and distribution platform after it was acquired by Virgin Australia. Tigerair Taiwan transitioned to its own website in Mar-2017, paving the way for the Tigerair website, which previously hosted all the overseas affiliates, to be turned off as the cutover to Scoot takes place in Jul-2017.
However, Tigerair Australia and Tigerair Taiwan have retained the right to continue using the Tigerair brand. Both airlines have said they have no plans to rebrand. Whether Tigerair Australia or Tigerair Taiwan choose in future to rebrand will be decisions made by their 100% shareholders, Virgin Australia and China Airlines.