A 'generally strong performance to kickstart the year'
STR's global performance 'bubble chart' has been updated through 17-Feb-2023 and shows "generally strong performance to kickstart the year," it says.
Among all countries with room supply of more than 50,000 rooms, Israel, Switzerland, Singapore, France and the United Arab Emirates led in revenue per available room (RevPAR) on an actual basis. Israel, Switzerland and Singapore were previously among the top five performing markets in RevPAR during 2022 and that strength continues into early-2023.
On the other hand, the chart illustrates that Tunisia, Hungary, Poland, Czech Republic, and Indonesia were among the bottom five performers in RevPAR. Of note, STR reveals this is the first time in the last seven of its global updates in which countries from the Asia Pacific region were not the majority of the bottom performers.
Country level hotel absolute performance (running 28-day performance, countries with more than 50K rooms, callouts; top and bottom performers in RevPAR)
Overall, 29 of the 48 countries with hotel supply greater than 50,000 rooms recorded growth in RevPAR versus the matching 28-day period in 2019, according to the STR data. The total was less than half during its end-of-year review for 2022, which again signals a strong start to 2023.
The growth in RevPAR was still predominantly driven by room rates, with only seven countries exceeding 2019 occupancy versus 37 surpassing their pre-pandemic ADR.
Saudi Arabia grew RevPAR by more than two-thirds (67%) as the country embraced pent-up demand from religious tourism where the authority is now permitting more visitors to perform Umrah in the region.
Also important, China was among the countries with gains in RevPAR for the first time since 2022, as the country celebrated its first restriction free Chinese New Year in the last three years.
The STR analysis shows nearly two-thirds of markets posted RevPAR higher than 2019 to begin the year of 2023. Nigeria is the first African market to be highlighted in this monthly analysis, which took a spot in the top five RevPAR growth markets. Hainan, a popular domestic beach resort destination in China, was also among the top five performers for the first time since Jul-2022.
The full return of Chinese tourists has yet to be seen around the region, however. Hong Kong, one of the most popular Chinese outbound tourist markets, saw its RevPAR remain down 40% versus the comparable in 2019. Hokkaido, a popular ski resort during the Chinese New Year holiday, reported RevPAR that was down roughly 42%.
STR says overall, global markets were able to carry the recovery momentum as only 8% of markets saw their occupancy level remain under 75% of 2019 comparable – that percentage was 18% at the end of year of 2022, it notes. More improvements are to be expected as the Asia Pacific region returns to normalcy.
Restrictions, lack of inbound travel have limited Southeast Asia's hotel performance
Southeast Asia sits at the lower end of recovery compared to other STR-defined subcontinents, exceeding only the gains of Northeastern Asia in terms of occupancy and average daily rate (ADR) in 2022. This was due to strict and long-lasting COVID mitigation strategies and the region's reliance on international travel, particularly from China, which has been slower to resume international flight capacity.
STR's data shows Southeast Asia finished the year with an occupancy level of 53.8%. While this was 15.6 percentage points ahead of 2021, the region remained 14.5 percentage points behind 2019 levels. ADR performance was stronger at USD97.71, up 58% year over year and just 6% behind 2019.
Southeastern Asia, occupancy & ADR (USD, constant currency), indexed to 2019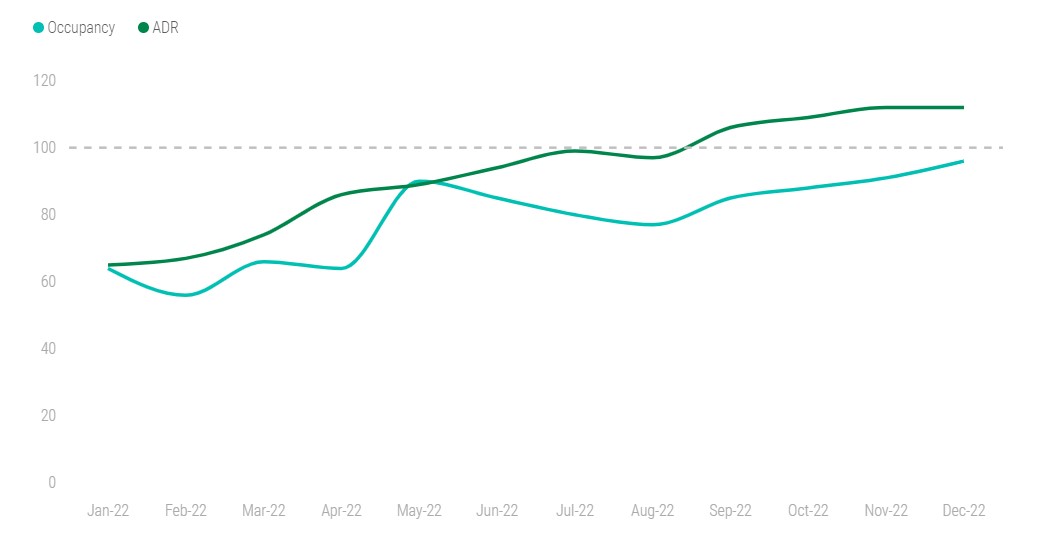 On a positive, the situation showed substantial improvements during the year as countries lifted restrictions and reopened borders. Occupancy continued to recover throughout the year, reaching 96% of 2019 levels in Dec-2022. The region began to exceed 2019 ADR in Sep-2022 and was 12% ahead of the pre-pandemic comparable in Dec-2022.
China hotels benefit from first restriction-free Lunar New Year in three years
The end of a zero-COVID policy which had suppressed China hotel industry performance for almost three years meant that Jan-2023 featured China's first Lunar New Year holiday without a lockdown since 2019, and STR observed a "positive performance" for this important holiday period in the region.
During the seven-day holiday period, starting from Lunar New Year's Eve on 21-Jan-2023, STR says China's hotel ADR surpassed 2019 levels. Occupancy edged closer to the comparable before eventually surpassing it on day seven. Also different, it observes, from a 'normal year' was many opted for trips to their hometowns as opposed to international travel.
China, occupancy & ADR (local currency), indexed to 2019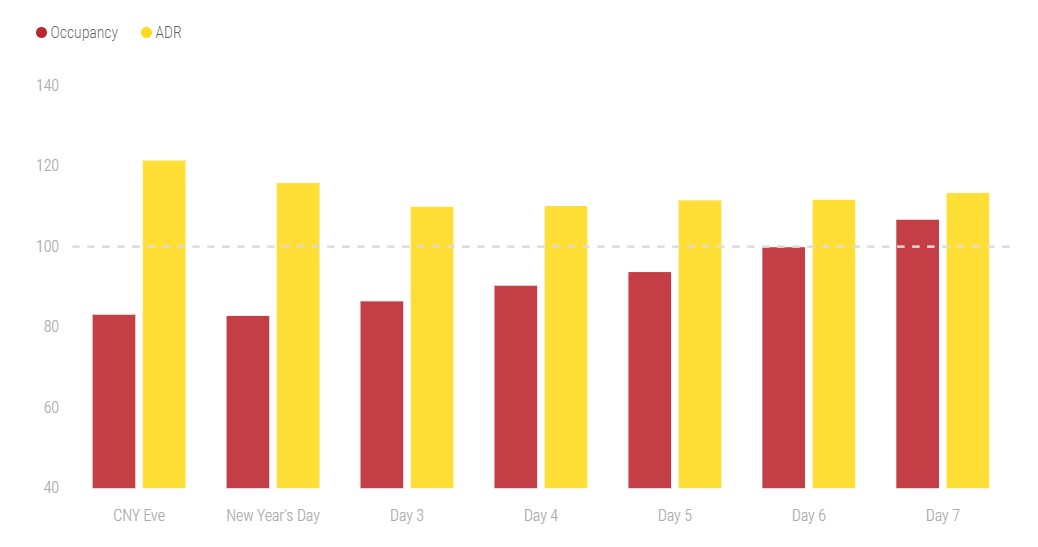 Overall, 36 of 43 markets in China saw growth in RevPAR when comparing the seven days to the holiday period in 2019. Among all markets that performed well during the Lunar New Year period, Hainan and Sanya shined with RevPAR indexes to 2019 reaching 176 and 177, respectively. The beach side resort destinations, which were one of the few markets in China to outperform 2019 in the summer of 2022, benefited greatly from domestic leisure demand.