This issue will be among the discussion topics at the forthcoming CAPA World Aviation Outlook Summit where we we will learn from key industry experts about open skies agreements around the world and their impact on aviation and tourism.
How will the industry navigate the crossroad between trade and travel; under ownership and control limitations, how can we encourage investment into airlines and infrastructure; should antitrust immunity be expanded or contracted; and where to next for global market access will be among the discussion points for the panel session.
As the foremost authority on aviation in the world, CAPA – Centre for Aviation's events provide cutting edge knowledge about strategic market trends and dynamics to help attendees make informed decisions, delivering the information and connections needed to inspire and improve business. The CAPA World Aviation Outlook Summit will take place in Malta on 5-6 December 2019.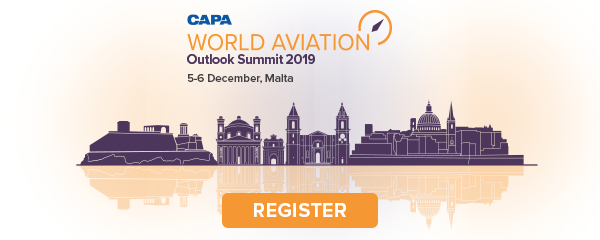 In Europe the enormous publicity attracted by a sixteen year old Swedish girl has rattled the airline industry and is prompting government talk of aviation taxes to reduce flying. This is among a number of hurdles the industry will face in 2020.
At the start of this year CAPA chairman emeritus, Peter Harbison wrote: "the year begins with much uncertainty. Not only in China, where the economy has slowed considerably, but more globally, a sense of uncertainty is descending on global markets and in international political circles."
"The economic and political upheaval that is being created by an unpredictable US administration and by the vacillations of the UK government over how to rearrange its ties with the rest of Europe are merely the most visible of signs in what is very much a changing world. Until now, aviation has to a large extent been immune from any direct impact, surging forward at unprecedented rates. There has been no obvious move at government level to impose more restrictive rules on international airline market access, nor has there to date been any sign of a downturn in traffic."
"On the other hand, there have been no signs of moves towards greater freedom. Perhaps we have passed the zenith in that arena. As free trade comes under attack, the infection could easily overflow. In the operational sphere, it is fuel that will be a large determinant of the airlines' financial performance in 2019. In the middle of the past year a dark cloud passed over the industry as Brent Crude prices exceeded USD80 and the experts predicted even higher levels. But going into 2019, the downward price trend, towards USD60, offered positive news making profits seem achievable once again. However, demand is another issue."
Were these predictions correct, what has the industry learnt and what would it do differently as we start to look ahead into 2020?
The CAPA World Aviation Outlook Summit, hosted at The Westin Dragonara Resort, in the exclusive enclave of St Julian's on Malta, is a must attend for those seeking to learn from, network and collaborate with today's travel industry leaders!
FIND OUT MORE… visit the CAPA World Aviation Outlook Summit homepage to find out more about this not-to-be-missed opportunity to discuss relevant issues impacting the aviation sector and learn meaningful insights from your industry peers.