The original tranche of 14 airports was concluded in 2016, concessioned to Fraport Greece for 40 years, a consortium of Germany's Fraport and the Greek energy business development company Copelouzos for EUR1.2 billion, an annual fixed rental of EUR23 million and an investment of EUR330 million by 2020, to upgrade facilities. Actual ownership of the airports was and is retained by the Greek government throughout the concession term.
It may be that this second tranche, which many thought would have happened by now, has been delayed so that prospective investors could see how the first one went before committing. Most of the airports that will feature now are smaller and less busy than the original 14, are mainly island-based (and not all the Greek islands are tourist havens) and there are no big 'anchor airports' (the first tranche had Thessaloniki, Greece's second largest city, Rhodes, Chania, Corfu and Kos). Indeed, Kalamata is the busiest of the bunch but still failed to exceed 300,000 passengers in 2018 although it probably will do this year.
CHART - After a decline in traffic in 2015, passenger numbers at Kalamata International airport have quickly rebounded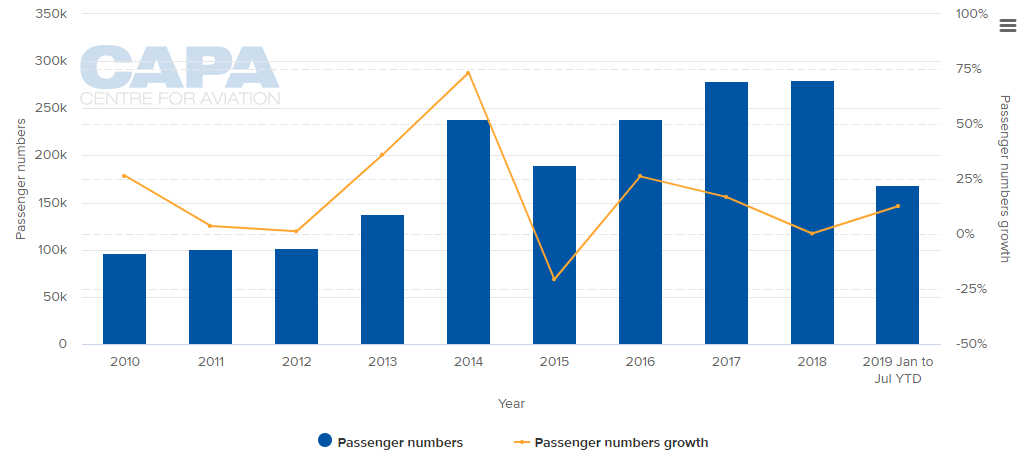 Source: CAPA - Centre for Aviation and Greece Civil Aviation Authority
The procedure is starting to look a little like the Brazilian one, where fifth and sixth tranches have shrunk down to tiny airports with little throughput; not even the 'steak with bone' that previous ones were. Just 'bone'.
The latest procedure may also differ from the previous one. Greece's Ministry of Infrastructure and Transport has delegated the General Transport Directorate to explore the development potential and consider alternative recovery plans, including concessions and PPP scenarios, for these 23 regional airports. It may well be that a different methodology may apply if the earlier one is found wanting in any respect.
If there is one thing that has helped sustain the Greek economy during its dark years, and despite 'Project Fear' style warnings that Euro notes not printed in Greece might be worthless, it is tourism. In all but three of the last 11 years from 2009 to 2019 inclusive, tourism numbers have risen, by as much as +23% (2014) and +19% (2016), and most of the visitors are from Germany! Much of this growth has come on the back of security fears in Turkey, Morocco and Egypt.
Presumably that is one of the attractions to GMR, which is currently active in Greece through a 35-year concession to build and operate Kasteli/New Heraklion airport on the island of Crete alongside the Greek company GEK Terna.
CHART - Annual tourist arrivals in Greece have grown following the country's financial crisis, but this year's levels for the first six months have entered negative territory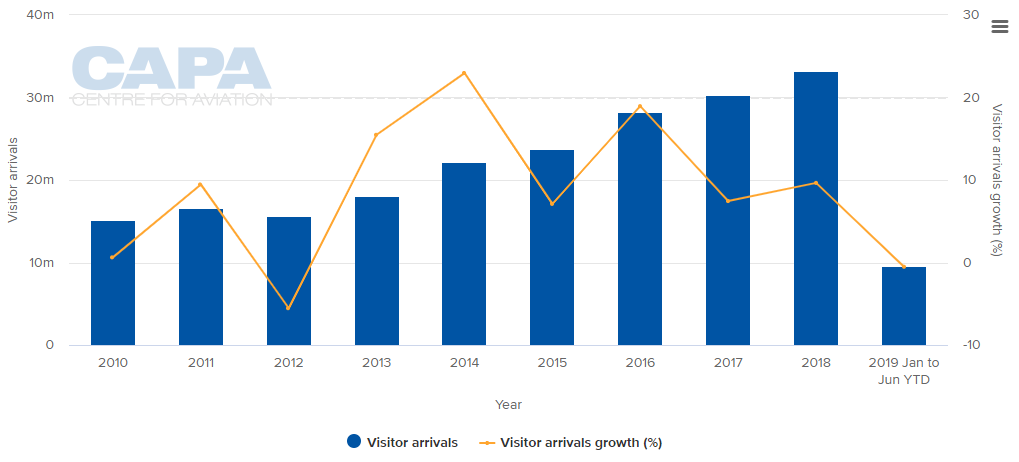 Source: CAPA, EL.STAT and Bank of Greece
The problem is that one of those three non-growth years is now – 2019. Numbers are down by -0.5% in the first half of the year, having grown by +9.7% in 2018. Pressure has been felt particularly in Crete, where GMR is committed to building the new airport there. Part of the reason is that other Mediterranean countries have rebounded this year. Bookings in Turkey for example are up by +40% this summer, while Tunisia saw 8.3 million visitors in 2018, an increase of over +17%.
The weakening is also being blamed, ironically perhaps, on the economic slowdown in Europe. For that reason, it may be only a temporary reversal, for a year or two. Or it might not. If the UK departs the European Union on 31-Oct-2019, it could cause ripples across many European Union economies.
As for GMR – and it won't be the only organisation to "show interest" in these airports even if they are the remaining morsels – it is still in the recovery stage following the hiving off of GMR Airports from GMR Infrastructure and subsequent investment by TATA, GIC (Singapore) and others and the loss of its executive director to a rival company. It has been actively seeking acquisitions in India and Nepal, including the new Delhi airport. The interest it is showing in these Greek airports may be a spur to it resuming its global reputation.