---
Summary:
Brazil's GOL Linhas Aereas is working to increase its attractiveness to corporate travellers.
After Brazilian authorities lifted restrictions on charging for checked luggage GOL Linhas Aereas has seen a 46% year-on-year sales rise of its Conforto extra legroom, priority boarding offer in the Jan-2017 to Oct-2017.
GOL expects a growth in Brazilian business demand of between from 5% to 6% in 2018, based on projected GDP growth of 2.5%.
---
GOL debuted an extended legroom offering dubbed GOL Conforto about four years ago; but the airline has recently bundled its extra space with priority boarding and space in overhead bins for carry on baggage. GOL also has a "Light" option, which is a heavily discounted fare that does not include checked baggage. During 2017 Brazilian authorities have lifted restrictions on the country's airlines that prohibited charging for checked luggage.
Recently, GOL stated sales for its Conforto package grew 46% year-on-year for the time period spanning from Jan-2017 to Oct-2017. The package is targeted toward higher yielding business passengers, and should help the airline maintain a leadership position among Brazil's corporate travellers as demand in that sector starts to recover.
CHART - GOL is the largest operator in the Brazilian market with a 30.6% share of weekly capacity; number one in the domestic market (35.5% share) and number two to Azul in the international skies (9.4% share)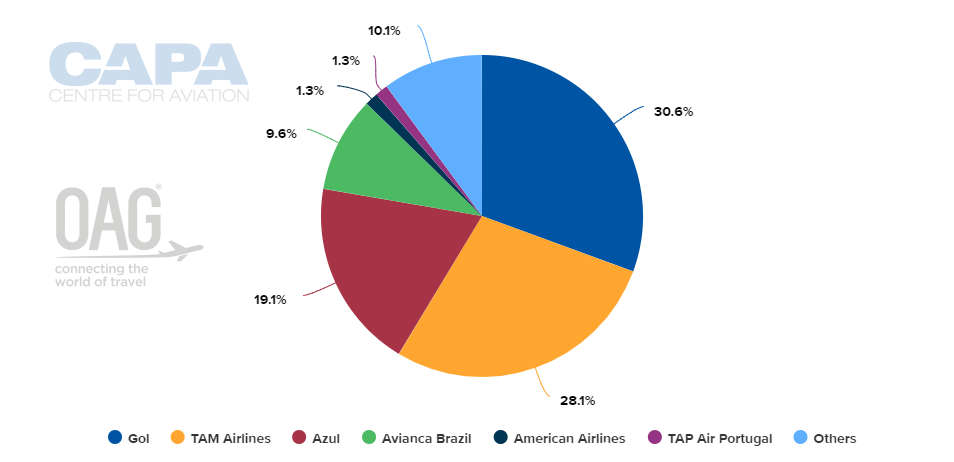 Source: CAPA - Centre for Aviation and OAG (data: w/c 04-Dec-2017)
"Today we have the largest share of business traffic in the country, and feel good about our prospects in the segment as the economy and business demand continue to strengthen," GOL CEO Paulo Kakinoff recently concluded. GOL's rival Azul calculated in 2Q2017 that GOL's traffic share among corporate travellers was 35% and its revenue share was 32%. LATAM Airlines Brazil's corporate traffic share was 33% and its revenue share was 30%. Azul's traffic share in the corporate customer segment was 19% and its revenue share was 30%.
GOL has previously calculated corporate clients represent approximately 70% of its revenues, and in 3Q2017 the airline's top line revenues grew 14% year-on-year. Growth in Brazilian business demand could range from 5% to 6% in 2018 based on projected GDP growth of 2.5%, the company stated.
The airline is also in the process of offering Wi-Fi fleet-wide by mid-2018, and in early Nov-2017 stated 66 of its Boeing narrowbodies were equipped with connectivity.
TABLE - GOL currently has a fleet of 120 Next-Generation Boeing 737 variants, but will soon complement and eventual replace these with new MAX versions
Source: CAPA Fleet Database
GOL believes its branded fares, Wi-Fi and its work to create an attractive domestic network for business travellers have all contributed to GOL's rise as a major competitor among Brazil's corporate traveller segment. The airline is in the midst of establishing a hub in Fortaleza located in Brazil's northeastern region, and it has estimated the new hub should generate BRL160 million in additional revenue during the first year of operations, and BRL200 million by year three when it reaches maturity.
GOL has also hinted at other attractive products it aims to debut in the not too distant future. "...we have good reason to believe that the company [GOL] can become even more attractive to the high yield customers" Mr Kakinoff declared.