Brazil has remained a study in contrasts during the Covid-19 pandemic as demand has continued to shift off the bottom even as case counts in the county continue to grow. And the country's largest domestic airline, GOL, believes that will also be the case for the slower returning business travel market, where travel it believes could resume by the end of 2020.
The country had nearly three million confirmed cases and just under 100,000 deaths as of early Aug-2020, compared with the US at 5.0 million cases and 161,000 deaths. The country remains the second largest region in confirmed cases behind the US.
But GOL CEO Paulo Kakinoff recently told analysts and investors that since demand bottomed out in mid-Apr-2020 at less than 5% of the airline's normal traffic, the company has undergone an uptick in passenger volume. During 2Q2020 GOL's weekly sales grew at an average of approximately 18%, and its load factor was 78%. During the quarter GOL's yields fell just 0.9% year-on-year, and its passenger unit revenue (PRASM) decreased by 5.6%.
Similarly to those of most airlines worldwide, GOL's booking curves remain short – broadly 20 days, compared to 60 to 90 days under normal circumstances, but "…there's a huge potential for us to stimulate the long advanced period of purchase…", explained its CFO Richard Lark.
The opportunity for that stimulation could present itself later this year. Based on its relationships with its corporate clients, GOL anticipates that some of the larger corporations in Brazil could authorise travel beginning in Sep-2020, "but it seems more heavily weighted toward October [Oct-2020]", Mr Lark explained.
During the Sep-2020 to Oct-2020 period GOL expects to "go back to a somewhat more normal booking curve…as it relates to the re-establishment of corporate travel in Brazil, said Mr Lark. He calculated that in normal times, approximately 70% of GOL's traffic would be travelling for business purposes, "and within that bucket, 25% to 30%" are large corporate clients.
CHART – Brazil's domestic capacity has begun to slowly recover in scale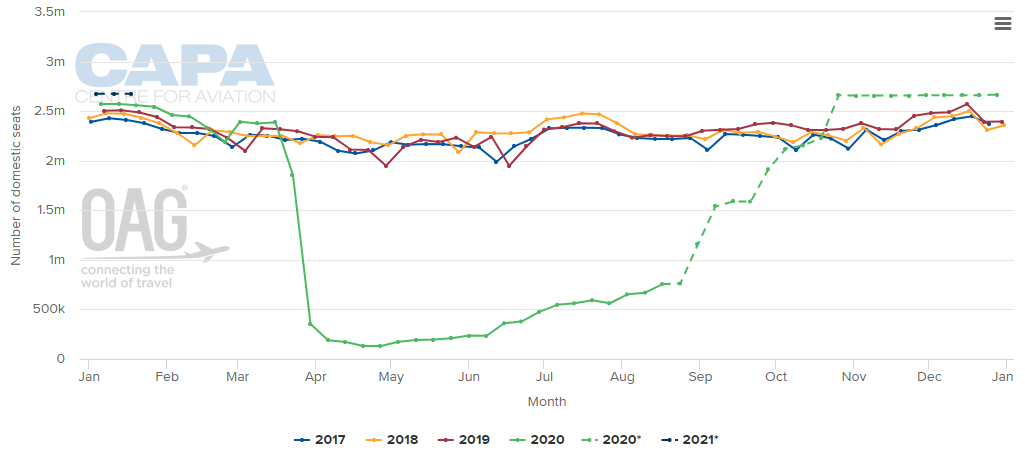 Source: CAPA - Centre for Aviation and OAG (Data: as at 10-Aug-2020)
GOL's local rival Azul, has also recently concluded that "passenger demand is returning, which is already allowing us to be at 45% of last year's [2019's] capacity. This compares very positively to our conservative view of 40% demand recovery by December,", says Abhi Shah, Azul's chief revenue officer.
Azul plans to operate 407 daily frequencies in Sep-2020 and resume operations to Carajás, Imperatriz, Barreiras, Cascavel and Rio Verde as it increases its network to 88 destinations and around 45% of the carrier's original planned capacity.
The airline has now also formally launched its regional brand, Azul Conecta, which will help Azul to increase its domestic network to over 200 cities. "We will reach smaller communities and we will connect the regions to the domestic and international networks," says Azul about the new operation which will operate a fleet of 17 Grand Caravan aircraft, including three aircraft dedicated for cargo operations.
With a stronger international network than both GOL and Azul, LATAM Airlines Brasil has been left with a "greater surplus of aircraft and crew" as "passengers disappeared," says CEO Jerome Cadier. He cited closed borders, the USD1 exchange rate exceeding BRL5, uncertainty on mandatory quarantine or if a return leg is possible. Still, he is confident on a recovery. "When the crisis is over, it will recover in levels, with lower fares and fewer passengers," he says.
That could see Azul and LATAM Airlines Brasil getting a little closer with the former's CFO Alex Malfitani suggesting that the pandemic making the potential for a merger or JV between the carriers more viable. "The same way a codeshare had 0% chance [before the pandemic], today it is a reality, a JV or merger was 0% chance, now it is not zero," he explains.