Asia Pacific consumers top the world in sustainable travel interest
According to Expedia's 2022 Sustainable Travel Study, 95% of Asia Pacific consumers surveyed reported that they had an interest in being provided with sustainable travel options.
This was higher than any other region globally, with about 90% of travellers globally interested in sustainable travel options.
Other surveys find similar results.
An Economist Impact survey sponsored by Airbnb found that 86.8% of Asia Pacific respondents considered sustainable tourism as being important to them, with just 2.5% considering it to be unimportant.
A 2022 Booking.com survey found that sustainability was a key consideration for travellers from across the Asia Pacific, and that a majority of regional travellers would be willing to spend more in order to improve the sustainability of their travel.
Sustainability increasingly important for corporate travel
Sustainability is not only important for personal travel, but increasingly for corporate trips as well.
A 2022 survey by Consulting Group-Asia Pacific on behalf of SAP Concur found that 86% of businesses across the Asia Pacific said that they were actively considering sustainability when it came to managing corporate travel.
Three quarters (76%) of Asia Pacific organisations reported that they were passionate about enabling sustainable corporate travel, but 61% of those said they needed help with implementation of sustainable travel initiatives.
The SAP survey also found that a number of barriers to implementing or operating a sustainable corporate travel programme remained: more than a third (37%) of respondents nominated budgets as the main hurdle; 32% cited a lack of employee engagement, and 31% reported that they were impeded by a lack of professional tools to visualise the environmental impact of travel.
Asia Pacific travellers struggle to get clear and meaningful sustainability information
Despite the positive momentum towards sustainable travel, there is also a considerable degree of confusion about how to measure the environmental impacts of travel and sustainability and travel.
According to Expedia, 70% of consumers feel overwhelmed by starting the process of being a more sustainable traveller.
In Asia Pacific, regional travellers report that their difficulty in finding sustainability information that is clear and meaningful to them can be challenging.
Additionally, what information is available is difficult to access.
Consumers also have concerns about the accuracy of information provided, and their difficulty in validating the claims of travel firms.
This is a concern for Asia Pacific airlines.
Asia Pacific airlines underperforming in sustainability reporting
The CAPA-Envest 2022 Airlines Sustainability Benchmarking and Rating Report – which measures the sustainability performance of the top 100 airlines globally against 11 different metrics – shows decidedly mixed results when it comes to the sustainability performance of Asia Pacific airlines.
None of the 40 airlines and airline groups from the Asia Pacific ranked by the report were placed in the highest 'Platinum' category, and there is a just single regional airline in the 'Gold' category.
Airline sustainability: category ratings for 2022 (CAPA-Envest)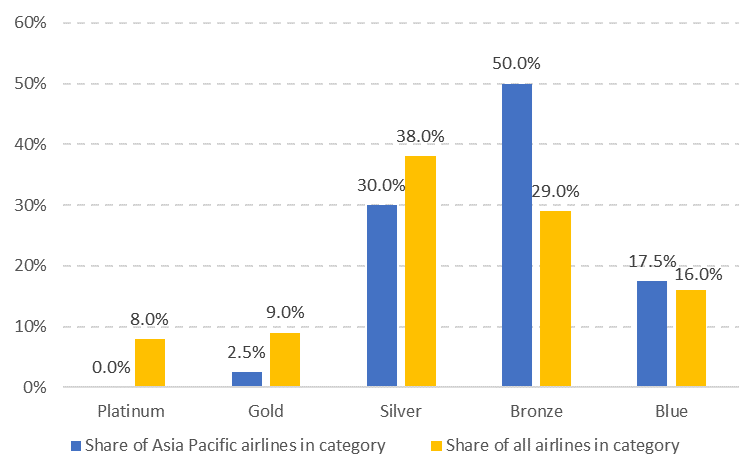 In comparison, half of the Asia Pacific airlines ranked are in the 'Bronze' category, and Asia Pacific airlines make up seven of the 14 airlines ranked in the lowest 'Blue' category.
When it comes to Asia Pacific airlines' disclosure of their key sustainability performance metric, the performance of regional airlines is even worse.

The CAPA-Envest report ranks airlines on their sustainability disclosures from 0 (least transparent) to 4 (most transparent), based on how many key performance indicators (KPIs) are released to the public.
Only a single Asia Pacific airline was ranked among the group of 11 airlines at the highest level of disclosure, and Asia Pacific regional airlines made up just two of the 13 airlines that filled the next tier down.
Worryingly, Asia Pacific airlines make up 10 of the 23 airlines in the lowest tier of disclosure.
Global airline sustainability and disclosure scores (CAPA-Envest)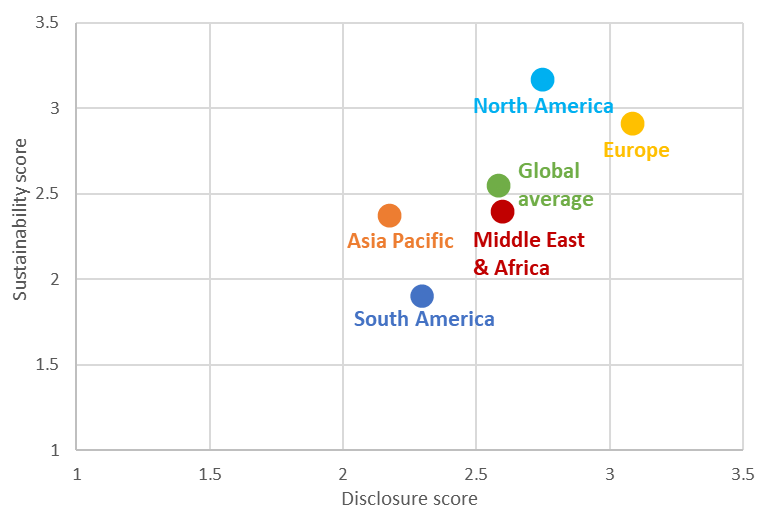 The CAPA-Envest 2022 Sustainability Report shows that in terms of sustainability performance, Asia Pacific airlines are not far behind the global average in terms of measurable KPIs.
However, airlines in the region end up ranking lowest globally when it comes to public disclosure of their sustainability performance.
Outside the region, particularly in North America and Europe, reporting on sustainability KPIs has been driven by government regulations and the expansion of Environmental, Social and Governance (ESG) reporting.
This has often occurred at the behest of major shareholders, or through stakeholder consultations.
This sort of ESG reporting is still lacking in the Asia Pacific, particularly with airlines. It also represents a clear opportunity for regional airlines to support or improve their sustainability credentials.
Given the high levels of concern about the availability and reliability of sustainability information in the region, Asia Pacific airlines need to get their act together when it comes sustainability reporting.