A successful global growth strategy over the past 35 years has now seen the Hampton by Hilton portfolio reach nearly 260,000 rooms worldwide across 27 countries and territories. This will continue with more than 700 properties and more than 93,000 rooms in its pipeline – the largest ever in its brand history and within the Hilton enterprise.
Shruti Gandhi Buckley, global head, Hampton by Hilton, says the opening of Hampton's 2,500th property demonstrates the brand's "winning growth strategy," which is based on three core pillars: commitment to delivering unparalleled customer service, category leading product and amenity innovation and Hilton's ongoing investment in the brand.
A key to Hampton by Hilton's global success has been the brand's regionalisation of hotel prototypes and room designs to meet the diverse needs of its customers. But while each property is based on local market-based variations, each stay comes with a consistent Hampton service offer, complimentary hot breakfast, free WiFi and a guest satisfaction backed by its Hampton Guarantee.
The Hampton by Hilton growth story is a truly global adventure. In the Caribbean and Latin America its being led by entering new markets with four first-in-country openings in the region this year alone, as already noted with its landmark 2,500th property.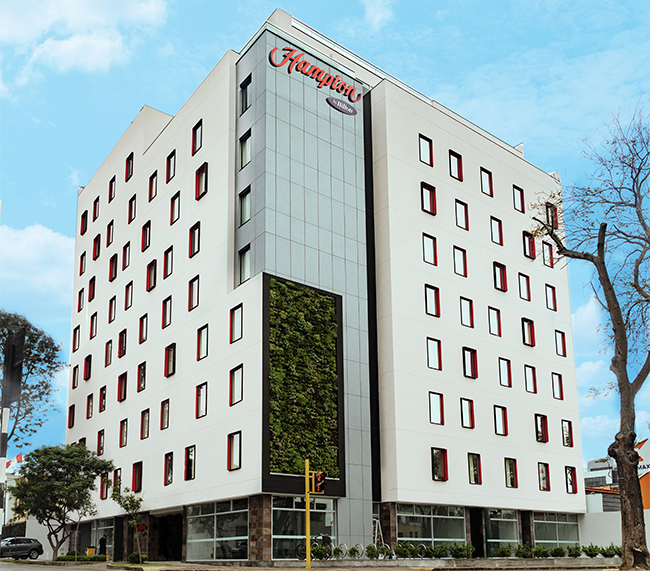 Earlier this year, Hampton debuted in Chile with Hampton by Hilton Antofagasta, featuring panoramic views of the Pacific Ocean, and Brazil with Hampton by Hilton Guarulhos Airport in São Paulo, conveniently located near Brazil's busiest airport. Hampton by Hilton Bariloche is set to become Hampton's first property in Argentina in Q3 and will boast mountain and Nahuel Huapi Lake views at this all-season resort town.
Hampton now offers more than 50 properties and nearly 7,000 rooms across nine countries and territories in the Caribbean and Latin America and aims to add nearly 15 properties and more than 1,750 rooms by 2022, including a first-in-country location in El Salvador, set to open in 2021.
Hampton by Hilton's growth extends to Europe with nearly 90 open properties. The brand recently expanded into Belgium with Hampton by Hilton Antwerp Central Station and France with Hampton by Hilton Paris Clichy.
It also just announced a partnership with Alshaya Group, where the international franchise operator will develop 70 Hampton properties in nine countries across the Middle East, North Africa and Russia. With the first hotel expected to open in 2021, the Alshaya Group will deliver 50 hotels in the next eight years, with another 20 in the pipeline, significantly expanding Hampton's presence across three continents.
The brand's international growth has also occurred in the Asia Pacific region where Hampton by Hilton has achieved 180% year-over-year growth, with China catalysing this rapid expansion, including the recently opened Hampton by Hilton Changsha South Station and Hampton by Hilton Guangzhou Dongxiaonan.
Hampton, which opened its first Chinese property in 2015, is now the No.1 fastest-growing international hotel brand in the country just four years later and is set to open its 100th hotel later this year. The brand has a strong pipeline of over 260 signed hotels and 40,000 rooms in China alone.
Despite the global growth, it is in its North American roots that the Hampton brand remains strongest, offering more than 2,250 hotels in all 50 US states, nine Canadian provinces and territories, DC and Puerto Rico. In fact, on average, major interstate travellers are said to never more than 30 minutes away from their next Hampton stay in the continental US, and there is a pipeline of more than 300 properties and 32,000 rooms.
Hampton's new properties stretch to the four corners of the continent and include the Hampton Inn & Suites by Hilton Beauport Quebec, Hampton Inn & Suites by Hilton Atlanta Decatur/Emory, Hampton Inn & Suites by Hilton San Diego Airport Liberty Station and the Hampton Inn & Suites by Hilton Snoqualmie, Washington.