The new Rwanda gateway is one of a number of airports that the Gulf hub carrier has announced an intent to acquire, but still it has no formal airport assets despite previous plans for Paraguay's Mariscal Estigarribia Luis María Argaña International and Olbia Costa Smeralda airports.
It appears to remain a long path from announcing an intent, to formally dotting the 'I's and crossing the 't's on a formal contract, evidenced most recently by plans to acquire a 25% stake in Moscow Vnukovo airport, a process that has dragged on interminably even though an MoU was signed in Apr-2018.
The Rwanda Development Board expects the project to develop Kigali Bugesera will require an estimated investment of USD1.3 billion (up from an initial USD800 million) and the airport will be equipped to handle up to seven million passengers per annum once phase one development works are completed, from more modest initial estimates of 1-4 million.
The airport is located 25km southeast of Kigali and will feature a 4200m runway. Construction was expected to be completed by 2019 to include runway, cargo terminal and a passenger terminal with capacity for 4.5 million passengers per annum, a figure that has been revised several times.
Mota Engil Engenharia e Construcao Africa SA replaced China State Construction Engineering Corporation (CSCEC) as the key contractor for the PPP project with a 25-year concession to manage it, as a secured investor, the latter having withdrawn from the project in 2013.
Finding investors has always been difficult despite this being (or perhaps because of it being?) one of Africa's largest green field airport developments in a country which most westerners, or Asians, would find it hard to locate on a map.
MAP - One of the smallest countries on the African mainland, Rwanda is located a few degrees south of the Equator, bordered in Central Africa by Uganda, Tanzania, Burundi, and the Democratic Republic of the Congo

Source: CAPA - Centre for Aviation and OAG
When the Rwandan CAA made a presentation at the Global Airport Development Conference in 2016, clearly seeking investors, the presenter spoke of there being no air transport 'culture' in Africa and joked about there being a 1:20 ratio between passengers and meters & greeters. Even so, in Rwanda, passenger growth then was +13%, in line with a spurt in GDP growth.
A boom in tourism was both happening and anticipated, led particularly by government activity in the M.I.C.E. segment. Air Transport was thus a priority for the government and the national airline was being protected as far as possible. That growth has continued. 800,000 passengers passed through the airport in 2017, the most recent year for which figures are available; four times the number 10 years previously. Rwanda is one of the most densely populated countries in Africa.
While the current airport is aesthetically pleasing, it is rapidly approaching its capacity limits having become a sub-regional hub, serving Congolese, Burundian and Ugandan cities. There are also important national routes to Johannesburg, Nairobi, Addis Ababa, Kinshasa, Lagos and Cairo airports and international ones to Mumbai, Istanbul, Amsterdam and Brussels (Rwanda was a Belgian colony). Rwandair is the dominant carrier with around two-thirds of the airport's seat capacity.
CHART - Kigali has been a key growth market in Africa and its gateway of Kigali International airport has seen its capacity offering grow, especially during the second half of the 2010s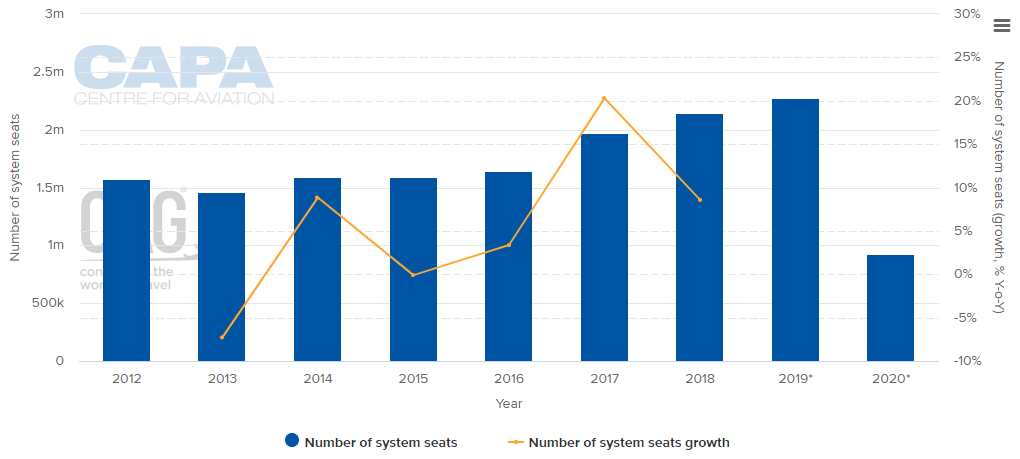 Source: CAPA - Centre for Aviation and OAG
However, the presenter was honest enough to admit (and this is still the case) that key challenges remained such as the high cost of the infrastructure, connection challenges and the all pervading failure of liberalisation measures across the continent as embodied in the Yamoussoukro Agreement.
So, why would Qatar Airways be interested in this deal? It is well documented that Rwanda's Government aims to increase tourism earnings from USD400 million to USD800 million per annum by 2024. Apart from the Bugesera International the government is investing in other tourism infrastructure, expanding Rwandair, further promoting its M.I.C.E. tourism and positioning Rwanda as a leading eco-luxury and responsible tourism destination.
The new airport would be a gateway to all that activity, and a developing hub for East Africa, especially if the implementation of a single tourism visa for the East African Community states comes to fruition and which would support growth across all the member states.