---
Summary:
A public-private partnership is anticipated to develop a new airport project on Haïti's north coast at Port-de-Paix;
With precious little tourism the raison d'être seems only to be supporting the local population, but a new cruise port is planned for a neighbouring island;
International access to Haïti is fed through Toussaint Louverture Airport in Port-au-Prince and to a lesser extent Hugo Chavez International in Cap-Haïtien;
Haïti previously had a vibrant toursim sector in the 1960s-1980s when a mixture of music, art and architecture drew tourists from North America in large numbers.
---
The Republic of Haïti occupies the western, smaller portion of the island of Hispaniola, which it shares with the Dominican Republic. The total area of Haïti is 27,750 square kilometres (10,714 sq mi). There are 17 airports but only two of notable scale – the capital's (Port-au-Prince) Toussaint Louverture Airport, which is the main gateway, and Hugo Chavez International Airport, the second largest, and which serves the country's second city of Cap-Haïtien. All the airports are owned by Office National de l'Aviation Civile (OFNAC) and operated by Autorité Aeroportuaire Nationale.
MAP - Hispaniola, in the Greater Antilles, is the second largest and most populous island in the Caribbean and is shared between Haïti and the Dominican Republic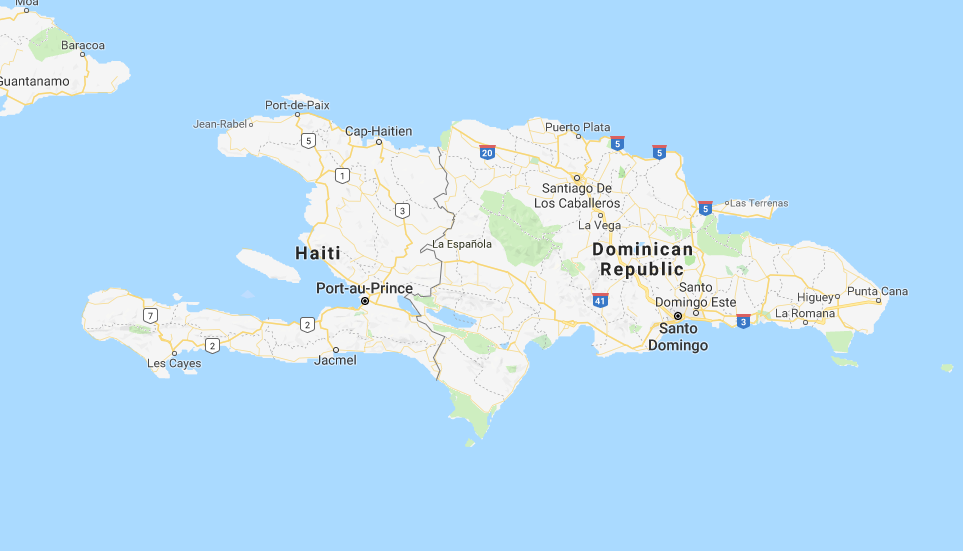 Source: Google Maps
There are no formal traffic figures available for Toussaint Louverture Airport, which was badly damaged in the 2010 earthquake with renovation works still under way. But it is understood there were 1.9 million passengers in 2017 and it is known that at least 2.3 million seats will have been made available by the end of 2018. That airport has a 3,040 m runway.
The largest carrier is Sunrise Airways, essentially a locally-owned charter, wet lease and 'virtual' operator but one which since 2012 has been operating scheduled domestic services to Cap Haïtien and since mid-2015 international scheduled services to Santo Domingo in the Dominican Republic. In the same year it bought the Dominican airline Aerolineas Mas. The nation's flag carrier Tortug' Air went out of business sometime in 2015.
Other and more significant airlines are US operators JetBlue Airways and American Airlines, emphasising the continuing need for aid operations, while Air France has a small presence as the representative of a former colonial power.
CHART - Local carrier Sunrise Airways dominates at Port Au Prince Toussaint Louverture Airport, with JetBlue Airways, American Airlines, Air France, Spirit Airlines and Delta Air Lines among the big name foreign operators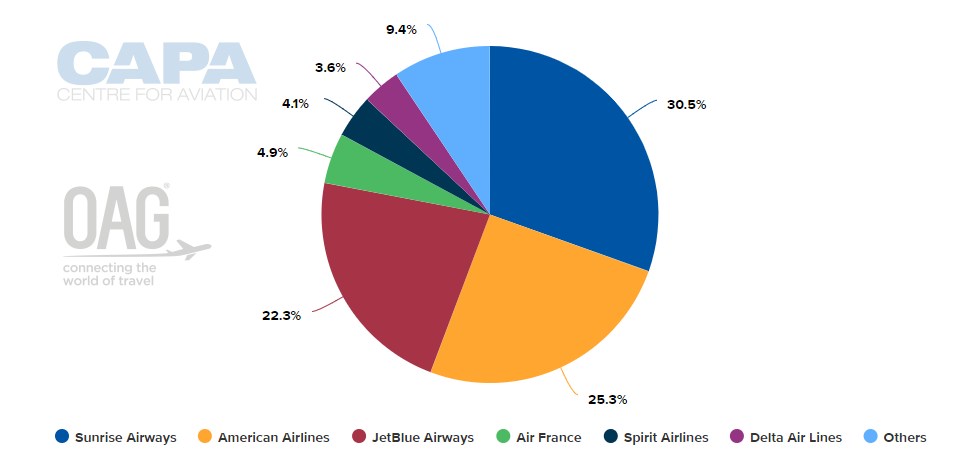 Source: CAPA - Centre for Aviation and OAG (data: w/c 17-Sep-2018)
The Cap Haïtien airport has fewer flights although American Airlines, Spirit Airlines and Bahamasair operate, along with Sunrise Airways. So far in 2018, 236,000 seats have been made available at this airport, which is the one more likely to be impacted by the Port-de-Paix development, which is less than 100 km distant.
The reasons for the new airport are not yet fully understood, along with its cost and financial structure. It is believed the runway will be of approximately 2,000 m initially with an eventual extension to 2,500 m. There is in fact already an airport at Port-de-Paix, indeed the third busiest in the country, but it offers only limited connections, mainly to Port-au-Prince and Cap-Haïtien. The legal status of this new airport should be transmitted soon to the National Palace before the start of work. The project is expected to begin receiving its first flights in Dec-2019.
The North West Department remains totally isolated and OFNAC believes that such an airport is essential, as 70% of Cap-Haïtien flights from abroad serve the people from the North West. But is such a new, big airport justifiable mainly to serve a diaspora? Countries like Cape Verde in Africa have found it difficult to run airlines and airports on that basis.
The development may be more concerned with the prospects for tourism, which is the second priority, after agriculture, for President Jovenel Moïse following the 2010 earthquake and Hurricane Matthew in Oct-2016. There is a very proactive private sector tourist organisation that wants to bring back the heady days of the 1960s-1980s when a mixture of music, art and architecture drew tourists from North America in large numbers. While visitor levels have subsequently plummeted, this has left the country's landscape virtually pristine and ripe again for development.
Work is underway to promote Haïti as a twin destination with neighbouring Cuba, while Carnival Cruises plans a USD70 million private cruise port on Tortuga Island, off Port-de-Paix, once a haven for pirates. It would be similar to others it has built such as the one at Half Moon Cay, Bahamas.
Of course that would need an airport, though who would commit to such a venture in a country where new tourism initiatives are not always successful remains to be seen. Perhaps a French company, such as Vinci, which now has acquired Caribbean interests. Perhaps Carnival. Perhaps the government will have to find the cash itself.