These results have been driven by its unique geography and the benign industry capacity growth in its markets, which appears to be continuing throughout most of 2017. As many US airlines believe they will finally recover to a positive unit revenue result in 2Q2017, Hawaiian expects another strong performance in that metric.
Hawaiian was one of the few US airlines that actually posted an increase in pretax margins year-on-year in 1Q2017, and it appears as if the company's valuation in 2Q2017 is reaping some rewards from that performance.
Australia, New Zealand and the South Pacific
While almost 90% of seat capacity is dedicated to domestic travel within the US, the Australia, New Zealand and South Pacific regions are extremely important for Hawaiian, representing a large proportion of its total international seat capacity.
Hawaiian Airlines international seat capacity by country: Week commencing 01-May-2017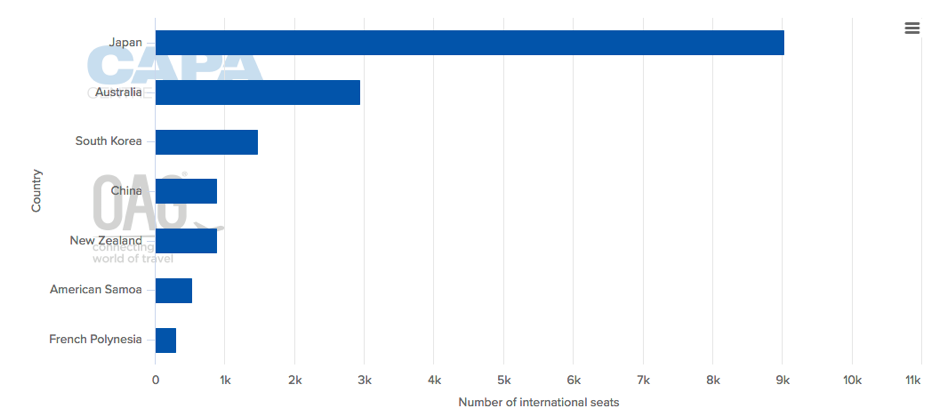 Source: CAPA – Centre for Aviation & OAG.
Hawaiian recorded a 6.8% rise in PRASM on international routes year-on-year in 1Q2017 as new services from Honolulu to Japan were introduced, and the airline also benefitted greatly from a decision by Jetstar to exit the Honolulu-Brisbane market in Oct-2016.
The question remains whether Hawaiian will ever launch direct services to Melbourne, which is currently only served nonstop by Jetstar. In a recent interview, Hawaiian Airlines COO Peter Ingram stated that Hawaiian hadn't made a decision on the timing of this, or even whether the services would be launched to Melbourne at all. Mr Ingram believed the issue remained with the aircraft available to the carrier, as they would not be able to add additional services without cancelling something else.
The CAPA Fleet database shows Hawaiian Airlines has 17 A321-200neos on order capable of operating on this route, with some of these expected to be delivered at the end of 2017, and more to follow in the first half of 2018.
Hawaiian Airlines fleet summary as at 08-May-2017

Source: CAPA Fleet Database.
Product changes to drive higher unit revenue
Hawaiian is forecasting a unit revenue increase of 5.5% to 8.5% for 2Q2017, which will be the fifth consecutive quarter of year-on-year improvement for the airline.
Hawaiian believes it can capitalise on recent product changes to drive higher unit revenue. Company executives recently stressed that it had done a good job at increasing paid load factors on its premium product, even before the full rollout of new lie flat seats. The airline has rolled out the new premium product on flights to Auckland, Brisbane, New York, Sydney, Tokyo and Beijing.
Hawaiian also believes more upsell opportunities exist for its extra comfort seats as it expands the premium economy section on its A330s and new A321neos. Hawaiian's value added revenue per passenger increased USD1.32 to USD24.04, which shows some opportunity for an uptake in sales.
Hawaiian recently unveiled impressive new brand and livery
On 01-May-2017 Hawaiian Airlines revealed an updated brand identity and the new livery on a Boeing 717 aircraft, the first of its fleet of more than 50 aircraft that will feature the new design. The new logo will feature on web and digital assets, airport lobby signage and kiosks, and at boarding gates. Painting of all aircraft and ground service equipment is scheduled to be complete by 2020.
To complement its new phase of growth, Hawaiian will also roll out new uniforms for its frontline employees by the end of 2017. The carrier expects to take delivery of 18 new A321neo aircraft between 4Q2017 and 2020.
President and CEO Mark Dunkerley said, "Our new livery embodies a stronger, more contemporary representation of Hawaiian Airlines' culture of service and hospitality, which is the bedrock of our guest experience".
Hawaiian Airlines: An evolution