---
Summary:
There is a possibility that Heathrow Airport could work with the Arora Group on its expansion plans.
Arora Group is a major stakeholder there, with several hotels.
It put forward an ambitious alternate plan for a new runway and terminal at Heathrow in order to save money and avoid a hike in airport charges.
But that plan came very late in the day, might be difficult to implement and could delay implementation yet again.
---
So what and who are the Arora Group and Surinder Arora? The Arora Group is actually based at Heathrow Airport and is a property investment group that is highly focused on the hotel industry, and especially hotels located close to airports. There is also a property management division while a subsidiary, Grove Developments, is a builder specifically of hotels.
The managed hotels at airports, particularly at Heathrow Renaissance London Heathrow, Sofitel London Heathrow and Holiday Inn Heathrow), have brought Arora into contact with airlines as they offer aircrew accommodation and this has led to a close relationship with British Airways which is part of International Airlines Group (IAG). Arora's presence means it is a significant landowner at Heathrow and it has just signed an agreement to operate a Hilton-branded hotel directly connected to the Queen's Terminal.
CHART - British Airways (BA) is the dominant carrier at London Heathrow with a 47.7% share of weekly capacity; its largest rival is trans Atlantic partner American Airlines with a 3.7% share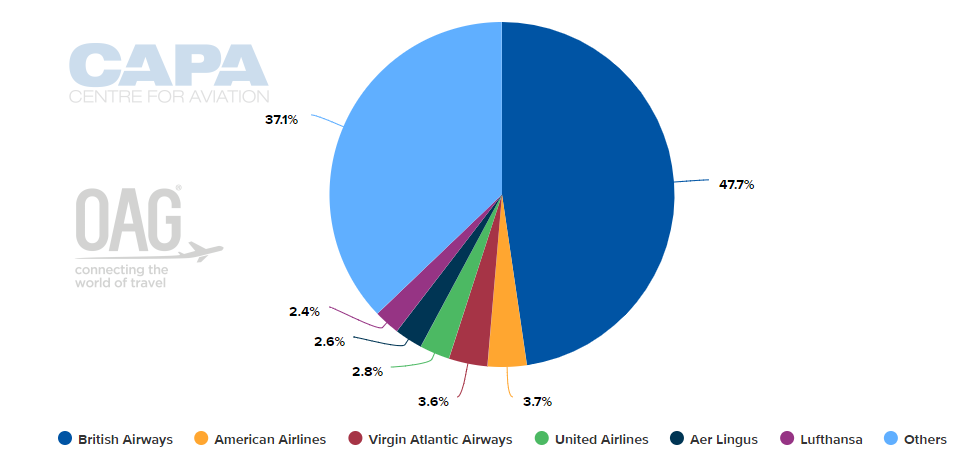 Source: CAPA - Centre for Aviation and OAG (data: w/c 04-Dec-2017)
The lack of progress towards the construction of a third runway at Heathrow Airport has been chronicled many times by The Blue Swan Daily and by CAPA – Centre for Aviation. The sticking points now are mainly air pollution and the very high cost of implementation of the preferred option that was approved by the Airports Commission – the northern runway, with a consequent impact on charges.
Heathrow Airport is trying to reduce the cost as and this has allowed Gatwick Airport to regain a foothold in a debate that refuses to go away. Arora Group's proposals might help it to do that. Back in Jul-2017 Arora Group proposed an alternative terminal and runway expansion plan for the airport, projected to deliver GBP1.7 billion in savings. The plan was also supported by IAG's CEO Willie Walsh.
Highlights of the proposal include:
GBP1.7 billion saving on the terminal design and taxiway system which would be preferred by carriers, while maintaining the same increase in runway and terminal capacity;
A new Terminal 6 to the west of T5 with a remote satellite linked by walkway rather than a GBP1 billion passenger transit system. It would be smaller than the one proposed in Heathrow's own scheme but would deliver the same capacity
Terminal 2 expansion is not necessary for overall expansion of Heathrow and removing it saves an additional GBP1.1 billion;
Arora's improvements significantly reduce demolition and ground works required and result in a 23% reduction in the site area;
Scheme reduced by GBP5.2 billion overall without significant amendments to the Government's runway plans;
GBP1.5 billion savings by avoiding works on the M25 motorway and impacting on the M4 motorway by relocating the proposed runway;
Total savings of GBP6.7 billion savings, a 38% reduction on the current project forecast and privately funded;
Development of a privately funded Heathrow Southern Railway (HSR) scheme to build a new section of railway alongside the M25 motorway from the existing Terminal 5 station to connect with existing railway lines to the South of the airport;
Coming out of left field (or runway) like this, there are some pertinent questions that immediately come to mind.
Firstly, what qualifications does a hotel operator have in airport construction and management? It appears that Arora commissioned a team of infrastructure and aviation experts including the San Francisco-based Bechtel, which is highly knowledgeable in this area.
Secondly, what is its motivation? That appears to be one of cost-saving on the basis that the airlines that use Arora's hotels may reduce their presence or even quit Heathrow altogether if the charges they have to pay to cover the cost of the present-day scheme become unsustainable. At which point Arora's own sunk costs in its hotel properties would sink further. Arora has been clever to include proposals to increase public transport access of the area in order to combat emissions, the other main sticking point.
Thirdly, what does Arora hope to achieve? Surinder Arora has spoken of "the current monopoly, which overcharges airlines and in turn raises fares" being "not the right model for the future." Many would agree; certainly Willie Walsh would.
CHART - Despite its capacity constraints, passenger levels at London Heathrow continue to grow and are up +3.0% this year, the fastest annual rate of growth since 2013
Source: CAPA - Centre for Aviation and Heathrow Airport reports
But in order to take on the established order, Arora would have to operate a private runway and terminal within an entity that is already privately owned and operated by a selection of powerful global funds, including sovereign wealth funds. Because of the way charges are regulated in the UK, the single till system, revenues accruing from unregulated non-aeronautical means in terminals are offset against those of regulated direct charges to airlines for landing. You can't operate only a terminal or only a runway without a complete revision of the regulatory system.
It isn't the case that politicians would support it, either. It could lead to a 'dash' for the cheapest runway and terminal that would impact on the runway rotation that relieves noise in the environs.
That wasn't what the Airports Commission had in mind when it found in favour of Heathrow for an additional runway in southeast England and in that sense it might be fair to conclude that Arora's proposal is three years too late. It appears to be an example of having an eye to the main chance to benefit a customer and itself rather than a serious attempt to overcome objections and that is a pity because there are some sensible suggestions within it.
Arora's views have been submitted to the Department for Transport but their adoption would probably put back the construction timeframe yet again (Gatwick would be obliged to put together an alternative) and for that reason alone may not progress much further. When John Holland Kaye talks about "working with him" it may mean no more than, say, co-operating on terminal design, to include a built-in hotel.
On the other hand, who would have thought, only a few years ago, that a private sector-led consortium would be building a central terminal at LaGuardia airport in New York, a bastion of the public sector in transport administration?