Its recent 12th annual Passenger IT Trends Survey has identified that technology is enhancing passenger satisfaction levels at all stages of the journey from booking travel right through to collecting baggage at the destination. This difference was particularly marked at three stages: "dwell time" when they were enjoying the airport's airside amenities; when they were onboard; and while they were waiting at the carousel for their luggage.
Technology users' satisfaction scores at these stages tracked comparatively up to 8% higher than passengers who used face-to-face processes, according to the SITA survey findings and could certainly provide scope for airlines and airports to further target passengers during these stages of the journey.
For most of us it's hard to imagine traveling without a smartphone, lap top, or perhaps, a smart watch. We seemingly can't pass five minutes without checking for new emails, news alerts or app updates. Mobile devices have become the ultimate travel tool and will become even more so in the future as they replace traditional In-Flight Entertainment Channels onboard aircraft and the airport offer.
The SITA survey now shows that 70% of passengers carry two or more devices when they travel and almost all (98%) carry at least one. But beyond that passengers are not just carrying their devices, they are increasingly happy to use them throughout the journey. In fact, SITA's findings clearly show that those who used self-service technology, either on their own devices or via airport facilities, to process any stage of their most recent trip reported higher levels of satisfaction at that journey stage than the non-tech users.
CHART - The survey shows that passengers rate their journey very highly with an overall satisfaction rate of 8.2 out of 10, but this is boosted even further when technologies such as mobile services and biometrics are used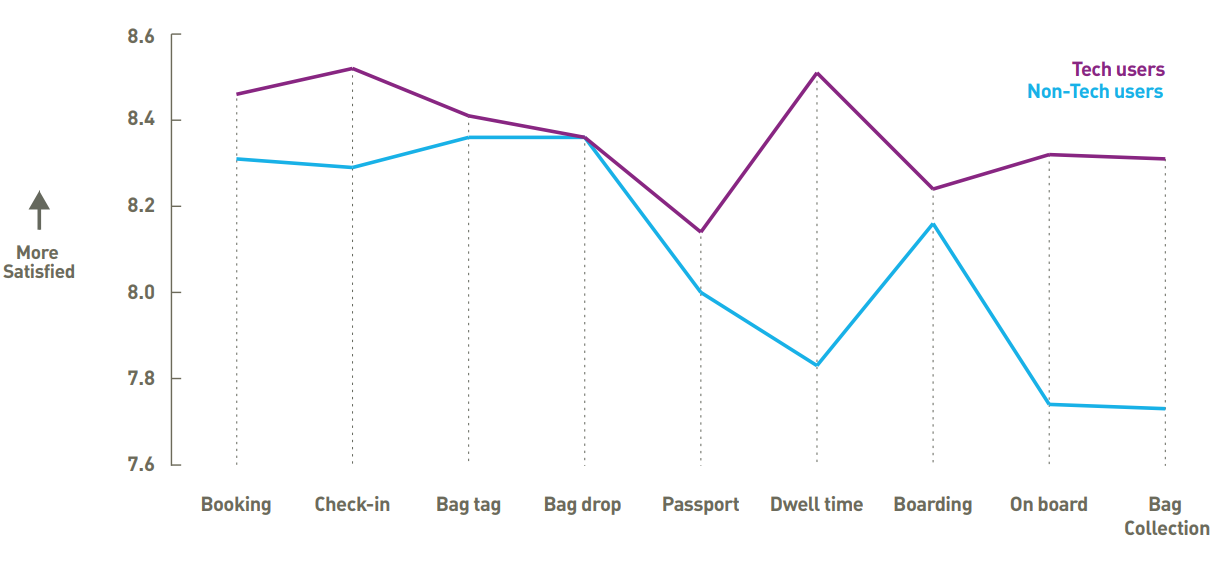 Source: SITA Passenger IT Trends Survey
In the report, SITA asked passengers to rate their satisfaction at every step of the journey. The results paint a picture of "tech" users who are more satisfied with the experience than those using face-to-face services with almost every passenger using technology to manage at least some part of the travel experience. The findings are based on online submissions from 7,031 across 17 countries across the globe and representative of over three-quarters of global passenger traffic.
Easy to use tech services can remove complexity and simplify the journey for passengers, which increases satisfaction," says Barbara Dalibard, chief executive officer, SITA. "This in turn leads to a greater level of willingness among air travellers to use new tech services to have a more enjoyable trip."
SITA notes that baggage and biometrics are two areas in particular where investing in technology can deliver a better passenger experience. "Technology is already supporting the passenger and their baggage as nearly half are self-tagging their bags and many more would do so if the technology was available," says Ms Dalibard.
But passengers are also keen to get information about the status and location of their bag. Further technology enhancements are now likely to deliver a solution as more airlines get ready to meet the IATA Resolution 753 which requires them to capture baggage information at key points of the journey.
Similarly, identity checks which are a vital element of the passenger journey and often a pain point for travellers, could be improved through technology. The SITA survey shows that automated identity checks at passport control and boarding increase passenger satisfaction. "It is encouraging that when passengers use biometrics they are even more satisfied with the experience. This demonstrates passenger acceptance of biometrics as a secure technology to deliver a seamless journey," says Ms Dalibard.
It becoming increasingly clear that most passengers are now no longer deciding whether they should use technology but which technology they should use to make each step of the journey as easy and enjoyable as possible. It is now up to airlines, airports and others involved in the customer journey to offer services that will improve the passenger experience but make sure that they are simple enough to be used by a large proportion of passengers.
More insights from the SITA Passenger IT Trends Survey can be seen in the infographic below.