---
Summary:
Japan's Ministry of Land, Infrastructure, Transport and Tourism announces Hiroshima International Airport will be privatised by Apr-2021;
It is one of many to undergo a concession procedure or to be identified for one since the Japanese airport concession process began in 2015;
It is not necessarily the case that a foreign operator or investor will be involved at Hiroshima, where the winner will have opportunities, but will equally face challenges.
---
The timetable for development will see application guidelines for the tender published in May-2019; will see the selection of a preferred negotiation rights holder in Jun-202 and finalise finalise project agreement in Aug-2020. This will see the private operator assume responsibility for passenger terminal and car park facilities from Oct-2020 and for full scale private operations to commence from Apr-2021.
MAP - Hiroshima International is located 50km east of Hiroshima, which is one of the westernmost cities on the main Japanese island of Honshu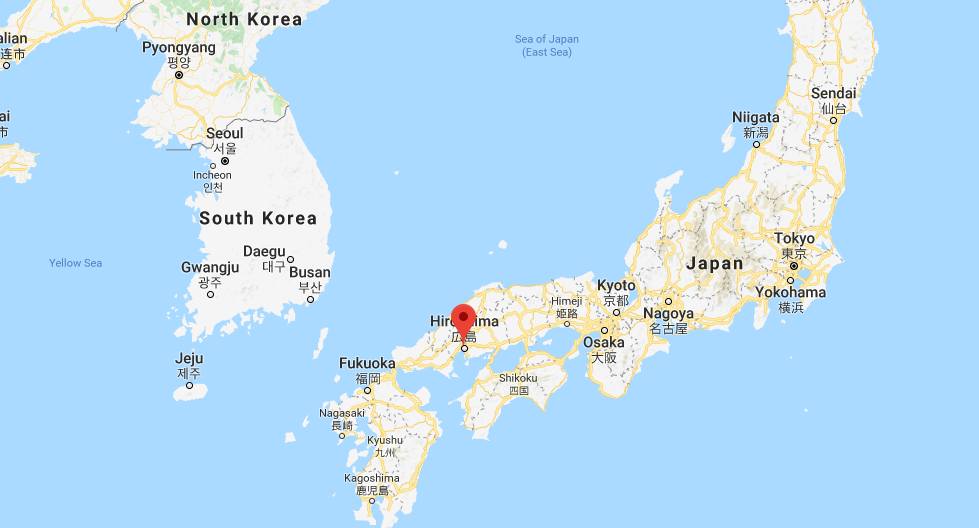 Source: Google Maps
The Japanese concession process began in Dec-2015 after what can best be described as a lengthy wait as there was no real appetite for privatisation before 2011. The Osaka airports (Kansai and Itami, won by Vinci Airports and Orix) started the process followed by Sendai Airport (Tokyu Group consortium). More recently, and the same Orix/Vinci consortium took control of Osaka's Kobe Airport on a 42-year concession contract in Apr-2018.
Other airports to have been privatised since, as the country is gripped by a privatisation fever, or to be in line for concessions, include:
Fukuoka Airport – 30-year concession, completely effective from 01-Apr-2019 (Fukuoka Airport HD Corporation).
Hokkaido island seven airports including Sapporo Chitose, reputedly Japan's second most profitable gateway airport, for 30-year concession. Final three bidders selected.
Kitakyushu Airport – proposal to privatise under survey.
Kumamoto Airport - Priority negotiation rights holder for the airport contract to be selected by Mar-2019.
Shimojishima Airport - special purpose vehicle established by Mitsubishi Estate in Jan-2018 to develop and operate passenger terminal facilities.
Shirahama Airport – Minchori Holdings-led consortium agreed the terms of a 10 year contract for its private operation, to commence in Apr-2019.
Nagasaki Airport – survey to determine the viability of privatisation to be completed by Mar-2019.
There are complicating factors with many of these transactions. Losses and debt are an issue at several airports. By and large, MLITT's reasons for privatising the airports are the need for more flexible landing fees to attract more airlines; more efficient management; revitalisation of the airports; capturing growing foreign and particularly Asian demand; and for non-aeronautical revenues to grow to offset a reduction in landing charges.
In Hiroshima's case the private sector operator is to "integrate the operations of the runway and terminal buildings with the aim of improving the user service and revitalising the area by utilising knowledge of the private sector." That suggests the need for an experienced operator.
Vinci will quite possibly be in the mix again but there is a lengthening list of Japanese companies, many of them conglomerates, which have attached themselves to the privatisation process without any prior experience of it whatsoever, and institutional investors that can typically take up 20% collectively of the operating company's equity.
The most likely outcome is a consortium but not necessarily with foreign input. As they have done in other sectors the Japanese are quickly learning how to do it for themselves.
What value can be put on this particular example? Hiroshima International is located 50km east of Hiroshima, which is one of the westernmost cities on the main Japanese island of Honshu, and one of the closest to South Korea.
CHART - All Nippon Airways is Japan's largest carrier by capacity and dominates at Hiroshima International with more than half the departure seats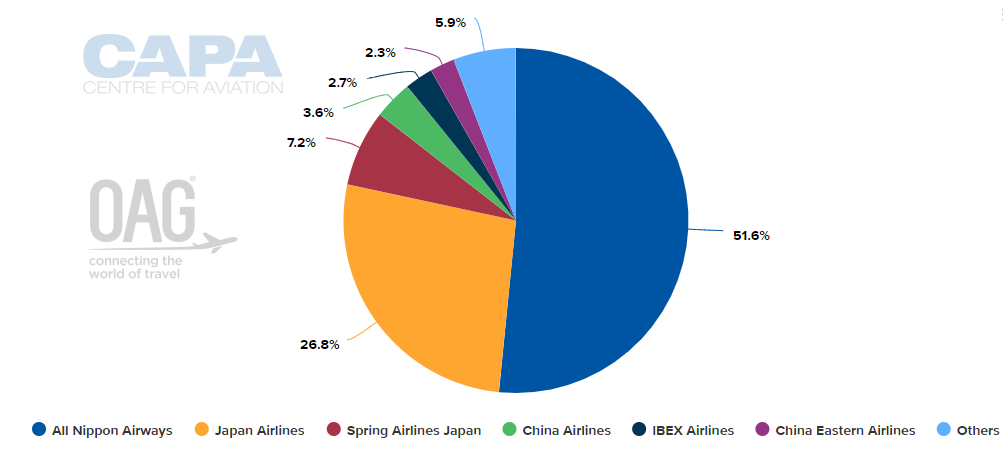 Source: CAPA - Centre for Aviation and OAG (data: w/c 11-Mar-2019)
All Nippon Airways, which is Japan's largest carrier by capacity, is by far the airport's dominant operator with 51% of current capacity, followed by Japan Airlines with 27%. Much of the airport's capacity is dedicated to the Hiroshima-Tokyo Haneda route, in the top 10 of Japan's busiest. The airport opened in 1993, replacing Hiroshima West Airport and is operated by the Hiroshima Prefectural Government.
Through ANA in particular, the Star Alliance has a huge presence with 53% of capacity though oneworld is well-represented as well with 27%. In fact only 12.4% of seats are on unaligned carriers, which is unusual for a regional airport.
CHART - Passenger traffic at Hiroshima International fell by 0.6% in 2018 and growth has been patchy since 2012 with alternating years of growth and decline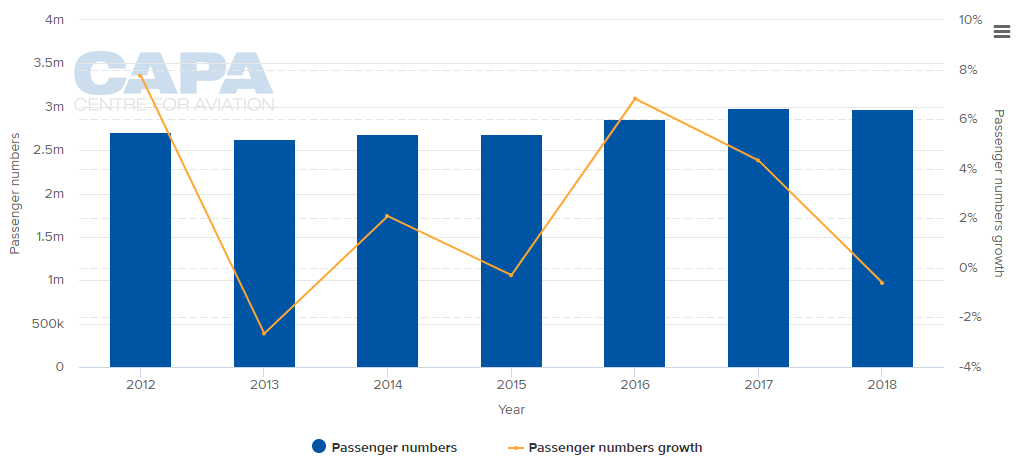 Source: CAPA - Centre for Aviation and Japan MLITT
Low-cost carriers (the enhancement of which is very much part of the government's rationale for privatisation) have so far made a limited impact with just 10% of capacity at the airport. That falls somewhat short of the average LCC airline capacity ratio in Japan for the Jan-2019 to Mar-2019 period, which is 27% international seats and 18% domestic seats.
Passenger traffic fell by 0.6% in 2018 and growth has been patchy since 2012 with alternating years of growth and decline. Cargo payload capacity tells a different story with a severe slump in 2016 followed by a very slow recovery since.
So the concessionaire will have some opportunities but also some severe challenges, especially to bring consistent growth in the passenger and cargo segments and to attract and retain both domestic and international LCCs.