For leisure travel it is believed generally that higher energy prices make recreation and tourism trips more expensive, leading to reduced trip demand. For business travel the addition of fuel surcharges will ultimately increase the costs of travel at a time that corporate travel's recovery is still in its infancy.
As is always the case, the concern is clouded by uncertainty. It is clear prices could increase much further if geopolitical tensions keep oil prices high – some analysts suggest a 50% rise could be a likely outcome. The price of Brent crude oil has approached record levels during the Ukraine crisis, while gas has far exceeded the all-time high reached only last year, in Europe and the UK.
Hotel industry likely to see limited impact from rising fuel prices
For the hotel industry though, the rising fuel prices are likely to have a limited impact, according to insights into the US market from STR, which specialises in premium data benchmarking, analytics and marketplace insights for the global hospitality industry.
While the cost for leisure and business travel will likely increase further, using data from the US Energy Information Administration, STR shows that when fuel prices are overlayed with its own historical data back to 1990 it shows the correlation between real gas prices and room demand (seasonally adjusted) to be only a moderate .54.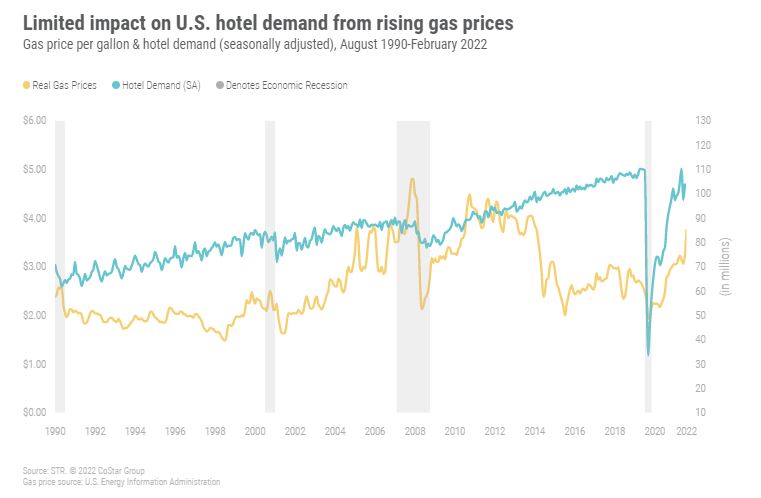 This means, it says, that very little of the demand change can be explained by changes in gas prices as a strong correlation would be considered 0.7 and above.
Further, the correlation between real gas prices and real revenue per available room (seasonally adjusted) is just 0.16, suggesting little to no impact on overall top-line performance. In this example of the US, historically, gas prices have peaked when lodging demand was strongest (i.e. the summer), according to STR.
Cost impacts are real, but not currently large enough to deter hotel accommodation
The findings of this research shows that the effects of rising fuel prices on American wallets "are real," says STR, but based on historical comparisons, the impact from rising gas prices has not been large enough to deter travellers from making trips that require hotel accommodations. It is more likely, it says, that travellers have made different purchasing choices through the level of lodging they select or in other travel expenses, such as meals and entertainment.
Airlines will likely increase fares as fuel costs increase. Some are already introducing fuels surcharges for all bookings. As business travel recovers, those higher airfares will probably be attributed to "the cost of doing business," says STR and will "not impact corporate transient and group demand".
Sydney hotel occupancy stable amid COVID concerns; rising occupancy expected into 2Q 2022
Amid increased COVID-19 cases and a slow return to the office, Sydney's hotel industry reported a marginal occupancy increase in Feb-2022 when compared to the first month of the year, but with lower rates, according to preliminary data from industry benchmarking specialist STR.
While occupancy increased slightly to 41.7%, the market's absolute ADR (AUD211.42) and RevPAR (AUD88.21) levels fell month over month. When indexed to 2019, RevPAR was just 35% of 2019 levels. STR's latest Forward STAR data shows improving occupancy over 2021 though, with an increase in both Mar-2022 (+50%) and Apr-2022 (+43%) levels against the year earlier period.
London's hotel industry reports improving performance through 1Q 2022
London's hotel industry reported month-over-month performance improvement, according to STR's preliminary data for Feb-2022. The occupancy level of 58.8% was the highest in the market since Nov-2021 but was still 25% below the pre-pandemic comparable from 2019. ADR, at GBP130.79, on the other hand, was just -1.6% lower than Feb-2019. RevPAR for Feb-2022 was GBP76.88.
Daily data shows that London's performance improved especially on weekends, notes STR with 26-Feb-2022 producing the highest performance levels for the month: occupancy (80.8%), ADR (GBP162.33), and RevPAR (GBP131.18).
Riyadh's hotels shows steady performance levels
In Saudi Arabia, Riyadh's hotel industry reported steady performance levels compared with recent months, according to STR's preliminary Feb-2022 data. Occupancy for the month was 72.2%, the third February since 2015 that the market has secured an occupancy level above 70%. Additionally, the RevPAR (SAR471.01) level was the market's second highest of the pandemic-era, behind Dec-2021 (SAR472.07). ADR was SAR652.09.