The conference and events sector has taken a hefty blow from the Covid-19 pandemic, relieved only by a move to digital platforms to maintain some form of education and networking. But, this is an industry that relies on so many support functions and envelops the travel, transport, hospitality, ground transfer and audio-visual industries and more.
Thankfully, as part of the opening of economies many governments across the world are now starting to remove restrictions on the holding of mass events. But, that will not necessarily automatically translate into the return of physical events as the complex processing to organise and deliver such events become even more challenging.
Conference organisers have always had a lot to think about when putting on a large function. From finding the right venue in terms of location and size to getting a good mix of speakers and ensuring the AV all works without a hitch. In these days of Covid-19 there are even more issues to be considered with a lot of hot spots to avoid.
Hotels are of course keen to get the conference industry up and working again and so promote all the new health and cleaning protocols they have put in place. But that's just the beginning for a conference organiser. Most significantly, with social distancing measures required when inside, capacity numbers have to be reduced.
IMAGE – Marriott International is among the big hotels group to introduce specific practices to support the deliver of events at its properties across the world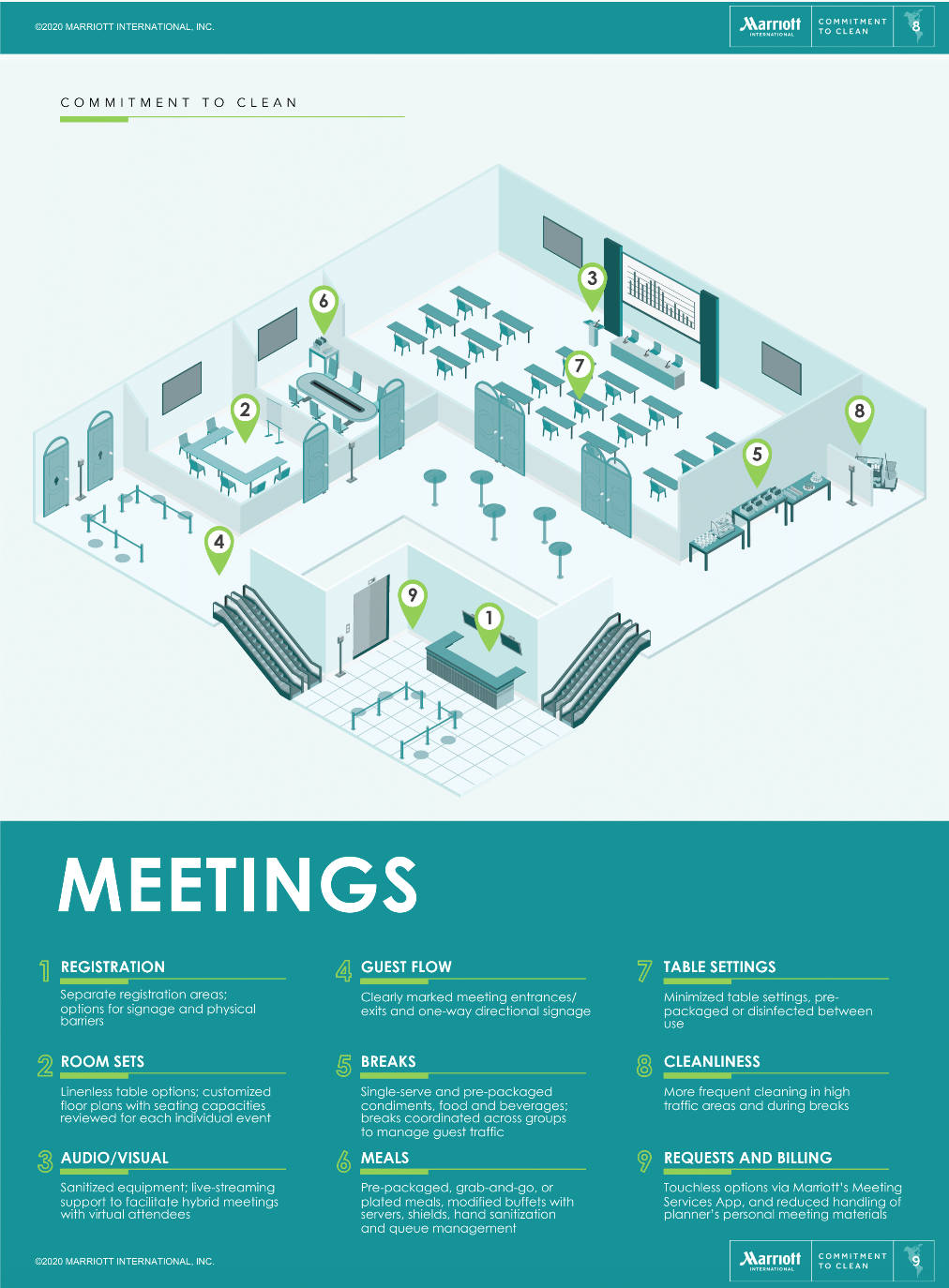 Source: Marriott International
In the past whereas a hotel could accommodate say 200-250 delegates for a conference that now means only 50-70 people can be seated in that same room. This results in a considerable drop in delegate fees and as conferences tend to work on tight margins the shortfall would somehow have to be made up if the event is to make money, or even break even.
With lower capacity numbers then fixed items such as the venue hire and AV, plus costs of additional safety measures that need to be implemented, makes the cost of putting on a physical event punishingly high.
Many companies are now considering hybrid events where a number of speakers and delegates attend the venue while a larger number are able to tune in to watch proceedings either live or on demand. The delegate fee for those tuning in online needs to be less than for those attending as there is no need to provide food and they don't have the same ability to rub shoulders with the people they want to contact. Hence you need more of them to help make up the deficit.
One of the main reasons that people like attending conferences is to network. With social distancing that becomes incredibly hard. Online delegates can be added to a networking system but that has the potential to be a bit staged and awkward. There's also the consideration that the younger generation are more likely to adapt to these online networking systems than those of more mature years, so you need to understand your demographic.
Another issue with hybrid events, or fully live events, is that with the Covid-19 virus still circulating and spikes occurring almost anywhere, government guidance can change quickly. "A huge challenge that a lot of event organisers face is that while government guidelines may permit the running of an event, should a spike or second wave occur and another lockdown is enforced, you have the possibility of having to cancel the physical part of the event with virtually no notice," Claudia Kunz, global events director for CAPA – Centre for Aviation, tells The Blue Swan Daily.
The respected source of market intelligence for the aviation and travel industry faced this issue recently when a hybrid event was scheduled to take place in Adelaide but when the state borders in Australia closed with two weeks' notice, there was no option but to cancel the live part of the event.
In the new environment creating a touch free registration process is essential. This requires investment in new technology that sends delegates a QR code or similar to facilitate access. One of the biggest discussion points for event organisers had been the design of delegate badge for ease of reading. Now, the provision of delegate badges with lanyards is a thing of the past, and a lost sponsorship opportunity.
Rather than having a buffet for meals which is always part of the networking process, pre-packaged food and drinks need to be made available, which is never going to be a good talking point. Any gala dinner or entertainment loses its appeal when instead of six or eight to a round table you can only seat four at distances that prevent much socialising. All of these changes also reduce the opportunities for sponsors to promote their brands which again reduces income.
If you are happy to go through all that and still want to put on a live event in the hope that if you build it they will come, then there are still all the social distancing signage and health requirements to be addressed, according to CDC, local and national government guidelines. However a nimble conference organiser will generally take all this in their stride, exercising those creative muscles and thriving on the challenges to be met.
The logistics of putting on an event in these new times makes it a hard decision whether to go ahead with a physical or hybrid event. Local events may be easier as they don't rely on delegates travelling much distance to attend, but spikes in the virus infections can and will still be a risk and a challenge for sometime to come.
Many of us will be anxious to quickly get back to normal. Those of us emerging from lockdowns may now be able to travel again, enjoy eating out at restaurants, even get back to playing and watching sports. But, when it comes to attending business conferences and events and catching up with industry colleagues in the flesh, we may just have to wait a little longer until we start to see a break in the clouds of uncertainty.