For most the worst seems to have passed and contingencies have been introduced to succeed in the 'new normal' and prepare so as to ensure that second peaks or second waves are managed and do not have such significant effects on a industry that will carry the wounds from the past months for years to come.
In fact, while latest data from HotStats, the hotel market benchmarking, financial analysis, and performance reporting specialist, does not make positive reading, it does deliver a lot of optimism, especially if we look to Asia Pacific where two consecutive months of positive gross operating profit per available room (GOPPAR) have now been recorded. Though global performance data is still significantly down on 2019, notable monthly recovery strides are seeming to be the trend across most key performance metrics.
But, still, "the world continues to deal with a pandemic that doesn't want to subside," acknowledges Hot Stats in its Jul-2020 round-up of profit and loss data, "The hotel industry could use some breathing space," it says, and hotels, especially in downtown urban markets, "find themselves in a waiting game". However, others in secondary and tertiary and particularly in resort markets have found "some preliminary success, a sign that even the biggest pandemic in more than a century can't quell travel altogether," it says.
A little bit of positivity and optimism is a good thing. "The proverbial light at the end of tunnel is out there," explains David Eisen, director of hotel intelligence, Americas at HotStats, but the global hotel industry is far from recovered, and the journey back to profitability will take a careful mix of revenue generation and expense control.
"In this current environment, we've seen, expectedly, both revenue and expenses come down. The hope is that on the way back up, revenue climbs and hoteliers continue to keep costs at bay, thereby ensuring quicker and more sustained profitability," says Me Eisen.
The Asia Pacific region is the "beacon of hope amid a sea of negativity," according to HotStats. For the second consecutive month, the region recorded positive GOPPAR, a feat unmatched by the rest of the world on aggregate. In Jul-2020 GOPPAR climbed to USD11.82, a +225% improvement on Jun-2020, when it was USD3.63 – the first time the metric turned positive since Covid-19 tightened its grip in Feb-2020. A cause for celebration, perhaps? But that is still -76.8% down on the same month last year
The HotStats data shows that total revenue per available room (TRevPAR) also reached its highest mark since February, as room occupancy and average rate climbed, coupled with slight upticks in ancillary revenue, including a jump in food and beverage revenue. Expenses also continued their downward trend on a year-over-year basis with labour costs were down -44.6% year-on-year and total overhead costs down -41.4% on a similar basis.
In China, Jul-2020 was the third consecutive month of profit gains. GOPPAR rose to USD25, $10 more than in Jun-2020, but still down a third year-on-year (-34.5%). Occupancy in the country climbed above 50% for the first time since December 2019, and with a slight uptick in rate, revenue per available room (RevPAR) was at a higher level than it was in January, according to the HotStats data. TRevPAR made a big jump, up USD15 over June and +655% higher than Feb-2020, the height of Covid-19's impact on the country.
The world has been looking to the region, and especially China, to get some idea on the shape of the recovery curve and this data provides an optimistic diagnosis for others to replicate. In Europe, the positive signs are already visible, but have been clouded in the past weeks by spikes in cases across numerous countries.
August and September could be key months to understand any impact in Europe, but for now the Jul-2020 data from HotStats shows that profitability remains negative, albeit has been closing in on break-even. For the month, TRevPAR saw its largest jump for a quarter up to USD36.91, +113% higher than Jun-2020.
The growth in total revenue came on the back of rising RevPAR, which dipped into double digits for the first time since Mar-2020, bolstered by an average rate above USD100 and a climb in occupancy, shows the data. But still, and despite continued expense degeneration, it was not enough to produce positive GOPPAR, which was recorded at -EUR3.26, down -104% against the same time last year, but +77% higher than Jun-2020.
The Middle East also saw improvements on a month-over-month basis with RevPAR climbing USD8 higher than in Jun-2020, bolstered by an almost USD20 hike in rate to USD123.72, which is only 9% lower than at the same time last year. Room-revenue generation underpinned month-over-month growth in TRevPAR and expenses dropped around a third (-31%) year-on-year), but GOPPAR remained negative at -USD4.52 in Jul-2020, a -113% year-on-year decrease, but a +74% improvement on Jun-2020.
Things are still challenging in the United States and Jul-2020 was a month that witnessed a steady rise in Covid-19 cases across the country, including five days in the month where new cases exceeded 70,000, according to the US Centers for Disease Control and Prevention. Hot Stats describes US hotel performance in Jul-2020 as "limp" but it was still better than in Jun-2020.
Its data shows that TRevPAR was up to USD43.68, a +29% increase on Jun-2020, though down -82.4% year-on-year. Both occupancy and rate continued to inch up higher month-to-month, leading to RevPAR of close to USD30, a USD7 gain over the previous month and more than three times the USD8.94 figure recorded in Apr-2020.
An improvement, but GOPPAR, remained below zero at -USD5.59, a -106.7% decline from the year prior, the result of a revenue shortage combined with "a continued cost base that is smaller, but still existent," explains HotStats. On a good note, profit margin improved 46 percentage points over June to -12.8%, the best it's been since Mar-2020.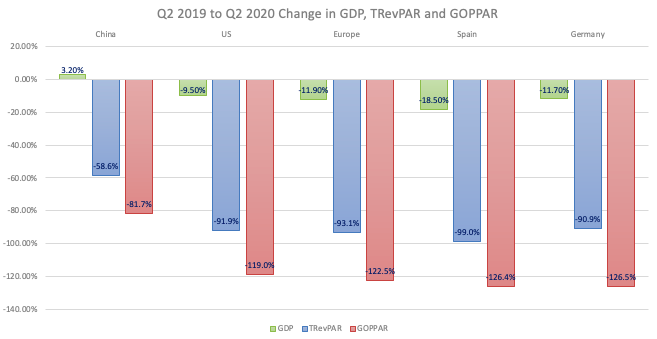 CHART – A comparison of regional 2Q performance in 2019 and 2020 shows a clear correlation between hotel performance and GDPSource: HotStats
So some positivity for the world's hotels, but these are early steps. Historically, shocks to the system are followed by a reset of the demand curve, sometimes an immediate snap back or more generally with a closer correlation to GDP, which hotel demand has previously shown it has had a strong bond. Based on latest economic estimations this could suggest a long road to revenue recovery and a longer one to profitability. Let's hope we break with tradition on this occasion.