The findings from 'Hospitality WiFi Survey of Guests and Hoteliers' by Hotel Internet Services (HIS), a full-service provider of internet services and solutions for the hospitality industry, come as no surprise in a global culture that is increasingly online, digital and interconnected.
The hospitality market has identified the importance of providing Wi-Fi services to their customers. From what was often seen as an ancillary option, some form of complimentary access is pretty much available across all establishments, with paid for access becoming a premium option for those requiring faster upload and download speeds.
But advances in technology and increasing guest expectations have placed a higher strain on hotel Wi-Fi networks than ever before, something that becomes very obvious when comparing the results of the latest HIS survey of more than 670 guests and 200 hoteliers with a similar study that was published back in 2015. The comparison shows "the presence of high-powered smart devices have skyrocketed in the last four years, with guest online activity keeping pace to become ever more diverse and in need of additional network resources," according to HIS.
With consumers becoming ever more accustomed to instant access to communication, services and information, keeping up with the pace of change can be difficult, especially understanding guest online behaviours, their device preferences and how they need to evolve in order to meet the latest expectations.
A notable discovery from the survey is the fact that more than 90% of hoteliers frequently encounter guests seeking to connect more than one device, a 30% increase since 2015's survey results. There is also a growing diversity of device types - smart watches, for example, have risen in guest adoption numbers by more than 16%.
These findings provide reason enough to reassess an existing network's capabilities to cater to increased connectivity. But, there is more food for thought. Just as significant in the findings is the rise in demand for bandwidth-consuming services such as content streaming and casting, with guests seeking the ability to cast from personal devices onto guestroom televisions growing to a new height of 65%.
CHART - Among the survey questions, one asking guests and hoteliers the top three hotel services or amenities that you think are most important to you/guests highlighted some interesting disparity in responses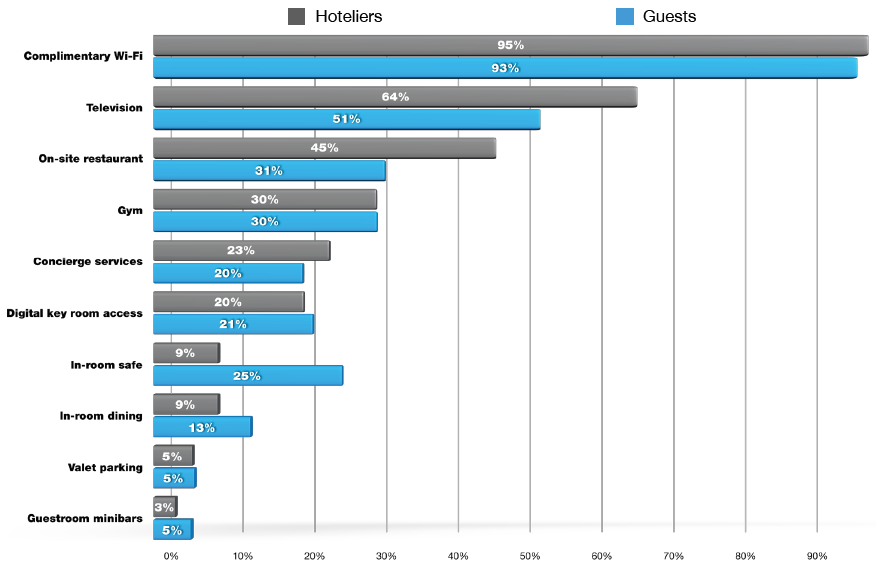 Source: Hospitality WiFi Study of Guests and Hoteliers
With many existing hotel Wi-Fi services originally designed to cater to one device per room and to only provide sufficient bandwidth for basic internet browsing needs, the findings of the HIS survey provides further background into why it is now so critical for hoteliers to update their networks.
In fact, just 6% of respondents said they connect just a single device to hotel WiFi, with 47% connecting two devices, 30% connecting three devices and 16% connecting four. Additionally, more than 90% of guest respondents indicated that the ability to access a hotel's Wi-Fi is 'very important,' while another 58% disclosed Wi-Fi service quality as being 'highly likely' to impact their booking decisions.
Other noteworthy survey findings demonstrate that while the vast majority of hotelier respondents recognise the importance of Wi-Fi service quality, more than 80% of guest respondents revealed that they continue to encounter an unsatisfactory experience.
Survey feedback also indicates that guests are increasingly concerned over the issue of data security, with more than 90% of respondents indicating such a concern. This stands in contrast to the more than 60% of hoteliers who felt that security improvements could still be made to their existing networks.
CHART - The survey question on the biggest problems regarding Wi-Fi that guests encounter shows a similar disparity between the problems impacting guests and those areas hotels consider a problem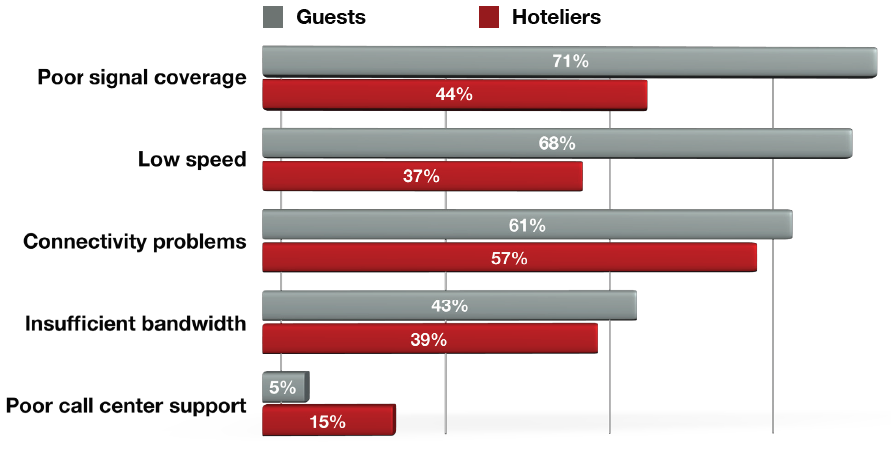 Source: Hospitality WiFi Study of Guests and Hoteliers
While an overwhelming share of guest respondents disclosed that Wi-Fi quality would affect their rebooking decision and despite hotelier feedback recognising its importance, high numbers of guests continue to report an unsatisfactory experience. From poor signal coverage to low speed and connectivity issues, such responses are in fact up in almost every category by as much as 10% when compared to the 2015 survey results. This can possibly be attributed to newer devices and services requiring more from a hotel's Wi-Fi than many older networks are perhaps capable of providing.