According to Stockapps, the combined market capitalisation of the five largest hotel chains in the world, Wyndham Hotels and Resorts, Choice Hotels International, Marriott International, InterContinental Hotels Group and Hilton Worldwide Holdings, hit USD79.2 billion in Sept-2020, a USD25.2 billion drop since the beginning of 2020.
The third largest hotel chain, Marriot International, has seen the biggest drop. At the end of Dec-2019 the combined value of Marriot stocks stood at USD49.51 billion but by the second quarter of 2020 it had halved to USD24.25 billion. There has been a slight recovery in Sept-2020 but still a -31% decrease since the beginning of 2020.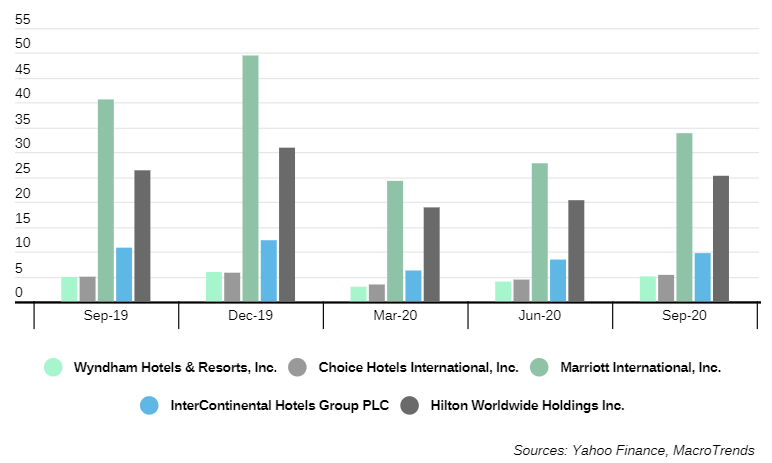 In order to try to stem this haemorrhaging, hotels are coming up with new and novel ideas to get people back into their hotels. There are too many initiatives being adopted to mention, but here are a few recent examples that we felt were worth a specific mention.
Radisson Hotel Group has recently announced the launch of its new Hybrid Solutions which includes Hybrid Rooms and Hybrid Meetings. The idea being that companies can use the hotel's conferencing and PA systems to create a combination of small group in person meetings with video conferencing. CAPA – Centre for Aviation used a similar system to hold its recent Australia Pacific Aviation Summit, which featured live interviews and panel discussions as well as Zoom discussions with remote speakers.
Radisson has partnered with Zoom to provide a smooth experience with the hotel's in-house event team assisting the client to create a flawless event. Currently the Hybrid Solutions is available across 50 hotels in Europe, the Middle East and Africa with the roll-out to continue through 2021.
Two members of the Dorchester group in Los Angeles, the Beverley Hills and Hotel Bell-Air, have opened up empty suites and are offering them as day-use offices for remote workers who either cannot or prefer not to work from home. The suites have been transformed into fully functioning offices so workers can either sit in comfort to work or to conduct interviews and take part in Zoom conference calls in a quiet (and luxurious) space.
Similarly the London West Hollywood Hotel in Los Angeles is also offering suites which have been converted into office spaces and can be rented by office workers who want a bit more space and luxury than maybe their homes can offer.
If you want even more luxury then look no further than the MGM resorts of the Bellagio and Aria resorts in Las Vegas. These two hotels are offering special discounted Viva Las Office packages that provide a combination of office space with the opportunity to take advantage of all that Las Vegas has to offer.
Meanwhile, the Accor Group is offering a 'hotel office' concept at 250 of their hotels in 70 countries where rooms can be booked for either a single day or a five day package with rates typically cheaper than an average overnight stay. Guests can also earn points and enjoy all the hotel's facilities.
A number of other hotels around the world are also offering a similar 'hotel office' package, including – but not limited to – Zoku in Amsterdam, Nomo Soho in New York, Wythe Hotel in New York, K West Hotel in London, 25 Hours hotels all over Europe, Intercontinental Times Square in New York, Raffles in Singapore, Rosewood Miramar in California and The Ascott at 30 cities around the world.
Elsewhere, a number of London's luxury hotels have opened their doors to key workers to offer them a slice of luxury amid the chaos of the pandemic. Offers include complimentary rooms for doctors and nurses at Claridges; a special afternoon tea for front line hospital workers at the Lanesborough; delivery of meals to Great Ormond Street Hospital by the Rosewood; a drive through meal service at the Berkeley; delivery of meals to the vulnerable by the Connaught; and provision of free school meals for children of key workers and meals to homeless shelters by the Dorchester, amongst others.
In the latter examples the hotels are not making money out of these schemes, but social responsibility is also a valuable aspect to any business. What it does show though is how innovative hotels are becoming and that the concept of hospitality is wide ranging.