Air China has served Houston Intercontinental since 2013 and operates roughly 1,200 one-way weekly seats to the airport from Beijing as of early Mar-2018. The Houston Airport System recently estimated Air China's service from Beijing generates an economic impact of USD105 million to USD181 million. Houston Intercontinental is the third largest hub for Air China's Star Alliance partner United measured by ASK deployment.
CHART - Air China is the sole operator between Beijing Capital International Airport and Houston's George Bush Intercontinental Airport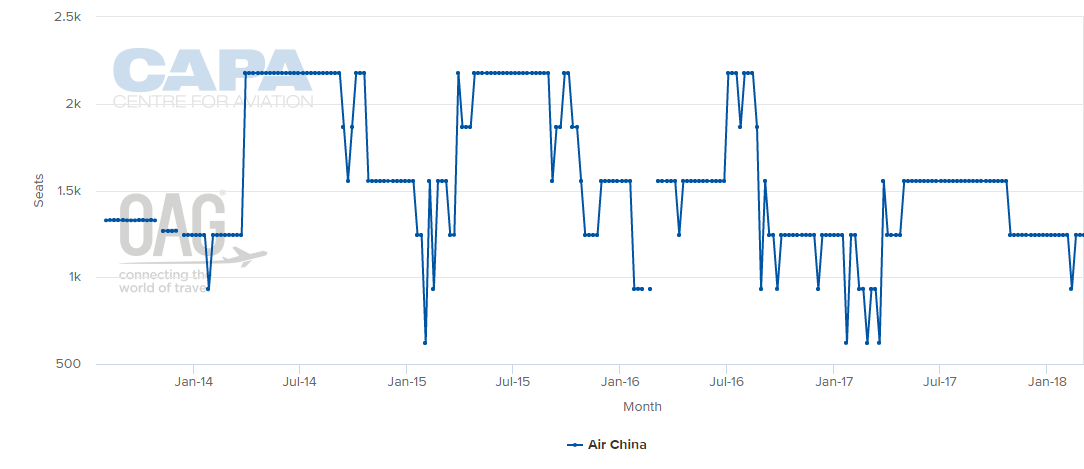 Source: CAPA - Centre for Aviation and OAG
The proposed tag-on flight to Panama City offers a natural expansion of Houston-Panama trade, according to the Houston Airport System (HAS). Intercontinental's airport operator highlighted the Houston-Galveston Customs District is the US' second largest busiest gateway for US-Panama trade by vale, and Panama is Houston's third largest Central American trade partner.
Overall trade between Houston and Panama is growing and increased at a compound annual rate of 5% between 2006 and 2016 - air cargo trade between Houston an Panama was valued at USD 2 million in 2016.
Taking all those factors into account, HAS stresses Air China's proposed service will assist in expanding ties between Houston and Panama while enhancing competition in Houston's global air services network. Presently, United is the only operator between Houston Intercontinental and Panama City, and presumably, it would work with its alliance partner Air China if the fifth freedom flights are approved by the US government.
Additionally, China's Xinhua news agency stated in Jan-2018 that Copa CEO Pedro Heilbron had remarked that his airline and Air China were working on a codeshare agreement. Mr Heilbron noted that China is one of the largest global travel markets and "our region [Latin America] is not well connected with China". Panama City's Tocumen International Airport is Copa's headquarters, and a hub it uses to funnel passengers to numerous destinations in the Americas.
JetBlue Airways has taken an opportunity to call out United's silence on Air China's proposed fifth freedom service from Houston to Panama City. JetBlue has been critical of the campaign the US "Big 3" launched against the Gulf airlines and recently told US regulators that United is not adopting the same hostile stance against Air China, which is a state-owned airline. United was vocal in its opposition to Emirates' fifth freedom flights from Athens to its Newark hub, a route JetBlue stressed United served seasonally.
"United is silent about Chinese airline fifth freedom growth," JetBlue stated. Adding that "...fundamental fairness and due process dictate that the United States government treat similarly situated entities in an identical manner".
This is sure to be a topic that will be highlighted in the forthcoming CAPA - Centre for Aviation Americas Aviation Summit that takes places in Houston, USA between 16-17 April. FIND OUT MORE about the the event programme, speakers and register: CAPA Americas Aviation Summit