It is not exactly clear how many airlines left Sheremetyevo for the more and convenient 'bright lights' of Moscow's other gateways during the late 1990s and early 2000s. It is thought it may have been as many as 25 when considering many of Russia's smaller domestic operators. What is for sure is this list included almost all Aeroflot's major domestic competitors and foreign operators such as British Airways, Emirates Airline, Lufthansa and Swiss.
A significant investment improving Sheremetyevo to support the hub activity of Aeroflot and its membership of the SkyTeam global alliance has changed Moscow's dynamic further and by the middle of this decade seen it once again overtake Domodedovo as the city's largest airport.
With new terminal structures constructed and additional runway and apron capacity, Sheremetyevo, recently formally renamed as Sheremetyevo Alexander S Pushkin International, is now a very different proposition and that is bringing airlines back, including Air Malta and British Airways, which had both previously deserted the airport. All three airports are a similar distance away from the centre of Moscow and with the addition of a rail connection in the late 2000s, Sheremetyevo has the shortest travel time, by a mere couple of minutes.
CHART – Sheremetyevo International is once again Moscow's largest airport having seen strong traffic growth throughout the 2010s
Source: CAPA – Centre for Aviation and Moscow Sheremetyevo airport reports
Sheremetyevo's renaissance has seen annual passenger levels flourish, rising from under 20 million in 2000 to over 45 million last year. With the exception of 2015 when just a +0.1% annual growth was recorded, passenger levels have been increasing at annual rates beyond +7% and at double-digit levels for most of the decade. Last year traffic was up +14.3% and for the first seven months of this year levels are up +13.4%.
Now, remarkably, an airport that many users had written off due to its poor facilities has been ranked as the world's best, according to research by online secure luggage storage network, Stasher (among the world's first sharing economy solutions to luggage storage, the platform that was born out of two friends joking about charging to look after the others bag at his house in London back in 2015, has expanded all over Europe, and into North America, Australia, and Asia).
As Stasher quite rightly highlights... "not all airports are created equal". That is a phrase that certainly resonates with regular business travellers and they will also support Stasher's view that they may act as a gateway to new experiences, reunions and international business, but can also "dishearten the most experienced traveller".
Its ranking brings together a number of different data points at the world's biggest airports across each of the Continents. These include user reviews, quality of restaurants and food, shopping options, lounges, hotels, flight reliability, location and parking costs.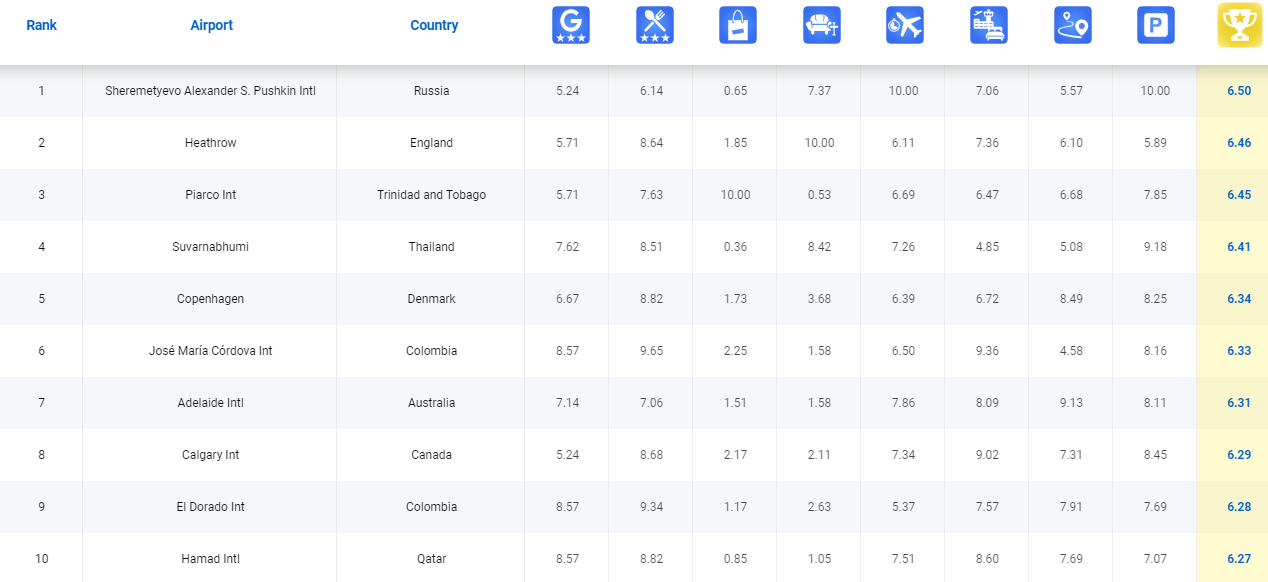 Moscow's Sheremetyevo International headed this ranking of 106 airports with an average score of 6.50 out of ten, one of only 24 airports to score more than six out of ten across the analysis. Sheremetyevo scored top marks for flight reliability and cost of parking, although access to shops significantly reduced its final score. London's Heathrow (scoring top marks for lounge access) and Picaro International in Trinidad (scoring top marks for access to shops) were ranked second and third with scores of 6.46 and 6.45.
The rest of the top ten comprised Bangkok Suvarnabhumi, Copenhagen Kastrup, Medellin José María Córdova International, Adelaide International, Calgary International, Bogota El Dorado International and Doha Hamad International airports. This eclectic mix of major hub and regional gateway facilities highlights that airports both large and small can get things right providing they keep a focus on the passenger experience.

Of particular note is the performance of Adelaide International airport, which serves Australia's fifth largest city by population and which is often overlooked for the busier major cities of Sydney and Melbourne. It was ranked the highest of Australia's airports and a fair way ahead of the others Brisbane (18th), Perth (60th), Gold Coast (61st), Melbourne (68th), Sydney (84th) and Cairns (85th).
Its numerous tourism offers, its potential for growth and its affordability compared with the Australian major cities Sydney and Melbourne, are big plus points for it to develop and it will not have a better opportunity to showcase its home market than when the air service development community descends on the city for the World Routes network development forum in a few weeks' time.