The corporate travel landscape is evolving as hybrid and remote work policies gather steam across the globe. The move to hybrid has also shifted the traditional corporate travel paradigm. We're now seeing leaders approach business travel as a strategy and expanding corporate travel opportunities to improve employee mobility and retention and build culture across the organisation.
The research acknowledges that when we think about "how often should our teams meet" or "how do we recruit talent", travel can be a catalyst for answering those questions and fulfilling the company's strategic goals.
A changing workplace changes business travel
The newly published research in tClara's white paper, 'How We Meet Matters' reveals the views of over 500 US-based business leaders on the importance of meeting in person, the core benefits of virtual meetings, and the risks of negative outcomes associated with each meeting mode. It shows that two in five (42%) leaders say they prefer the freedom to work from anywhere, while more than half (58%) prefer to work near an office or travel to meet with colleagues as and when needed.
With companies pivoting to flexible working models, this opens the door to new travel opportunities for employees. For example, while people will still travel to close deals, nurture business relationships and attend conferences, the hybrid and remote work models have created the need for more employees to travel for face-to-face team building and collaboration.
Eight out of ten business leaders agree or strongly agree that meeting in person contributes to their engagement, emotional health, and ability to build trust and develop their staff. Among the C-suite leaders, this rate of agreement is even higher.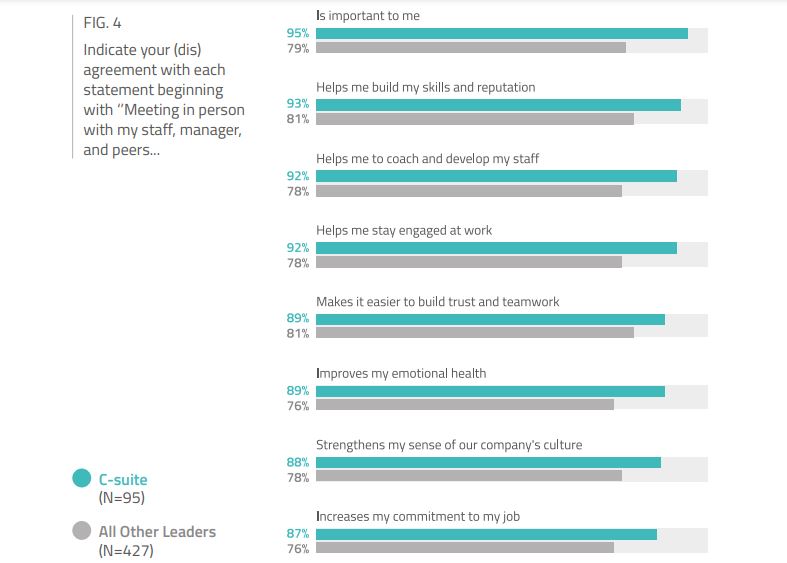 In fact, tClara's study found that eight out of 10 business leaders agree that meeting in person with co-workers contributes to their engagement, emotional health, and ability to trust and develop their staff. When we think about super commuters – mainly senior executives with long-haul commutes – the pandemic has intensified this phenomenon as more employees pivot between remote work and occasional visits to the office.
Business travel will be necessary as corporate culture evolves
In the tClara study, CEOs echo the sentiment that business travel will be necessary and take on many forms as corporate culture evolves. There will be more of a strategic focus on earning customer trust and winning revenue but also building culture, teamwork and employee relationships.
It says that as companies onboard new work policies, leaders will need to handle the potential volume of business travel and create new policies and categories for what constitutes corporate travel. "They'll need to consider how the trip fits into the bigger picture of the organisation," reports Ken Pfaffmann, vice president, business development – Americas, at global travel and tourism industry IT provider, Amadeus.
This, according to the executive, raises lots of questions, such as: Is each trip linked to a strategic goal?; Is the travel programme viewed as a competitive advantage when recruiting?; Does the programme enhance the employee experience and engagement with tools that make work life easier?; Is the trip monetarily prudent, especially if budgets are limited?
Business travel is best used for important trips, including to build culture, trust, and teamwork

According to tClara's research, approaching half (43%) the surveyed leaders said that judging a trip's importance is the best guideline for approving travel when budgets are tight. "The value of travel will be assessed differently. And those questions will play a defining role in how corporations manage their travel programmes," Mr Pfaffmann acknowledges.
The rise of digital integration and simplification
Over the last couple of years, there has been an acceleration in implementing digital processes and integrated technology platforms. As with corporate travel programmes, new technology will certainly be key in streamlining operations, ensuring continuity and adoption, and improving the user experience. As companies re-imagine work policy and embrace new variations of business travel, technology will clearly help them manage those changes, especially for those working from anywhere.
It's no doubt, the pandemic has blurred the lines between the business traveller and office employee. It will be important for businesses to put in place systems and processes that new road warriors and veterans alike can quickly adopt to both save time and strengthen collaboration.
Future of work creates more (strategic) travel opportunities
Corporate travel remains a crucial aspect of any business. However, it's now being viewed through a wider and more strategic lens. Having a robust corporate travel programme that considers both technology and business strategy will clearly help corporations navigate emerging corporate travel opportunities.
The tClara report suggests this evolution will trigger leaders to start thinking about how travel programmes can enable their business strategy rather than simply thinking of travel as an expense. "Organisations who prepare for the changes and embrace technology that supports our new future of work will capitalise on the opportunities to grow their business and meet their goals," says Mr Pfaffmann.