Mr Walsh added: "Heathrow's had it too good for too long and the government must confirm the Civil Aviation Authority's powers to introduce this type of competition... This would cut costs, diversify funding and ensure developments are completed on time, leading to a win-win for customers".
There are several strands to this: the background; whether Mr Walsh is correct in his assertions about US airports; whether what he proposes is practical; and whether it would bring any benefits.
The decision on whether or not to build a third runway at Heathrow Airport is – theoretically – entering its ultimate phase though nothing is confirmed yet. Additional runway capacity in the southeast of England has been a bone of contention for 60 years and it could go on for another six decades. Whatever the case, the final manoeuvring is going on amongst those who seek to protect their interests, including environmentalists and the airlines, which don't want to pay excessive charges to fund the runway and associated works or to have their passengers pre-fund it in any way. A similar scenario is unfolding with the fifth terminal at Singapore Changi Airport in respect of pre-funding.
CHART - Terminal 5 at London Heathrow, where IAG companies British Airways and Iberia operate from, has the largest share of system seats from the international gateway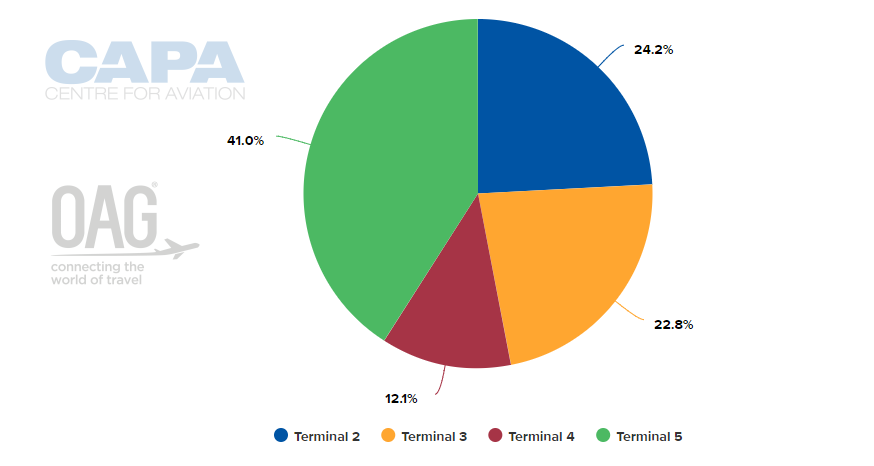 Source: CAPA - Centre for Aviation and OAG (data: w/c 05-Feb-2018)
Clearly Mr Walsh believes that independently operated terminals are cheaper, which they may well be as competition kicks in. But you can only take competition so far in an environment in which there are other critical factors such as runways and air traffic control, not to mention the ground services at each terminal, which are controlled under very complex arrangements in the US. And few US airports come anywhere near Heathrow for international services. In that respect it is a case of comparing apples and oranges.
As with the proposal by the private Arora Group to develop a new runway and terminal infrastructure at Heathrow) it would require a major revision of the regulatory system.
Mr Walsh is correct to say that many US airports have terminals that are owned or leased by airlines, but not all of them. And when they do, that can itself help create unhealthy monopolies. There are occasions already where there are numerous terminals leased to consortiums of airlines, such as at New York JFK; an arrangement not dissimilar from the apportioning of terminals by alliance at Heathrow. And JFK also has a privately-owned and operated terminal (4, the largest by capacity). It is not exactly black and white.
Furthermore, the trend at the moment in the US is towards public-private investment into, construction and operation of airport terminals. This recent insight analysis for CAPA - Centre for Aviation members included a list of US airport PPP projects.
This is already happening at two New York airports - LaGuardia and Newark Liberty – and my well occur at JFK too, before long. It is not clear how the leasing out of new terminals such as these would square with the required return on the investment by both parties, unless the airlines themselves were directly involved.
CHART - Terminals 4 and 5 have the largest share of operations out of New York JFK and accommodate almost two in every three seats flown from the airport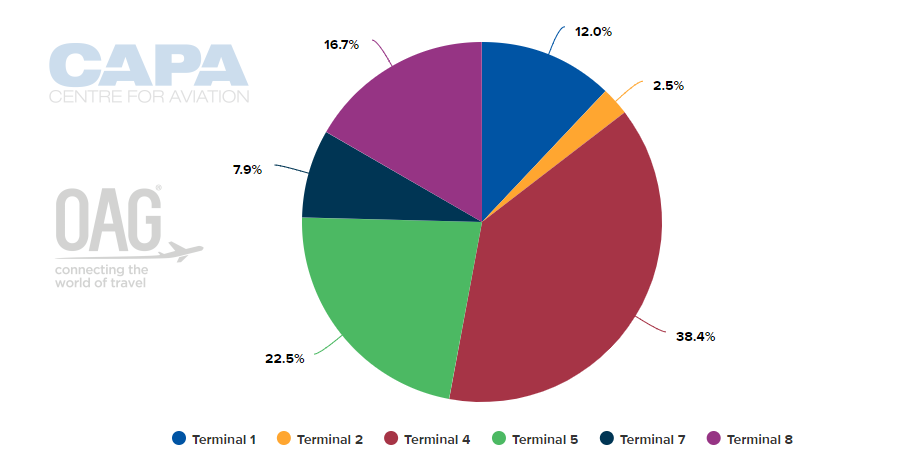 Source: CAPA - Centre for Aviation and OAG (data: w/c 05-Feb-2018)
As for practicality, Heathrow is owned by a variety of organisations, many of them foreign, and which exercise considerable power. The current shareholders are: Ferrovial (25%); Qatar Holding (20%); Caisse de dépôt et placement du Québec (12.62%); the Government of Singapore Investment Corporation (GIC) (11.20%); Alinda Capital Partners (11.18%); China Investment Corporation (10%); and Universities Superannuation Scheme (10%).
They bought into all of it; not a small part.
While the CAA ordered the break-up of BAA on competition and service quality grounds it is not at all certain whether it could order these private organisations, which include three sovereign wealth funds, or others, to operate only one terminal or even to pave the way for that. Mr Walsh might also note that apart from Qatar Holdings' investment into the company that runs Heathrow, Qatar Airways is a 10% shareholder in IAG - a potential conflict of interest.
Regarding the perceived benefits, Mr Walsh might also note that only recently a New York newspaper published an article demanding that the City of New York should "privatise" JFK International Airport on the basis that its "ancient and dilapidated" terminals (in the main operated by airlines) could not cope with the 'snow bomb cyclone' that hit the city in mid Jan-2018.
The New York Post's biggest complaint was directed at the Port Authority's (the lessee) "bewildering decision" to allow each terminal at JFK to be independently managed and operated, so that "Terminal 1 has no idea what is happening at Terminal 4, and vice versa, and essentially, each terminal has become its own independent mini-airport."
Just what Mr Walsh ordered.