The regular weekly 'coronavirus statistics snapshot' features from the Corporate Travel Community (CTC) have highlighted how August, normally the strongest month for travel for the majority of the world, saw capacity start to plateau and continue through September. Official International Air Transport Association (IATA) data highlights that demand showed a similar pattern.
August passenger demand continued to be "hugely depressed" against normal levels, with revenue passenger kilometres (RPKs) down -75.3% compared to Aug-2019. This was only slightly improved compared to the -79.5% annual contraction in Jul-2020.
"August's disastrous traffic performance puts a cap on the industry's worst-ever summer season… international demand recovery is virtually non-existent," says Alexandre de Juniac, IATA's director general and CEO.
In the month domestic markets continued to outperform international markets in terms of recovery, although most remained substantially down on a year ago. The markets in Australia and Japan actually regressed during the month in the face of new outbreaks and travel restrictions. Meanwhile, Aug-2020 capacity (available seat kilometres or ASKs) was down -63.8% compared to a year ago, and load factor plunged 27.2 points to an all-time low for August of 58.5%.
A few months ago, IATA projected a full-year fall in demand of -63% compared to 2019, but with the "dismal peak summer travel period" behind us it has now revised its expectations downward to reflect a weaker-than-expected recovery -66%. That means total passenger demand for the full calendar year is expected to be around a third of the level seen last year –1.5 billion versus the 4.5 billion recorded in 2019, taking the industry back to 1998 when annual traffic was below that level.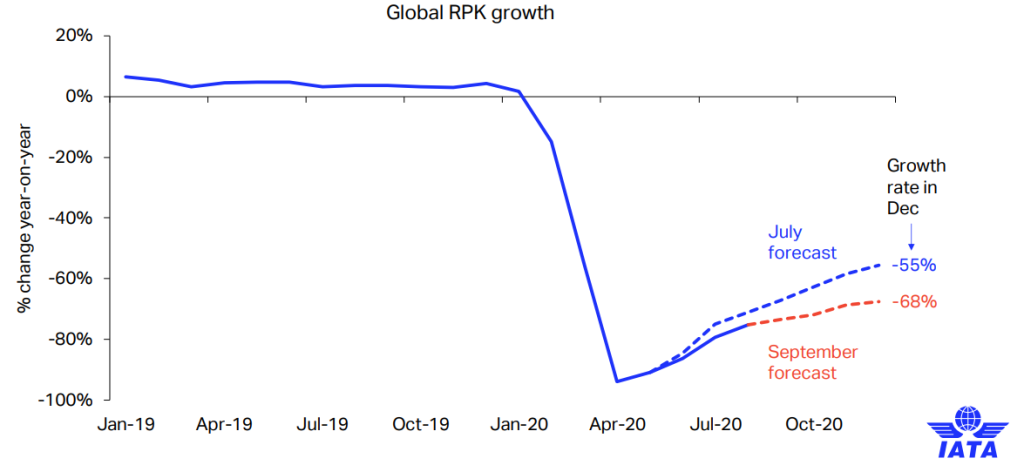 All the data clearly shows that the initial recovery in air passenger services was brought to a halt in mid-Aug-2020 as government restrictions were introduced in the face of new Covid-19 outbreaks in a number of key markets. IATA notes that forward bookings for air travel in the fourth quarter show that the recovery since the April low point will continue to falter. "Whereas the decline in year-on-year growth of global RPKs was expected to have moderated to -55% by Dec-2020, a much slower improvement is now expected with the month of Dec-2020 forecast to be down -68% on a year ago," it says.
The latest data from IATA for Aug-2020 shows that domestic air traffic fell -50.9% in Aug-2020, a mild improvement compared to a -56.9% decline in Jul-2020. Domestic capacity was down -34.5% and load factor dropped 21.5 percentage points to 64.2% for the month. However, there was a big positive with domestic traffic in Russia rising +3.8% year-on-year, the first market to see an annual increase since the onset of the pandemic, driven by falling fares along with a boom in domestic tourism.
It is still a very different story for international air travel where demand plummeted -88.3% compared to Aug-2019, a mild improvement over the -91.8% decline recorded in Jul-2020. Capacity sagged -79.5%, and load factor fell 37.0 percentage points to 48.7%. Asia-Pacific airlines' Aug-2020 traffic sank -95.9% compared to the year-ago period, barely budging from a -96.2% drop in Jul-2020, and the steepest contraction among regions. Capacity was down -90.4% and load factor shrank 48.0 percentage points to 34.8%.
In fact, International air traffic demand remained below -90% for all the world's regions during Aug-2020, with he exception of Europe where it was down -79.9% year-on-year, an improvement on the -87.0% drop in Jul-2020. This was driven by travel restrictions being lifted in the Schengen Area, however, more recent flight data suggests this trend "has reversed," says IATA, amid a return to lockdown and quarantine in some markets.

Mr de Juniac acknowledges that the industry's slide has come as a bit of a surprise. "The near-term industry outlook has actually gotten darker, something I would not have believed possible just a few months ago," he says. There is "much to be gained by re-opening borders," he says, and warns that "every day that we delay in re-connecting the world people are getting poorer and tens of millions of jobs that depend on aviation are at risk of going away".
Finding the right protocols to make that happen on a safe basis continues to be the major discussion point. But we really need less discussion and more action to unlock global connectivity, stimulate economies, and give some hope to the 10% of the global workforce whose livelihoods depend on travel and tourism.