In fact, in some parts of the wide region those barriers remain firmly in place.
Speaking at the recent Changi Aviation Summit in Singapore, Willie Walsh, director general at the airline trade association International Air Transport Association (IATA) urged Asia Pacific nations to ease border measures to accelerate the region's recovery from the pandemic. While he positively observed that "there is growing momentum with governments lifting many travel restrictions" and that "the demand for people to travel is clear," he warned that Asia-Pacific is still "playing catch-up on restarting travel" after COVID-19.
Breaking barriers brings 'immediate positive reaction' from travellers
IATA data is already showing that as soon as measures are relaxed "there is an immediate positive reaction from travellers," according to Mr Walsh, and supports a need to work quickly to rebuild the connectivity that is the lifeblood of global business.
"It is critical that all stakeholders, including governments are well-prepared for the restart. We cannot delay. Jobs are at stake and people want to travel," Mr Walsh said.
Asia Pacific international demand remains less than one fifth of pre-COVID levels
Latest traffic data shows the Asia-Pacific region's international passenger demand for Mar-2022 reached just 17% of pre-COVID levels, a sad performance, but a positive step having hovered at below 10% for most of the last two years. This recovery is "far below the global trend," observed Mr Walsh, where markets have recovered to 60% of pre-crisis levels.
"The lag is because of government restrictions," he said. "The sooner they are lifted, the sooner we will see a recovery in the region's travel and tourism sector, and all the economic benefits that will bring."
Easing measures will bring normalcy to air travel
Mr Walsh urged Asia-Pacific governments to continue easing measures and bring normalcy to air travel by: removing all restrictions for vaccinated travellers; removing quarantine and COVID-19 testing for unvaccinated travellers where there are high levels of population immunity, which is the case in most parts of Asia; and lifting the mask mandate for air travel when it is no longer required in other indoor environments and public transport.
Industry and government collaboration key to accelerating recovery
Supporting and more importantly accelerating the recovery will need a "whole of industry and government approach," said Mr Walsh. "Airlines are bringing back the flights. Airports need to be able to handle the demand. And governments need to be able to process security clearances and other documentation for key personnel efficiently," he explained.
China and Japan remain the 'two big gaps' in the recovery story
There are two big gaps in the Asia-Pacific recovery story: China and Japan, with the former likely to hold back the region's full recovery. "So long as the Chinese government continues to maintain their zero-COVID approach, it is hard to see the country's borders reopening," noted Mr Walsh.
Likewise, while Japan has taken steps to allow travel, Mr Walsh noted "there is no clear plan for the reopening of Japan for all inbound visitors or tourists" and he recognised that "more needs to be done to further ease travel restrictions, starting with lifting quarantine for all vaccinated travellers, and removing both the on-arrival airport testing and daily arrival cap". "I urge the government of Japan to take bolder steps towards recovery and opening of the country's borders," he added.
Domestic capacity recovery strong, but slowed since early Mar-2022
Analysis of OAG schedule data and CAPA fleet data shows that domestic capacity across the Asia Pacific region has remained below the pre-COVID performance of 2019, with the capacity peak remaining the first weeks of Jan-2020 before coronavirus became the world's biggest topic.
Asia Pacific domestic seat capacity as at week commencing 23-May-2022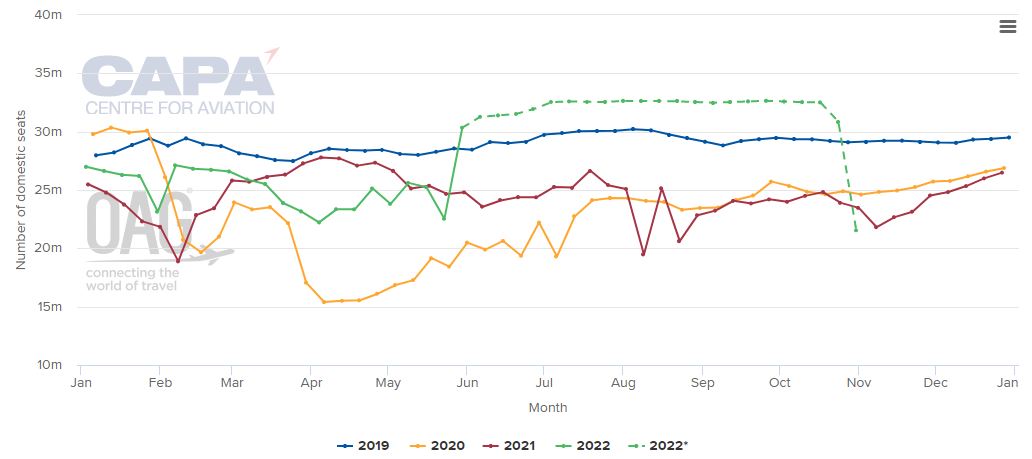 Recovery though was positive through 2H2020 and followed a similar performance in 2021 as a mutating virus continued to impact travel. Further increases in capacity continued into 2022, albeit levels reduced as we entered Mar-2022, improving again in Apr-2022 and poised to rise beyond pre-COVID levels as we close 2Q2022.
International capacity is finally showing positive signs of recovery
A similar analysis of OAG schedule data and CAPA fleet data for international capacity across the Asia Pacific region illustrates a very different dynamic and highlights IATA's sentiments on the region playing catch-up.
Asia Pacific international seat capacity as at week commencing 23-May-2022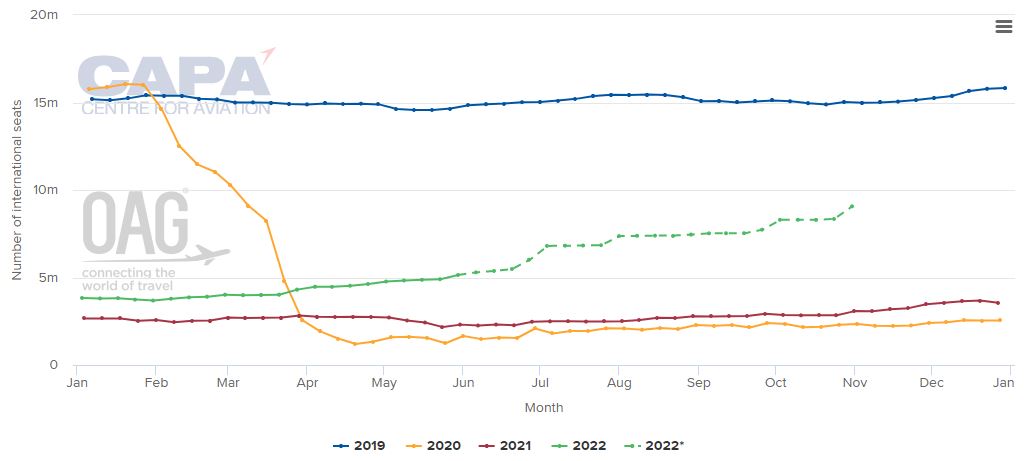 After the sudden drop of early 2020, international capacity levels remained stable and low through all of 2021, beginning to track upwards from Nov-2021, a slow rising trajectory that has continued through 2022 to date. With border restrictions now being removed, advanced schedules suggest an improved performance over 2H2022, but will still at best only reach 50% of the pre-pandemic levels.