---
Summary:
Two French companies – a manufacturer and an airport operator – have teamed up to build and operate commercial airships for cargo purposes;
ADP Ingénierie, a division of France's Groupe ADP, has signed a MoU with Flying Whales to develop a long-term partnership for the design of up to 150 airship bases worldwide;
Public concern over airship safety has dissipated over time, but numerous issues remain, including just how environmentally friendly they may turn out to be.
---
Airship technology for passengers suffered a fatal blow in 1937 when the German passenger airship the Hindenburg caught fire and was destroyed during its attempt to dock in New Jersey, USA, with 36 fatalities, footage of which was 'news-reeled' around the world to a shocked public.
Seven years earlier a British prototype airship, the R101, had crashed in France during its maiden overseas voyage, killing 48 of the 54 people on board, including Lord Thomson, the Air Minister who had initiated the programme, senior government officials, and almost all the dirigible's designers.
It is fair to say that these two incidents spelt the end for the use of such dirigibles for mass public transportation although they are still used for sightseeing, advertising, research and military purposes. They have reappeared frequently since then also in the form of proposals for hybrid vehicles using joint technologies. Some of the original manufacturers such as Zeppelin are still in existence.
Attitudes to safety and security amongst the general public have changed, though. So the time may be right for the re-emergence of the airship, at least to ferry goods. After all, new ones use cleaner technologies, thus satisfying the ecological lobby. Photo-voltaic cell technology means they don't have to keep landing to refuel. And that fuel is the inert helium, rather than the hydrogen that burned so fiercely in the case of the Hindenburg. One potential remaining issue might be the level of crewing required. In the case of the Hindenburg, of the 97 people on board, 61 were crewmen.
https://youtu.be/rWeO1q0gHJE
What is new about this agreement is the coming together of the airship manufacturer and an airports operator to provide the overall infrastructure. Flying Whales, a French company, has developed the LCA60T ('Large Capacity Airship 60 tons'), an airship for the transport of heavy loads with a payload of 60 tons.
The challenge in this future partnership is to design 150 airship bases planned throughout the world, for the 'low-cost' and 'point-to-point' transport of heavy and bulky loads. It is almost as if they have gone out of their way to stress these positive credentials, right from the start. These airship bases would be deployed in France and abroad, especially in the Americas (Quebec is specified) and in Asia (China).
Designed primarily to meet the needs of the ONF (Office National des Forêts) the French Public Forest Office for the extraction of wood in hard-to-reach areas, the LCA60T solution is intended, thanks to its claimed unique loading and unloading capabilities in hover mode and a "huge" cargo payload, to provide answers to the many problems of logistics in landlocked areas around the world. This solution, it is claimed, will, at low cost, overcome all constraints on the ground for the point-to-point transport of heavy or bulky loads with a very small environmental footprint.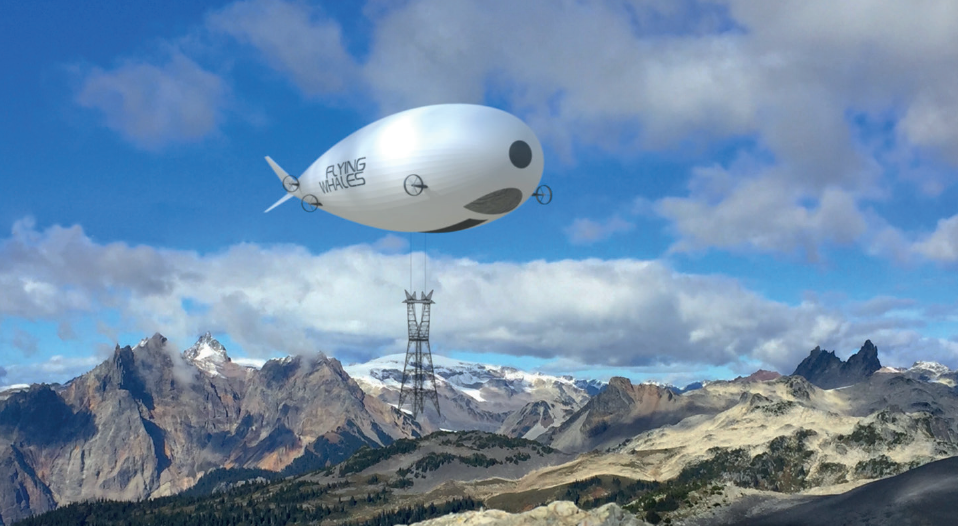 ADP Ingénierie is well versed in managing projects for the establishment and operation of airport platforms and Flying Whales says it wishes to benefit from ADP Ingéniérie's expertise in order to identify and take into account the technical, regulatory, environmental and societal constraints for its bases, but also where appropriate on the conversion and operation of existing airport platforms.
The Groupe ADP subsidiary is currently working on more than 140 airport projects worldwide and has a CV with over 700 airport references in more than 100 countries. This supplier 'mix' appears to be exactly right.
But issues remain to be overcome. Airships are still low-speed and they tend to fly at low altitude too, rendering them cumbersome compared with fixed wing aircraft, with which they can come into conflict. Accordingly, this makes the selection of the location of these airfield bases critical.