As IHG experiences an unprecedented period of growth in Japan that's recently seen it launch the Kimpton, Regent and Holiday Express brands into the market, it is now adding its lifestyle voco brand to its premium offering.
The voco brand has seen strong success since its global launch in 2018, and the signing of voco Osaka Central marks the 75th signing in just over three years, with 35 properties already open around the world.
Convenient location with 'fresh and reliably different' offering
Conveniently located just a few minutes' walk from Yodoyabashi, Honmachi and Higobashi stations, the hotel is surrounded by unique shops and the lush greenery of Utsubo Park. It encompasses 191-rooms that aim to bring a "fresh and reliably different offering" to Osaka's accommodation landscape in 2023, with a "character and style that hasn't been seen before in the city," according to IHG.
IHG's sixth hotel in Osaka; more than 50 confirmed for Japan
voco Osaka Central will be IHG's sixth hotel in Osaka, complementing InterContinental Osaka, ANA Crowne Plaza Osaka, Holiday Inn & Suites Shin Osaka, Holiday Inn Osaka Namba and Holiday Inn Express Osaka City Centre Midosuji, as well as ANA Crowne Plaza hotels in nearby Kobe and Kyoto.
IHG has 50 open or pipeline hotels across six brands including (ANA) InterContinental, Kimpton, Hotel Indigo, ANA Crowne Plaza, (ANA) Holiday Inn, Holiday Inn Express.
It has a strong focus on growth in Japan, which has materialised over the past few years through some of its biggest years of growth ever, including key openings such as ANA InterContinental Beppu Resort & Spa, ANA Holiday Inn Shinano-Omachi Kuroyon, InterContinental Yokohama Pier 8, Kimpton Shinjuku Tokyo, Holiday Inn Osaka City Centre Midosuji.
The new openings also include the Hotel Indigo Hakone Gora, Hotel Indigo Karuizawa, Hotel Indigo Inuyama Urakuen Garden, as well as its biggest signing in a decade with the 1,000-room Appi Kogen resort, which includes an ANA InterContinental, ANA Crowne Plaza and ANA Holiday Inn.
IHG to add 50 new hotels to global luxury and lifestyle portfolio in 2022
In 2021, InterContinental Hotels & Resorts celebrated its milestone Diamond Anniversary. Founded in 1946, the brand has become synonymous with modern luxury and pioneering design in unexpected locations. To date, there are over 200 InterContinental Hotels & Resorts, with each hotel celebrating bold exploration, travel and cultural discovery.
IHG recently made a growth announcement that 50 new hotels will be added to its global luxury and lifestyle portfolio in 2022.
InterContinental brand debut in Uzbekistan's capital city
Among this will be the InterContinental brand debut in Uzbekistan in Trilliant Business Park Development Complex in the heart of the capital, Tashkent. The InterContinental Tashkent is expected to open towards the end of 2022, showcasing a new modern luxury experience within the capital city.
Enjoying a central location, the newly built hotel will comprise of 216 rooms including 40 signature suites, of which two will be Presidential Suites, with stunning city views as well as wellness facilities and dining offers.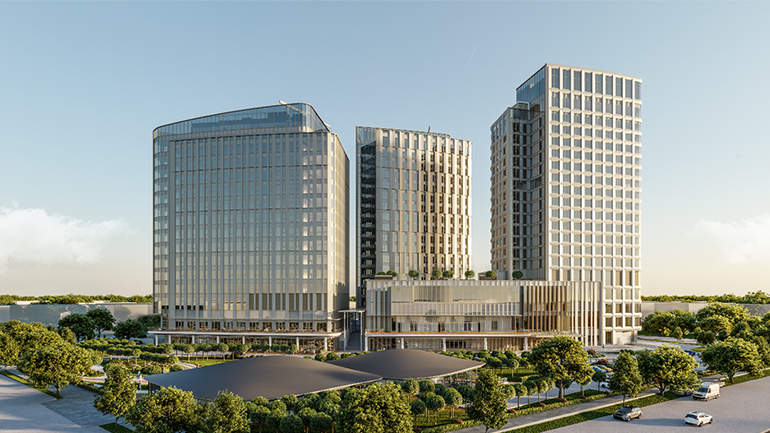 The property is being developed in partnership with UzTur Investment and Development as part of the all-new Trilliant Business Park development complex, which comprises InterContinental Tashkent, state-of-the-art offices, high-end retail space and a landscaped park, consciously designed over three towers, and a convention centre.
A first LEED gold certified project in Uzbekistan
As a cornerstone of the Trilliant development, the new property will play an important role in delivering luxury experiences in a more sustainable way, being the first example of a LEED Gold Certified project in Uzbekistan.
The LEED (Leadership in Energy and Environmental Design) certification is a globally recognised symbol of sustainability, achievement, and leadership, awarded to construction projects being developed in accordance with a framework outlining criteria for efficient and sustainable ventures.
When completed, it will meet growing demand from consumers for more conscious travel, through the provision of electric charging points for cars, sustainable landscaping, and thoughtful details to minimise its environmental impact. This approach aligns with IHG's Journey to Tomorrow, furthering the company's commitment to sustainable growth.
IHG to introduce InterContinental luxury brand to Penang's Glowing Bay
Also with sustainability at its heart will be the new InterContinental Penang Resort which will revitalise Penang's most exclusive beach resort destination.
In partnership with THR Hotel (Penang) Sdn Bhd, a subsidiary of a Malaysian hotel owner, Tradewinds Corporation Berhad (Tradewinds Corp), IHG will transform the former Penang Mutiara Beach Resort at Teluk Bahang into an IHG-branded luxury beach resort.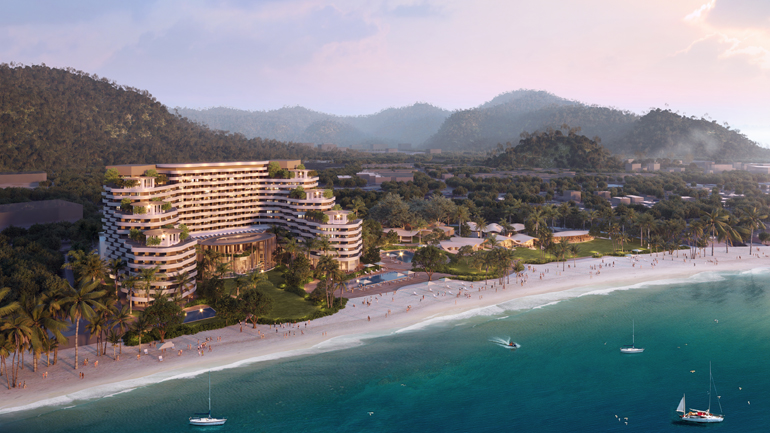 Opening in 2025, InterContinental Penang Resort will welcome guests to Penang's Glowing Bay in Teluk Bahang, where they can relax in a tropical beach sanctuary amidst biodiverse flora and fauna. With the Teluk Bahang Fishing Village, Penang National Park and the Penang Tropical Spice Garden as its immediate neighbours, guests will also enjoy unobstructed views of the Malacca Straits featuring white sand beaches, clear emerald waters and a backdrop of lush mountainous forests for an unforgettable experience.
A 30-minute drive from central Georgetown, InterContinental Penang Resort will feature 355 rooms and suites, up to three bedrooms, and a private enclave of six villas for guests seeking a truly immersive stay amongst nature. The stay experience is complemented by a holistic wellness village.
IHG already has six hotels across three brands in Malaysia
InterContinental Penang Resort will be the second InterContinental hotel in Malaysia (after InterContinental Kuala Lumpur), and will bring IHG back to Penang, together with the upcoming Holiday Inn & Suites Penang Prai.
In Malaysia, IHG currently has six hotels across three brands – InterContinental, Holiday Inn and Holiday Inn Express. It is committed to growing its estate in Malaysia and has a pipeline of 10 hotels (as at 31-Mar-2022) set to open in the next three to five years, most notably: Crowne Plaza Kota Kinabalu, Crowne Plaza Kuala Lumpur City Centre, Hotel Indigo Kuala Lumpur on the Park, Kimpton Kuala Lumpur and Regent Kuala Lumpur.