This observation from Deloitte, a global provider of audit and assurance, consulting, financial advisory, risk advisory, tax, and related services, comes from 'Return to a World Transformed: Corporate Travel Post-Pandemic', a report that draws on a survey of 150 travel managers, executives with various titles and travel budget oversight, from late May-2021 and early Jun-2021 and interviews with executives at companies whose 2019 air spend averaged USD123 million.
It found that the reopening of offices, set to accelerate in the autumn, if combined with sustained improvement in vaccination and infection rates, will provide a good boost to domestic business travel in the last quarter of 2021. But executives expect a slow return, and virus resurgences, combined with the arrival of cold and flu season, which could further dampen demand through early 2022.
As travel returns, companies are also eyeing both their carbon footprint and their bottom line. Neither cost nor sustainability alone is likely to cause huge travel cutbacks, together they could certainly slow the rate of return with many companies seeing controlling trip frequency as a top option to address both.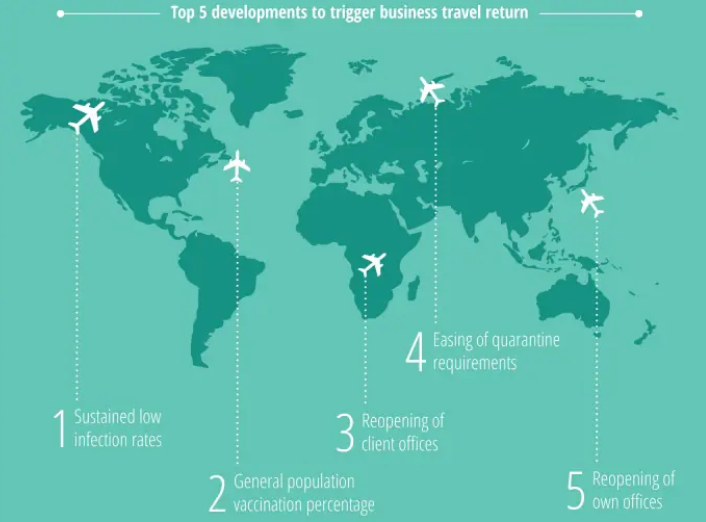 Taking into account the biggest triggers and potential drag factors for travel's return, as well as companies' travel spend estimates through the end of 2022, Deloitte has developed a quarter-by-quarter view of corporate travel's return based on survey respondents' and interview subjects' projections on when their companies would reach certain benchmarks, as a percentage of 2019 quarterly spend.
As of 2Q 2021, less than one in five companies had reached even 25% of their 2019 quarterly spend. By 4Q 2022, nearly half say they do not expect to reach 2019 spend levels, but nearly nine in ten expect to reach 75% of levels or higher.
This is a very fluid situation though and when the research was conducted in May-2021 and Jun-2021, many companies had yet to begin a significant return to business travel. The data shows that more than two in three survey respondents were seeing company travel at levels less than 25% of 2019 spend.
According to Deloitte, executive interview subjects, concentrated among big companies with an average pre-pandemic air spend of USD123 million, were at even lower levels. Many had increased travel in the second quarter, but only slightly after a year when most saw spend drop by more than 90%.
Deloitte indicates that both current spend and projections indicate that the smaller companies in the survey will resume travel at a faster rate than the bigger companies included in its interviews.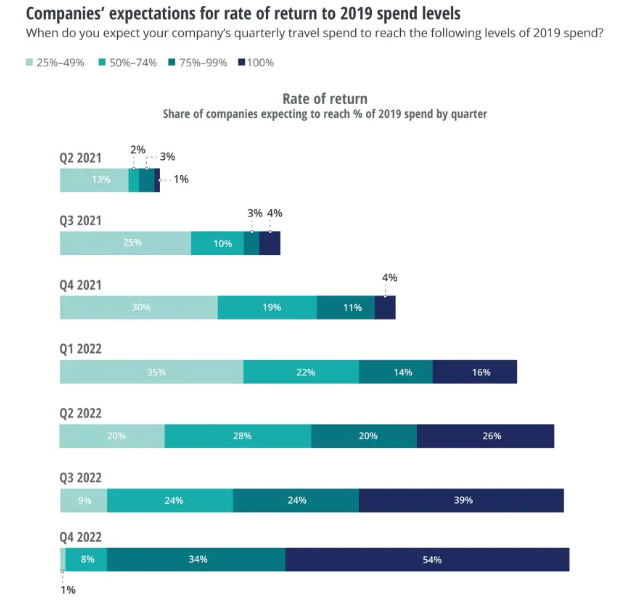 Many US companies plan to significantly accelerate their return to offices in the autumn and travel managers have identified this shift, especially clients' return to the office, as a top trigger for travel. Deloitte describes 4Q 2021 as "loosening the reins, first forays" with the projected range of US business travel spend as a share of 2019 spend expected to reach between 25% and 35%.
What will follow will be a "quiet winter" and subsequently "green shoots in early spring" as travel levels grow to between 35% and 45% in 1Q 2022 and between 40% and 60% in 2Q 2022. Deloitte describes 2022 as perhaps the beginning of what "could be the first full year without COVID-19 as a primary daily concern" and its spring will bring "more confidence and more competitive pressure to get in front of clients and prospects," it says.
The journey through the second half of 2022 will deliver the industry to "approaching the new normal, but still not a full recovery," according to Deloitte and by the end of 2022, US corporate travel may near "the level it will sustain for the next several years," it says.
"If US vaccinations continue to increase, and the vaccines' effectiveness against major outbreaks and variants proves durable, travel managers expect a big release of pent-up demand in the second half of 2022," it adds, with 3Q 2022 US business travel spend set to reach between 55% and 70% and in 4Q reach between 65% and 80%.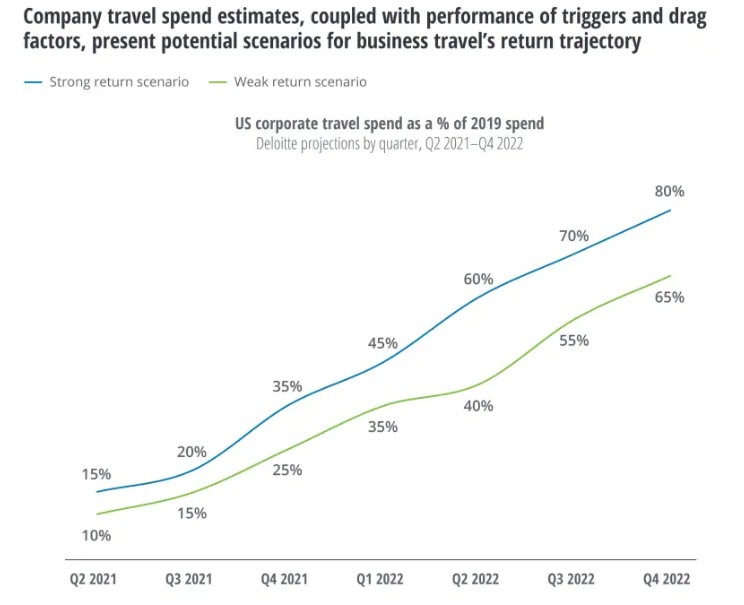 Assuming a stable global health situation by the end of 2022, US corporate travel's new normal will begin to take shape. "Companies' and workers' approaches to post–COVID-19 travel will be clearer. Borders will likely be more open, though onerous border policies may remain in parts of the world," expects Deloitte.
As the pandemic-related barriers to travel recede, second-order effects will become the more prominent headwinds to corporate travel growth with "two shades of green: sustainability and cost imperatives" impeding corporate travel in 2023 and beyond, predicts Deloitte.
Notably, it highlights that as travel returns, "suppliers that show a real commitment to reducing their carbon footprint, and intermediaries who can help corporate travellers and travel managers identify and measure the most sustainable trip options can be better positioned to compete for corporate travel dollars".
Two-thirds of respondents to its survey said renewed attention to cost will lead to limiting trip frequency in the future, while, more than a year of functioning with extremely limited travel, as well as a distributed and virtually connected workforce, has brought new business practices and lessons to the fore.
But, while emphasis on cost saving and commitment to decarbonisation will not eliminate massive amounts of corporate travel demand, sustainability has grown as a corporate priority, and companies have unearthed new potential to manage a considerable cost centre. Deloitte acknowledges that cost savings gained during the lockdown are "likely to drive companies to adopt cost control measures as travel resumes.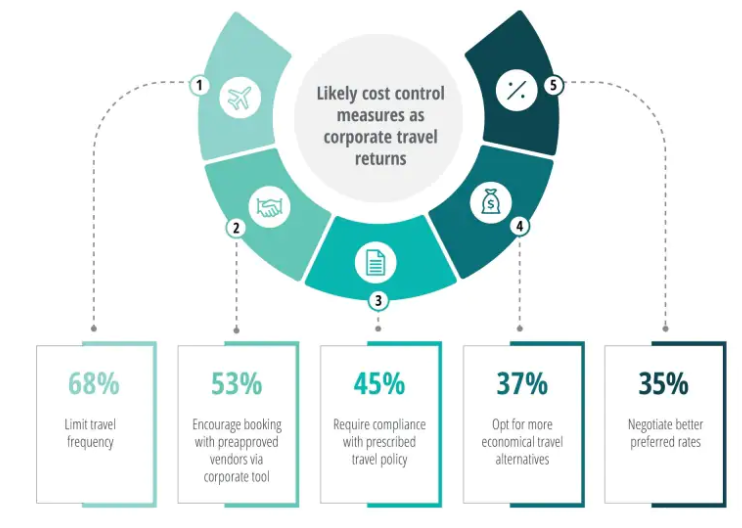 The shift from essential-only to freer domestic business travel has already begun in the US. Deloitte says if the pandemic situation "remains on an improving trajectory" then corporate travel in the US "should see a significant uptick" in the last quarter of this year and "barring major setbacks," will likely continue to improve "at a rapid pace" through the end of 2022.
This is a positive outlook, albeit perhaps not quite as optimistic as had been painted by the leaders of the US airline majors during recent 2Q 2021 earnings calls. However, as previously mentioned, this is a fast-moving, fluid situation. What is clear though is that there will not be a return to normal and as the key travel segment returns, all affected face new challenges in a changed world.
A health threat still looms, bigger in some countries than others. But even as it subsides, corporate travel will be affected by the changes adopted and lessons learned during the COVID-19 pandemic. There may be some substitution – driven by cost savings and sustainability – though travel remains critical to many businesses' growth.
But, as Deloitte highlights in its report, there will be a "realignment and revaluation of the cost-benefit equation around face-to-face meetings and events". And C-level executives, who became more directly involved in travel strategy during the pandemic, it says, will "likely seek to hold onto some of the cost savings and sustainability strides afforded by a year without travel".