---
Summary:
Incheon Airport aims to be one of the world's leading international airports by 2023;
The highly and densely populated South Korea is mainly served internationally by Incheon Airport;
Apart from business tourism there is a vast amount of leisure tourism from North Asia, much of it young people attracted by K-Pop music, though it declined in 2017 owing to political tensions;
Incheon has no great advantage over rivals in its exposure to airline alliances;
A major part of the airport's thinking is possibly dictated by political moves towards détente between North and South Korea, which could offer Incheon a new connection role.
---
If Incheon had 95 million passengers in 2017, six years before its target date, that would put it in joint second place globally with Beijing Capital International , and within touching distance of Atlanta Hartsfield-Jackson International, the world's biggest airport hub. As it is, the airport actually handled 62.1 million passengers in 2017, putting it in 19th place, up one from the previous year. Its growth rate, at +7.5% (the target mark for the next six years) was the fifth highest of the world's top 20 airports but only Guangzhou Baiyun International and New Delhi Indira Gandhi International were significantly higher, i.e. in double digits.
So how did Incheon come to be so busy in the first place? South Korea is a quite highly populated country with over 77 million people (10 million in Seoul) and a population density of 350 people per square kilometre (all of Korea and 507 per square km in the South!), compared to 300 per square km in Great Britain and 230 per square km in Germany, two of Europe's more highly populated countries. It is even more congested, human-wise, then the Netherlands.
Comparatively speaking there are relatively few airports, just seven civil and eight civil/military dual-use facilities. So travel is concentrated more in the capital's two airports, Incheon and Gimpo, than might be the case in most other countries, supported by a high-speed rail network that was first established in 2010 and which now ranks fourth in the world in terms of high-speed train technologies, after France, Germany and Japan. As in the case of Japan many air passengers are content to take the 'train-to-the-plane'. In any case, distances are not huge.
South Korea offers one of the world's most advanced high-speed rail networks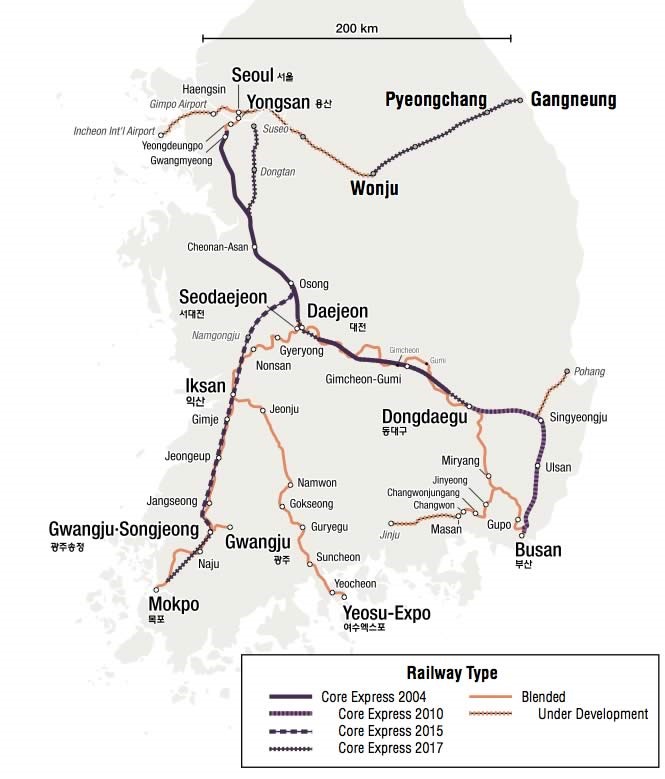 Source: Midwest High Speed Rail Association
Moreover, Seoul is more advanced than many other cities by way of an existing rail line, the AREX, which connects Incheon Airport, Seoul itself and Gimpo Airport, which is closer to Seoul city centre. It is a rare example of the same rail line directly connecting both the city's main airports and the downtown area. It is a commuter rail line rather than a light rail one but has also hosted Korea Train Express high speed services since Jun-2014. The airport opened its Terminal 2 in Jan-2018, and has extended the AREX line via a Maglev train.
Most international tourist arrivals are channelled through Incheon. The majority, almost a third, come from China, followed by Japan (17%) and Asian countries in general account for 75% of all arrivals. The United States of America (USA) is the largest non-Asian tourist supplier, on 6.5%.
CHART - South Korea continues to be dominated by international arrivals from North Asia, with USA the largest non-Asian market in 2017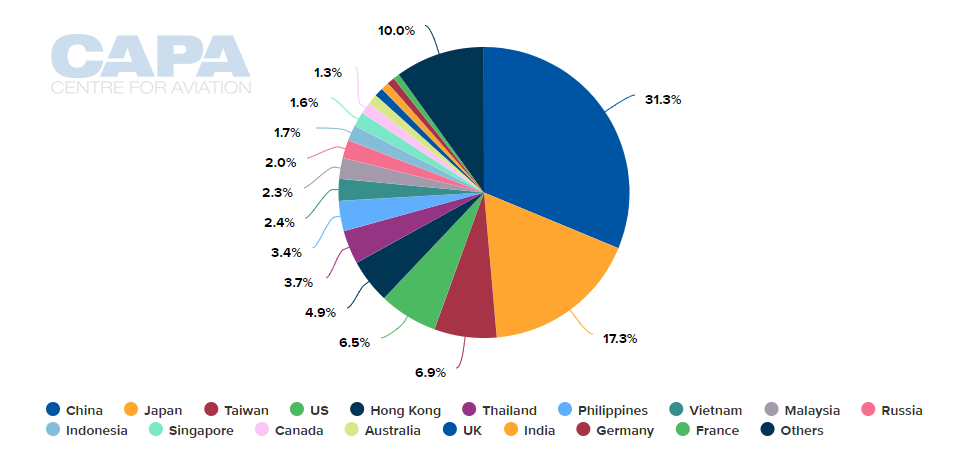 Source: CAPA - Centre for Aviation and KTO
Tourism was only introduced as an 'industry' after Korean War activities ceased in 1962 and then grew dramatically after South Korea co-hosted the 2002 FIFA World Cup. The country has subsequently entered the world's top 20 tourist destinations by the measure of visitor numbers.
Music plays a large part in tourism development as Chinese and Japanese visitors flock in to experience the so-called K-Pop. In 2012 when PSY's 'Gangnam Style' became YouTube's most viewed video of all time, tourism officials posted a guide to the real Gangnam (a Seoul suburb, that translates into English as 'south of the river') in an effort to ensure that interest lasted longer than a one-hit wonder.
However, tourist numbers tailed off noticeably in 2017 as tensions with the North grew, along with threats of war involving the two Koreas and Japan. Tourism includes business travel, of course, and that is likely to remain strong. South Korea is just outside the world's top 10 countries by GDP, at #11, with a GDP of USD1.54 trillion.
Incheon is solely an international airport, there is no domestic capacity. That is handled by Gimpo Airport though there are international flights there too, accounting for 19% of capacity. As it is international passengers that IIAC believes will drive growth no insight can be gained from a comparison of airline alliance activity. The biggest alliance at Incheon is SkyTeam, of which Korean Air is a founding member, and SkyTeam's seat capacity there is 37.2%.
TABLE - Incheon's alliance positioning does not vary significantly from other major regional competitor airports across North Asia

Source: CAPA - Centre for Aviation and OAG
An obvious potential growth factor is the recent and sudden rapprochement between South and North Korea. The co-operation at the Winter Olympic Games, the meeting of Moon Jae-in and Kim Jong-un and talk of a final end to the Korean War has brought some hope. The forthcoming meeting between Kim Jong-un and President Trump in June, could lead to nothing or, alternately, could be the beginning of the end of North Korea's isolation, together with lavish aid from the US and possibly Europe.
In such an instance Incheon Airport, Korean Air and SkyTeam in particular would become the obvious gateway to and from North Korea and its 25 million people, rather than the (surprisingly modern) Pyongyang International Airport and the (unsurprisingly) dilapidated Air Koryo with its accrued fleet of Antonovs, Ilyushins and Tupolevs.