The company's Marketing & Distribution 2020 Journal shows that more than two thirds (68.4%) of independent hotels already have a digital marketing strategy implemented for their business and a further quarter (24.4%) intend to implement their strategy over the coming year.
The results are from a survey of 461 hotel industry professionals, with 80% being from independent hotels, including 57 percent that offer 10 rooms or fewer. The majority of all respondents were located in Europe (28%) and Asia (25%), with the remainder from across the Americas, Australasia, the Middle East and Africa.
When it comes to the value of booking channels in driving revenue, the results highlight that direct website bookings remain perceived as the most important booking channel for independent hoteliers, with 62.1% ranking direct website bookings as either very valuable or valuable - a sentiment accentuated among hotel chains and franchises (87.9%).
Owned channels, such as direct mail and a hotel's website, trumped paid channels, such as paid social media, in terms of their perceived effectiveness in driving business. The study also underlined a growing desire for hoteliers to better know their customers, with direct feedback seen as the most important channel in defining how they approach their marketing strategy.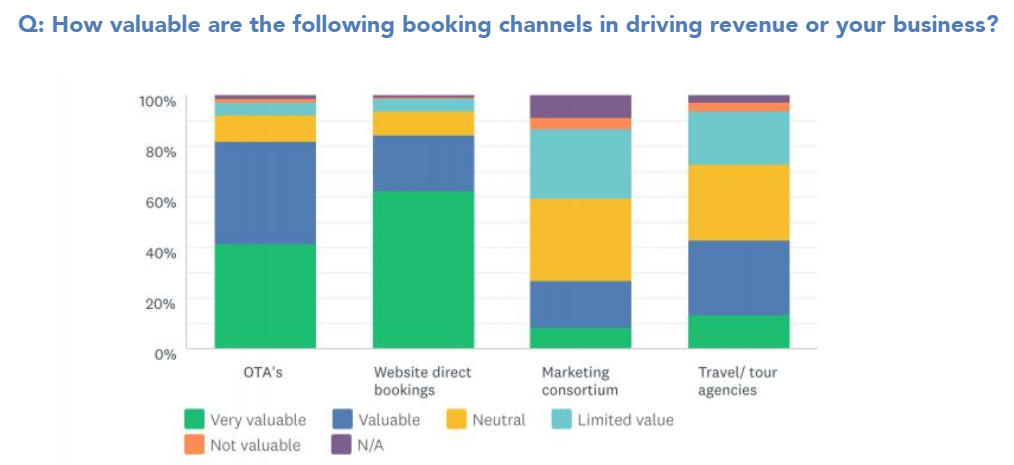 Among others, the research is backed by global hotel industry guest acquisition platform SiteMinder, which has played an important role supporting independent proprietors. "These figures seemed almost unimaginable as recently as 13 years ago," says James Bishop, senior director of global demand partnerships at SiteMinder.
The company has recently concluded a capital increase from international and Australian investors, valuing the business at approximately AUD1.1 billion. The raise was led by equity funds managed by BlackRock. Other investors include AustralianSuper; Ellerston, through the Ellerston JAADE Private Assets Fund; and Pendal Group.
The raise follows a strong year for SiteMinder, having processed 105 million bookings through its platform for more than 35,000 hotels worldwide. The privately-owned company also surpassed AUD100 million in annual recurring revenue – 80% of which is generated from international markets, through both monthly subscriptions and newer transactional revenue streams.
The additional capital will be used to fuel SiteMinder's growth and innovation, namely through accelerated go-to-market strategies and increased investments in research and development led from Sydney. The company will also further its international expansion and continue the growth of its more than 900 staff, who are located in six offices spanning Sydney, Bangkok, Dallas, Galway, London and Manila.