---
Summary:
Privatisation of India's airports has made slow progress since the 2006 transactions on the Delhi and Mumbai airports;
Now the delayed privatisation of a number of second-ranking airports appears to be on again, possibly including a couple of big city gateways;
But procedures are complex in a highly bureaucratic state, terms are often revised repeatedly and some of the original investors have not stayed the course;
India needs them to be onboard though because the state airports authority cannot raise the capital to develop airports on its own without resorting to untried methods.
---
Attempts were made to privatise four of these airports – Kolkata, Chennai, Ahmedabad and Jaipur – through a public-private partnership (P3) procedure in 2015 but both Kolkata and Chennai airports were taken off the P3 later that year, being relegated to 'management contract' status until that too was shelved, leaving the other two in limbo.
Those two big city airports should have been natural successors to the privatisation of the Delhi (capital city) and Mumbai (main commercial centre) airports in 2006, both of which should be considered a success if measured by construction activities and traffic growth.
Delhi's Indira Gandhi International Airport, owned by AAI, GMR Group and Fraport (Malaysia Airports sold its 10% stake to GMR in 2015), and Mumbai's Chhatrapati Shivaji Maharaj International Airport, (AAI, GVK, ACSA and Bidvest) have both benefited or will do so from new terminals, terminal extensions and runways, with jointly over USD4 billion being invested in them. There is no guarantee that expenditure of that order would have been initiated by AAI alone.
CHART - Delhi's Indira Gandhi International (top) and Mumbai's Chhatrapati Shivaji Maharaj International (bottom) airports have seen strong traffic growth over recent years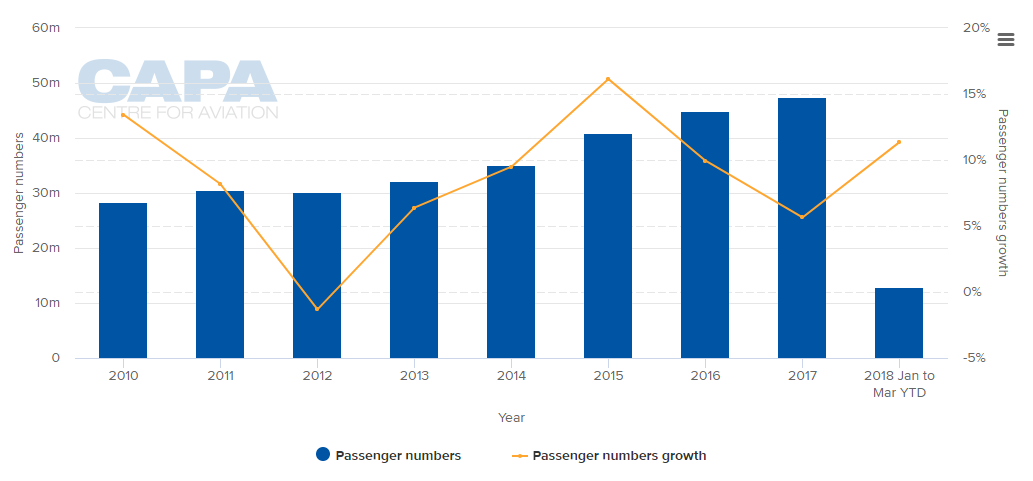 Source: CAPA - Centre for Aviation and Airports Authority of India
Similar results have been achieved at the other privatised airports at Bangalore and Hyderabad. However, there was a degree of dissatisfaction politically in some quarters about the P3 procedures after those original transactions.
Early in 2017 it became evident that Airports Authority of India (AAI) was willing to make a further attempt at partial privatisation of Ahmedabad and Jaipur airports, after inviting proposals to interested parties. The plan involved workforce and equipment relocation and terminal operation at both airports would be handed over to a private operator. Requests for Proposal to operate and maintain "select areas" of Jaipur and Ahmedabad airports was due to open in Mar-2017.
Now (May-2018) it is reported that AAI intends to reissue tenders for the operation and management of those two airports despite having received three bids for Ahmedabad and four bids for Jaipur. GVK Group was said to be the sole adequately qualified bidder for both tenders. But that isn't the end of the story!
Shortly after that announcement, the Civil Aviation Secretary, R N Choubey, indicated there were plans to revise the bid terms for its partial privatisation tenders for the airports, including adding provisions requiring AAI to pay a fee to the private operators of each airport. The revised bid terms also include provisions for the AAI to receive revenue from Ahmedabad and Jaipur on a per-passenger basis, rather than on a share of gross revenue basis. The revised tenders will now reportedly be issued by 15-Jun-2018.
Secretary Choubey has subsequently announced plans to issue partial privatisation tenders for three additional airports and that the Government plans to use a per-passenger basis revenue sharing model with AAI in those cases too. That seems to rune contrary to a mid-May statement that the Ministry of Civil Aviation was exploring plans to utilise a fixed tariff model for the tender process where the bid proposing the lowest landing and passenger usage charges is selected, rather than the model utilised during the privatisation of the Mumbai and Delhi airports, where the bid proposing the highest revenue share for AAI was selected.
MAP - India's aviation sector has undergone rapid transformation since the liberalisation drive that began in 2003 and that significant growth is forecast to continue into future decades. The country is home to 156 commercial airports of varied size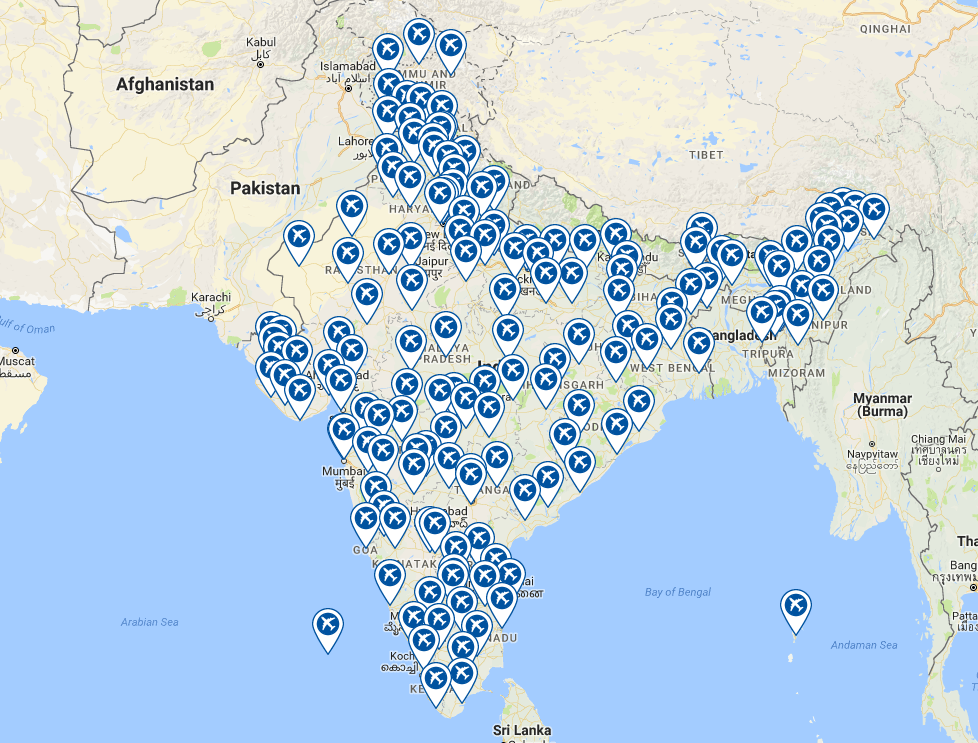 Source: CAPA - Centre for Aviation and OAG
Back in 2006, at the end of what was a very lengthy privatisation procedure during which several important international companies pulled out as the goalposts were shifted, it looked as if a model for future transactions had been secured, with significant foreign companies like Fraport and ACSA having stayed the course until the bitter end just to become minority shareholders.
India's political system is constantly in turmoil though and the privatisation process has not made much progress in the intervening 12 years, while firms such as Flughafen Zürich and Siemens have minimised their presence in India and Fraport has considered doing the same, complaining about the lack of value in a 10% shareholding and the lack of a clear vision master plan for India's airports. The government seems to want the best of both worlds, for the private sector to make the investments via P3 deals that can translate into new infrastructure while AAI continues to hold the whip hand.
Some of this is also true in another 'BRIC' country, Brazil, but there it appears that the international private sector is winning its battle against the incumbent state operator Infraero, whose power is being diminished.
Yet India acknowledges that the private sector in the form of the established foreign operator is urgently needed to help cater for what will become the world's third largest aviation market by 2025 and AAI cannot raise the level of capital expenditure needed to equip India's airports to support increasing passenger traffic demand without resorting to untested methods of doing so. Those methods include bonds backed by securitisation of user development fees receivables; listing of airports; greater funding from states; and private equity, any of which may prove unpalatable to it.
READ MORE: A chapter of the soon to be published CAPA Airport Privatisation & Finance Report 2018 is dedicated to India.