Less than a month ago, the 28th edition of SATTE (South Asia's Travel & Tourism Exchange) took place in the country and experts at travel data specialist ForwardKeys examined latest air ticket data to illustrate how the South Asian giant's domestic and international travel levels had recovered.
It looked a positive picture with data for the first week of Mar-2021 showing domestic passengers had bounced back to 84% of 2019 levels. Back in the lowest month of Apr-2020 – ahead of the limited opening of domestic skies in late May-2020 – domestic passengers were at 14% of 2019 levels.
The path to recovery had been bumpy with the upward trajectory being disrupted from the middle of Jun-2020 to the middle of Jul-2020, but it quickly regained steam thereafter as ForwardKeys highlighted in the following chart, which shows a positive climb in demand, which showed an acceleration in trajectory through the latter stages of Jan-2021 and early Feb-2021.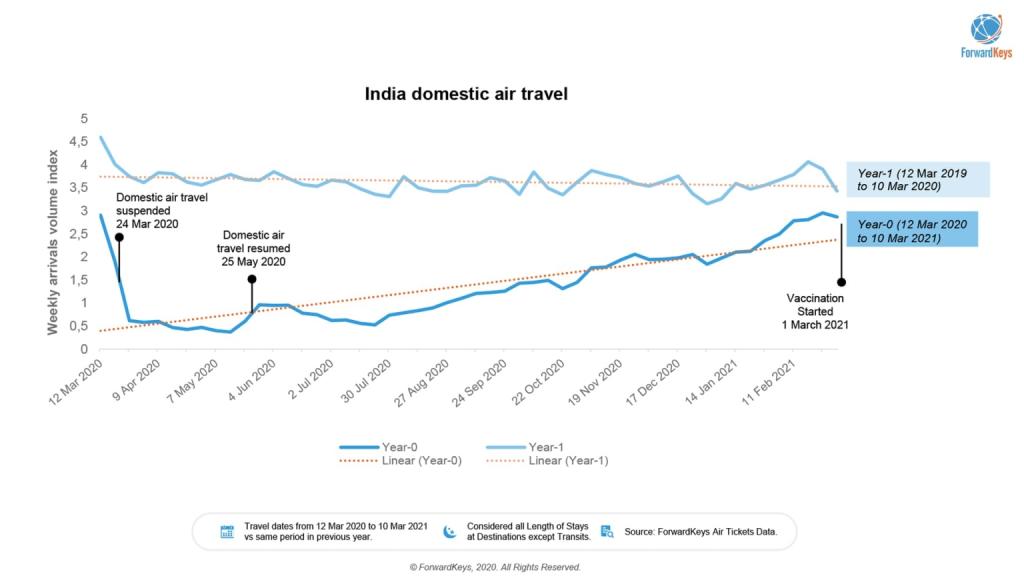 Air travel bubbles were also spurring the restoration of international seat capacity. While international commercial passenger flights have remained suspended for over a year since national lockdown restrictions were imposed on 23-Mar-2020, from 3Q 2020, India began setting up air bubble agreements with various countries. This expanded to allowing foreigners to enter India on all visas, except for tourist visas from 22-Oct-2020. As of Mar-2021, India had formed travel bubble arrangements with 27 countries.
ForwardKeys data shows that international air travel seat capacity into India had returned steadily, from 10% of the pre-pandemic level in Jun-2020 to 34% in Feb-2021. Again a positive picture when you consider that the issue of leisure visas remain suspended. This increasing capacity has seen visitor arrivals grow from 14% of pre-pandemic level in Jun-2020 to 28% in Feb-2021.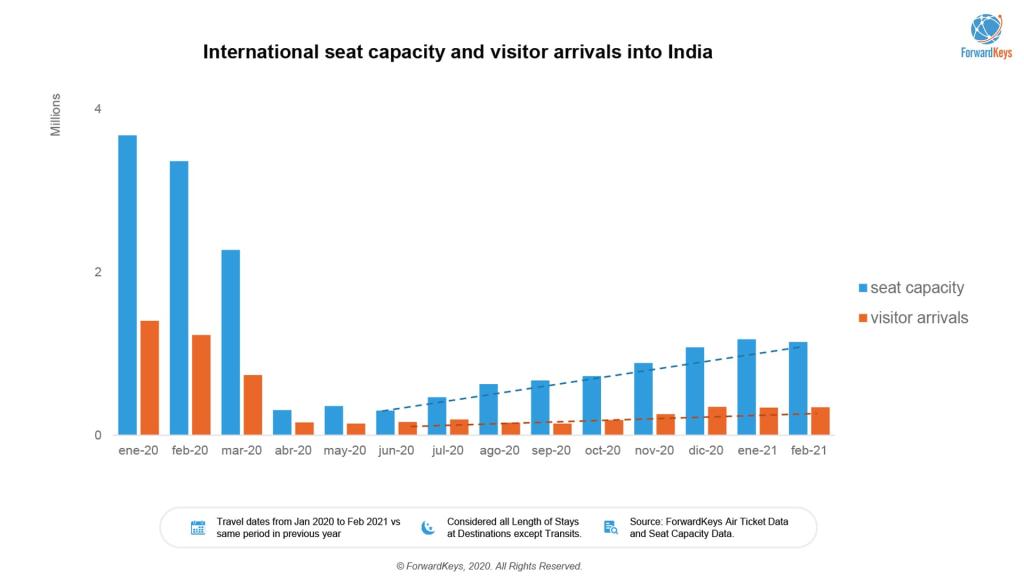 The air bubbles and eyeing the expectant leisure travel comeback in one of the biggest inbound tourism countries, airlines have been cautiously restoring international seat capacity into India and repositioning themselves to secure a head-start. The upward trajectory in seat capacity has been sharper than the clawback in visitor arrivals. In the first two months of 2021, international seat capacity into India recorded 33% of 2019 levels, while visitor arrivals lagged at just 26% of 2019 levels, noted ForwardKeys.
Compared with most countries elongated 'L' recovery for air transport, India was beginning to more closely resemble a 'U' or 'V', especially in its developing domestic market. A show sign of cautious optimism. However, just four weeks later and India is now reeling under a severe second wave of COVID-19 and many states are struggling to cope with the rising numbers, Uttar Pradesh, India's most populous state, being among the worst affected in the country.
Any talk of recovery has been replaced in the news by stories of deaths and families devastated by COVID-19 as infections show no signs of lessening. In the past few days the seven-day daily average of COVID deaths has again surpassed 1,000 and is expected to grow above the peak levels seen back in Sep-2020.
The bubbles that had helped India's recovery are beginning to burst. The United Kingdom has added India to its red list of destinations, while Hong Kong authorities have revealed at least 49 passengers on a Vistara flight from New Delhi to Hong Kong in early Apr-2021 tested positive for COVID-19 and picked up by Hong Kong's mandatory three-week quarantine restrictions. This news will see others respond with caution.
Satyendra Pandey, partner at Airavat Transport & Technology Ventures, says that the current booking volume trends in India for the Apr-2021 to Jun-2021 period will see "significantly depressed cash-flow". This is traditionally the best quarter for India but will be "a washout," according to the former GoAir chief commercial officer. This is a big concern given that historically cash gains in this quarter are used to sustain the quieter next quarter.
That optimism over a 'U' or 'V' recovery has now evaporated. "Booking volumes point to a 'W'," says Mr Pandey. He acknowledges to CTC – Corporate Travel Community that looking forward the quality of revenue "continues to be of concern" with most travel low yielding and artificially propped up by government mandated price-floors where airlines cannot discount below certain levels. Business demand remains muted at levels of between 20% - 30% of those seen pre-pandemic and forecast to continue at similar levels until the end of the year, according to Mr Pandey.